Angels proud of banner year despite rocky finish
En route to best record in Majors, Halos overcame key injuries to win AL West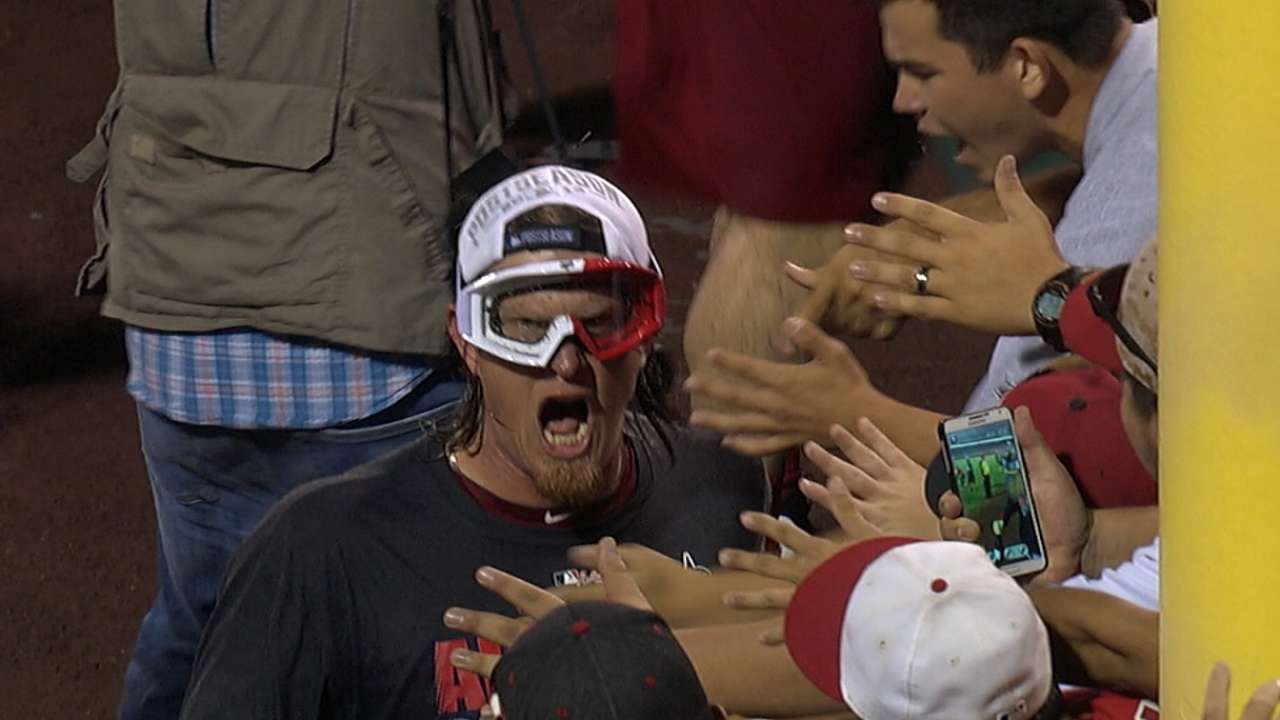 ANAHEIM -- His team had just been swept by the Royals in the American League Division Series, a triumphant return to the playoffs ending after it barely began, and Angels manager Mike Scioscia wanted to make sure that three-game sample size wasn't the lasting legacy of this club.
"As disappointing as the series was and is right now with us, those guys in that clubhouse had a terrific season," Scioscia said at the dais after the Game 3 loss on Sunday night. "They put everything aside. They played banged up. At times we didn't have quite the depth we wanted to, and guys would step up and want the ball more in the 'pen, or guys went out there and played 90 straight games because they knew how important it was. … They played hard all season, and we had a rough three games."
After a four-year playoff drought that felt much longer because of the names in their clubhouse and the money on their payroll, the Angels finally cashed in on grand expectations in 2014, winning a Major League-best 98 games, running away with the AL West and finishing second in run-differential.
They did it with a fierce lineup. They did it with a bullpen that became dynamic around the middle of the season. They did it with a starting rotation that outperformed expectations. And they did it with several unlikely contributions throughout the roster.
The first 162 games were a thrill.
But the last three were a thud.
"We had a great year," Albert Pujols said. "It's a little disappointing because we want to bring another championship to the city of Anaheim and we obviously didn't do that. We have to wait another year. We have too many veteran guys around here. I think we can bounce back. It's not going to be the last postseason that we're going to be together as a group."
Record: 98-64, first place in the AL West, eliminated by the Royals in ALDS
Defining moment: The Angels' hopes of winning the division were supposed to have ended on Aug. 20, when Garrett Richards, the best pitcher in a thin rotation, injured his left knee covering first base at Fenway Park and was lost for the season. But from that moment, the Angels rallied. They won 19 of the next 26 games, increasing their lead over the collapsing A's in the AL West by 10 and ultimately clinching a division title on Sept. 17 -- even though they needed to use an assortment of relief pitchers every time Richards' spot came up.
What went right: The offense was a top-to-bottom force all year, leading the Major Leagues in runs while having eight players -- all with at least 350 plate appearances -- finish with an OPS-plus over 100. Only three teams have had more than that throughout history. … The back end of the bullpen became a major strength midseason, when Jason Grilli and Huston Street were added via trade. The Angels had the 11th-best relief-pitcher WHIP in the Majors over the last two months, all while relying on their bullpen heavily. … Veteran leaders Jered Weaver (18 wins and a 3.59 ERA in 213 1/3 innings) and Pujols (.272 batting average, 28 homers, 105 RBIs) bounced back from injury-plagued seasons. … The defense was much more improved, with fewer errors (83, after 112 in 2013) and a better caught-stealing percentage (21.1 percent in 2013, 26.9 percent in 2014) despite similar personnel.
What went wrong: Josh Hamilton -- in the second season of a five-year, $125 million contract -- looked good in the first week, but missed nearly two months with a thumb injury and lost some of his power. He spent the last month rehabbing ailments in his right shoulder and right side, didn't get a hit in the ALDS and finished the regular season with a .263 batting average, 10 homers and 44 RBIs in 89 games. … C.J. Wilson had his worst season since becoming a starting pitcher five years ago, posting a 4.51 ERA while leading the AL in walks (85). He gave up three runs in two-thirds of an inning in Game 3 of the ALDS. … The Angels' thin starting-pitching depth was tested in August, when Tyler Skaggs (Tommy John surgery) and Richards (knee surgery) went down. That forced them to go with a three-man rotation and a 12-man pitching staff in the best-of-five ALDS, and though they got good starting pitching in the first two games, they were outplayed in every aspect.
Biggest surprise: Matt Shoemaker went from being on nobody's radar in Spring Training to becoming what Scioscia called the Angels' "savior" by the end of the year. His rookie season came at age 27, after going undrafted out of Eastern Michigan University six years ago and spending almost the entirety of the last two seasons posting mediocre numbers in Triple-A. Shoemaker went 16-4 with a 3.04 ERA and a 5.17 strikeout-to-walk ratio in 136 innings.
Hitter of the year: Mike Trout, easily, for the third straight year. The 23-year-old center fielder wasn't just the best hitter on his team; he should easily win his first AL Most Valuable Player Award, after finishing second to the Tigers' Miguel Cabrera each of the last two years. Trout struck out an AL-leading 184 times, but still posted a .287/.377/.561 slash line with 36 homers, 111 RBIs and 16 steals, while leading the Majors in Wins Above Replacement for the third straight season.
Pitcher of the year: His teammates believe he should've been an All-Star, and there's little doubt that if Richards hadn't gone down with six weeks left, he'd be in the Cy Young discussion right about now. This was the year the 26-year-old right-hander finally put it all together, using his upper-90s fastball and devastating breaking stuff to go 13-4 with a 2.61 ERA, 164 strikeouts and five home runs allowed in 168 2/3 innings.
Rookie of the year: Shoemaker is the easy choice. And if not for the head-turning season of White Sox slugger Jose Abreu, Shoemaker would've put himself squarely in the AL Rookie of the Year discussion. But just as big for the Angels, with a high payroll and no desire to surpass the luxury-tax threshold, was that several other young players in the zero-to-three years service-time range stepped up. That list includes Kole Calhoun, C.J. Cron, Mike Morin, Cory Rasmus and Skaggs, who won't pitch in 2015.
Alden Gonzalez is a reporter for MLB.com. Read his blog, Gonzo and "The Show", and follow him on Twitter @Alden_Gonzalez. This story was not subject to the approval of Major League Baseball or its clubs.