Time is now: Miller relishing pressure of Game 4 start
Cardinals righty receives long-awaited opportunity, can pitch club to NLCS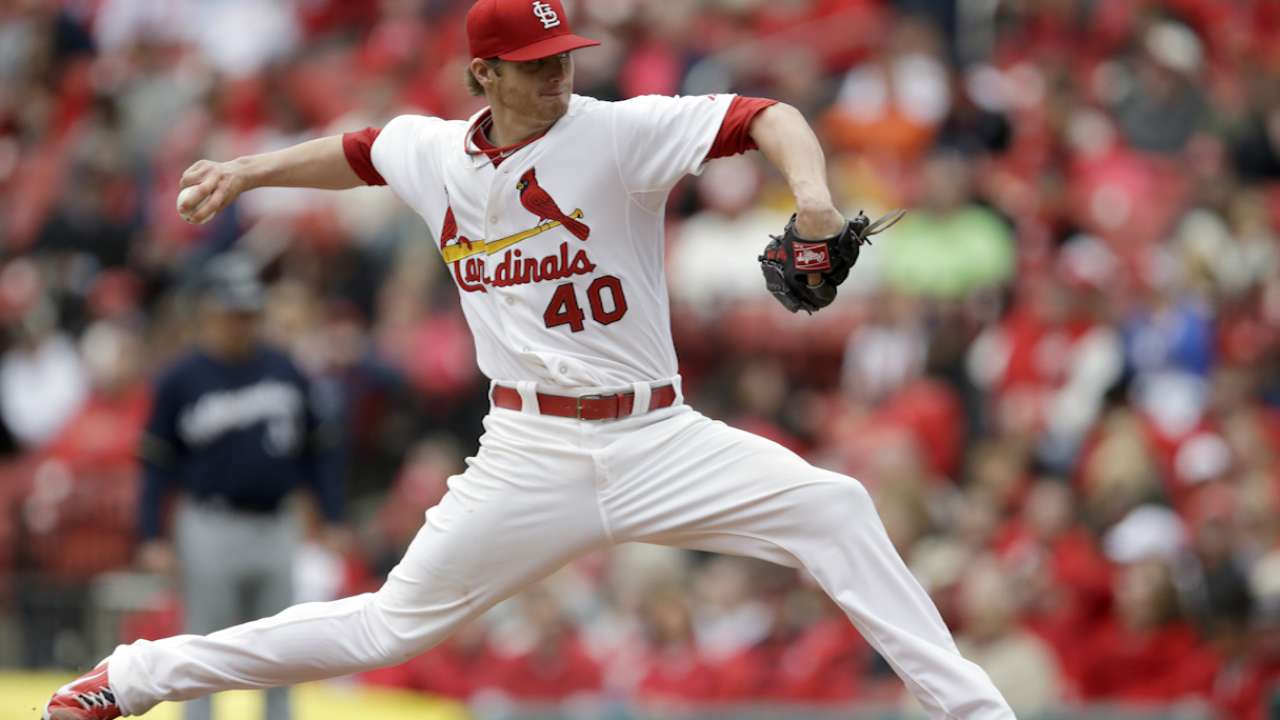 ST. LOUIS -- Shelby Miller has been waiting for this chance. On Tuesday night, he'll finally get it.
It'll be Game 4 of the National League Division Series at Busch Stadium (4 p.m. CT on FOX Sports 1), and the situation will be huge, with Miller pitching to send his team to a fourth consecutive NL Championship Series appearance.
He wanted the ball when it meant the most. Now the opportunity is here.
"There's not much more I can say except I'll be ready tomorrow," Miller said on Monday. "And I'll be prepared."
Miller was ready to go last year, too. He was a 22-year-old who had just won 15 games and would finish third in the National League Rookie of the Year voting. But the Cardinals had another rookie pitcher, Michael Wacha, who was rising through the late season as a phenom and took Miller's place in the rotation.
Wacha had a no-hitter broken up by the Nationals with two outs in the ninth inning in his last start of the 2013 regular season on Sept. 24, and he carried that dominance over into the postseason. Wacha gave up one hit in 7 1/3 innings in his NLDS win over Pittsburgh, then went 2-0 with 13 strikeouts in 13 2/3 scoreless innings to win NLCS MVP honors. He went 1-1 in the World Series.
Miller was, quite literally, aced out, but Wacha has been banged up this year and Miller has earned his October spot back.
"Shelby has had a strong season, probably improved as much as anybody this year and made some huge strides in his game that are going to help him down the road," Cardinals manager Mike Matheny said. "It will be fun to watch him. He was anxious to get an opportunity last year, and it didn't happen. Now he's going to get his chance, and [we're] looking forward to watching him shine."
It hasn't been a breeze for Miller in 2014.
In the first half of the season, he went 7-8 with a 4.29 ERA and walked 54 batters in 109 innings. But Miller adjusted slowly, refined his repertoire and finished strong. He went 3-1 with a 2.92 ERA and only 19 walks in 74 innings during the second half, and he sparkled in September, going 2-0 with a 1.48 ERA and five walks in 30 1/3 innings.
The reason for his rise can be tied to a sinker. Miller, taking the suggestion of rotation mates Adam Wainwright and John Lackey, wanted to throw more two-seam, sinking fastballs. He incorporated a new grip on the pitch with the help of another late addition to the Cardinals' pitching staff, right-hander Justin Masterson, and started getting more dive on the pitches and more ground-ball outs. A viable curveball didn't hurt, either.
"Throughout this year I had some ups and downs and wasn't getting too deep in the games like I wanted to," Miller said. "And I noticed that, and a lot of other people noticed that ... my four seam, I rely on that pitch a lot.
"And [the two-seam], it's a pitch we use now, and I think it's been the difference-maker in going deeper in the games. Something just really kind of picked up, and [we] just went with it. [Catcher] Yadi [Molina] has been calling it, and we like it ... [we] get some ground balls, and [we've] been more efficient with the games, going deeper into the games and helping the bullpen out and all those things."
None of this has surprised the rest of the Cardinals' staff.
"I always knew he had a great arm, threw hard and that stuff," said Lackey, who joined the Cardinals at the July 31 non-waiver Trade Deadline. "But I've seen the development. The two-seam fastball this year is taking him to another level the last month or so, being able to get deeper in the games, being able to get some quicker outs. And I think the talent is there, but I think he's starting to realize some things and learn some things that are going to take him to another level."
October is the next level, and Miller, who will turn 24 three days after he pitches on Tuesday, said he can't wait to toe the slab. Especially with the importance of the game.
"I know I'll be nevous, excited," Miller said. "I feel like it's an awesome opportunity to get to pitch in games like this. My whole life I've been excited and been waiting for this kind of opportunity.
"I think the biggest thing is just take it all in, and whatever situation we're sitting in, I'm going to treat it the same exact way, as if it were my last. The biggest thing is to go out there and just fight for my teammates."
Doug Miller is a reporter for MLB.com. Follow him on Twitter @DougMillerMLB. This story was not subject to the approval of Major League Baseball or its clubs.