Fans give Orioles warm reception at Camden Yards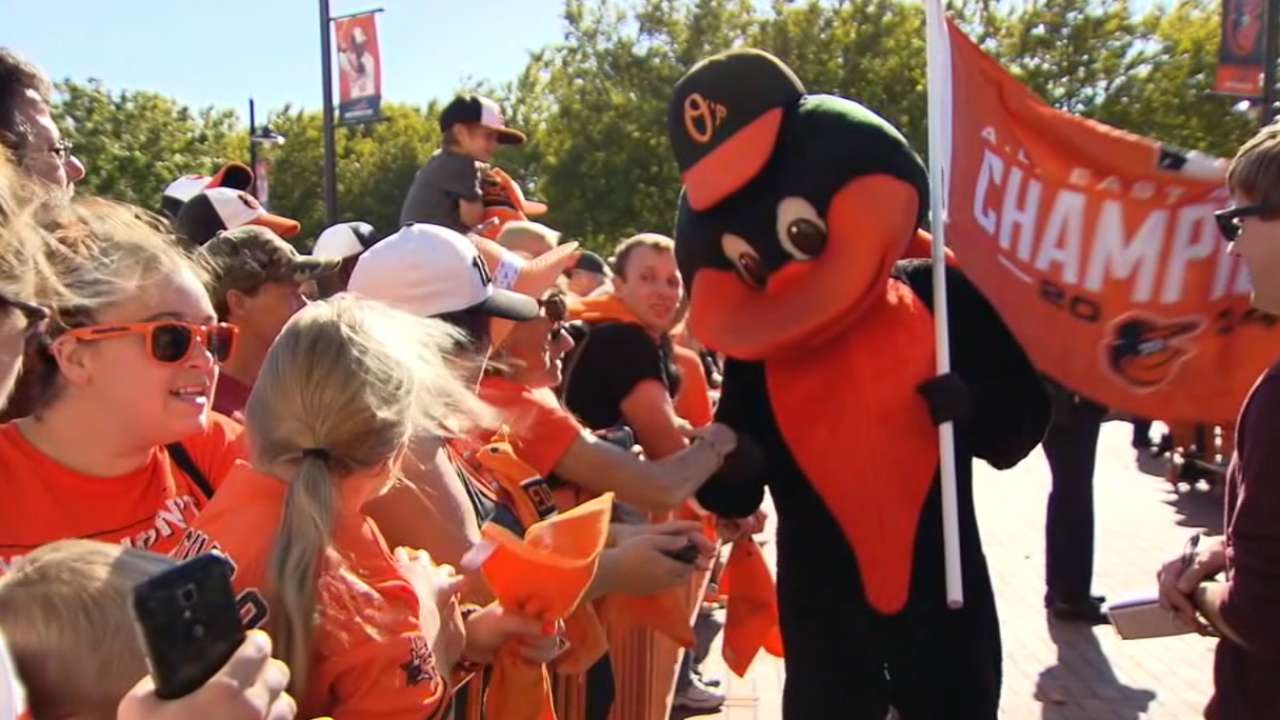 BALTIMORE -- About an hour before the Orioles returned home to Oriole Park at Camden Yards on Monday, one day after completing their sweep of the Tigers in the American League Division Series in Detroit, a crowd that would eventually number in the hundreds began to gather around the ballpark's home-plate plaza.
They carried signs and flags and chanted for everyone from David Lough to Adam Jones.
Eventually, staff members handed out rally towels that read "Welcome to October" for fans to wave. The Oriole Bird later showed up carrying an American League East champions flag and signed autographs on signs and banners.
At about 3:45 p.m. ET, the O's bus pulled up to Camden Yards and, as they have all year, Dan Duquette and Buck Showalter led the Orioles off the bus.
A huge thank you to the fans that were at Oriole Park to greet us when we returned. You're the best! #WeWontStop pic.twitter.com/fnJXg84Kog

- Baltimore Orioles (@Orioles) October 6, 2014
"The architect!" one of the roughly 400 fans shouted as Duquette stepped off the bus. The executive vice president of baseball operations high-fived some of the fans nearest to him as he passed.
Next off the bus was Showalter, whose decision to intentionally walk
Nick Castellanos
in the ninth inning helped the O's return home Monday. The cheers were the loudest for the Orioles manager. "I really want to get a good seat here," Showalter said when he finally stepped inside Oriole Park. "I want to watch our guys get off."
The procession through the crowd was quick. Cheers were interspersed with chants for specific players, including a massive rendition of the low-droning "Cruuuuz" cheer.
"We share in their happiness," said Showalter.
On Friday at 8 p.m. ET, many of the fans who gathered at Camden on Monday will be back for Game 1 of the AL Championship Series. The O's 2-1 win against the Tigers on Sunday prompted a "quick celebration," in the words of catcher Nick Hundley. That celebration spread to Baltimore on Monday.
Depending on how things go, another celebration could be on the horizon.
"We have a lot of work still to come, but at the same time, you beat a team like the Tigers with that talented roster ... you gotta enjoy that for a little while, for sure," Hundley said. "Hopefully it gets more and more exciting as we go on."
David Wilson is an associate reporter for MLB.com. This story was not subject to the approval of Major League Baseball or its clubs.