Kershaw returns on short rest when LA needs him most
Facing elimination, Dodgers turn ball over to ace for Game 4 in St. Louis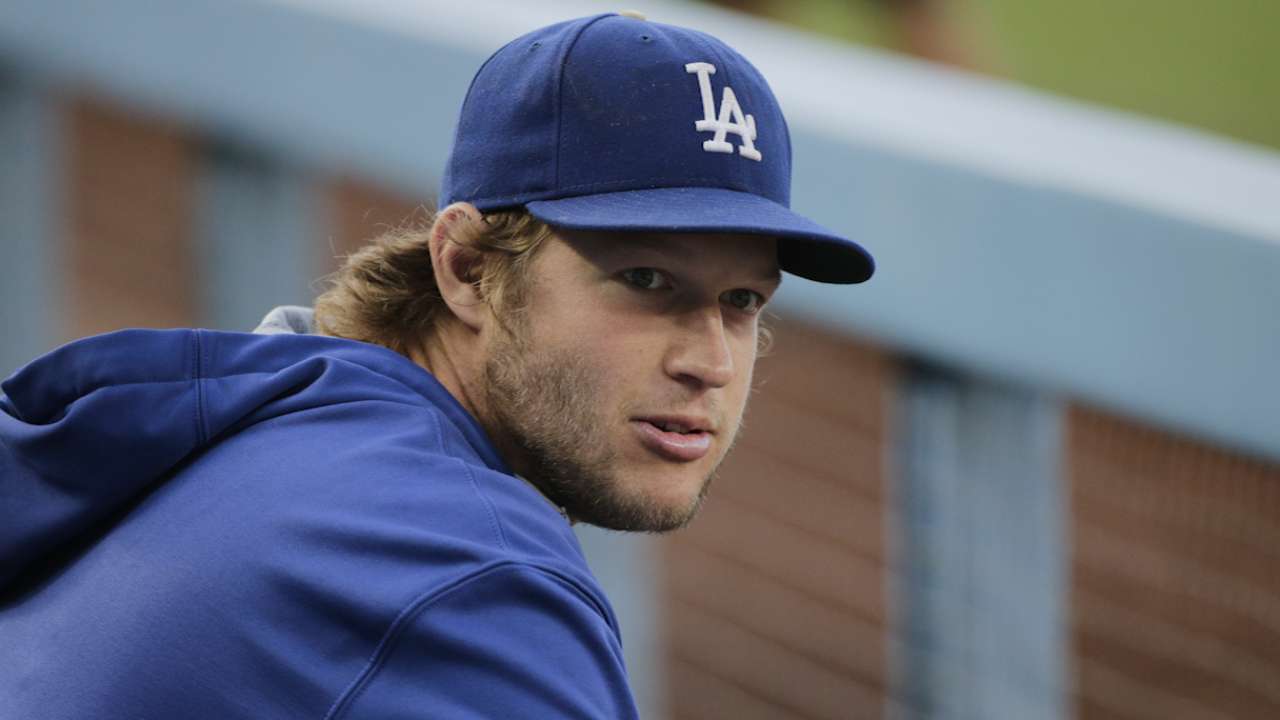 ST. LOUIS -- As it turns out, the Dodgers have their best pitcher starting against the Cardinals in Tuesday's Game 4 of their National League Division Series at Busch Stadium.
Clayton Kershaw will pitch on three days' rest in the NLDS for the second postseason in a row, but this time it will be with everything on the line. By virtue of their 3-1 loss on Monday night, the Dodgers trail the best-of-five series 2-1. Win and they'll live to see another day with Zack Greinke on the mound for a possible Game 5 back at Dodger Stadium on Thursday.
Lose and they'll go home while the Cardinals move on to the NL Championship Series for the fourth consecutive year. Along the way, they defeated the Rangers in the 2011 World Series and lost to the Red Sox in the Fall Classic last year. Manager Don Mattingly made the duel announcement prior to Monday night's game.
"Anytime we put Clayton Kershaw on the mound we feel pretty good. That being said, we're in a tough game. We're in St. Louis," Mattingly said when asked about flipping from previously announced Dan Haren back to Kershaw, the loser of Game 1 in the series when he allowed eight earned runs and was knocked out in the seventh inning. "But I think this club has been a club that's bounced back every time we've had any kind of trouble and lost a tough game.
"For us it's a matter of winning one game with Clayton Kershaw on the mound. We feel pretty good about that. And we'll move forward. It will be a fairly quick turnaround with a [2 p.m. PT] start tomorrow. So we can't sit around and do any complaining. We've got to be ready to go."
The left-handed Kershaw threw off flat ground rather than his usual bullpen two days after the previous start during Sunday's off-day workout and said he has left the shadow of his 10-9, Game 1 loss behind him.
"I was ready to do it, regardless," Kershaw said about pitching on Tuesday. "Obviously after as bad as I pitched in Game 1, it wasn't going to be me going in there and saying, 'I want the ball.' But I was definitely ready for it and definitely wanted to do it, just waiting for the opportunity."
Mattingly said it really had been the plan all along. Kershaw and Greinke are the team's best pitchers, having combined to go 8-0 with a 1.64 against the Giants this season. That alone was the reason the Dodgers won the NL West by six games over the Giants, who survived a Wild Card Game against the Pirates and are leading their NLDS over the Nationals 2-1.
"I think we pretty much knew at the beginning of the series," Mattingly said. "But we couldn't really make that decision until after Game 1, and then seeing how Clayton came out of that. And so really, once we got past all that, then it was a matter of just the timing of Ryu and all that stuff. But we didn't feel like it was worth messing with, trying to have to wait and get down to the last second."
Last year in their NLDS against the Braves, Mattingly had designated Ricky Nolasco as his Game 4 starter, but after the Dodgers went up 2-1 in the series at home, he opted to use Kershaw on three days' rest to wrap up the series. Kershaw pitched the first six innings, leaving with the score tied 2-2. The Dodgers won 4-3 on Juan Uribe's eighth-inning, two-run homer.
But there's a big difference between this year and last October. Kershaw opened that series at Atlanta by pitching seven innings of one-run, three-hit ball as the Dodgers won Game 1, 6-1. Just this past Friday night, Kershaw sailed into the seventh inning with a four-run lead, having allowed two hits and two runs on a pair of solo homers. The Cardinals scored eight times in the seventh and now Kershaw has allowed 15 earned runs in consecutive postseason starts against St. Louis, including Game 6 of last year's NL Championship Series right here at Busch Stadium.
"There's always something to prove," Kershaw said. "This game is very humbling. People don't care about what you've done in the past. It's what have you done for me lately? People turn on you really fast and I know that. For me, it's just the start to start thing. I try not to look at all the numbers and all the stats, just try to go out and try to win a game for us tomorrow. That's all I really do. It's too hard to think about all that stuff. Whether you do good or bad, you get too big a head or too down on yourself. You try to stay on as even keel as you possibly can and just prepare for the next one."
Kershaw had a regular season for the ages. He led the Major Leagues with a 21-3 record, a .875 winning percentage, a 1.77 ERA and a 0.86 WHIP and was second in the NL with 239 strikeouts, three behind Johnny Cueto of the Reds and Stephen Strasburg of the Nationals, in 27 starts. Because of all that, he has been widely touted as a candidate to become only the seventh pitcher in history to win a league MVP and Cy Young Award in the same season.
Greinke, who pitched seven innings on Saturday night in Game 2, allowing no runs on two hits in an eventual 3-2 Dodgers win, was 17-8 with a 2.71 ERA and 207 strikeouts in 32 starts.
Mattingly said he has no worries about Kershaw bouncing back after his Game 1 start.
"He's back to business, it's Clayton Kershaw," Mattingly said. "I hate to say it like that. These kind of guys don't curl up and go away. You don't get to where you are, you don't win four ERA titles and end up going to win three out of the last four Cy Youngs -- could have won all four of them -- just by anything goes bad, you just curl up and go away. These guys go to work, they come back. They keep working and they keep going. So this is a different cat."
Barry M. Bloom is a national reporter for MLB.com and writes an MLBlog, Boomskie on Baseball. This story was not subject to the approval of Major League Baseball or its clubs.