Panda has eventful Game 3, good and bad
Third baseman extends hit streak to 14 games; involved in key error by Giants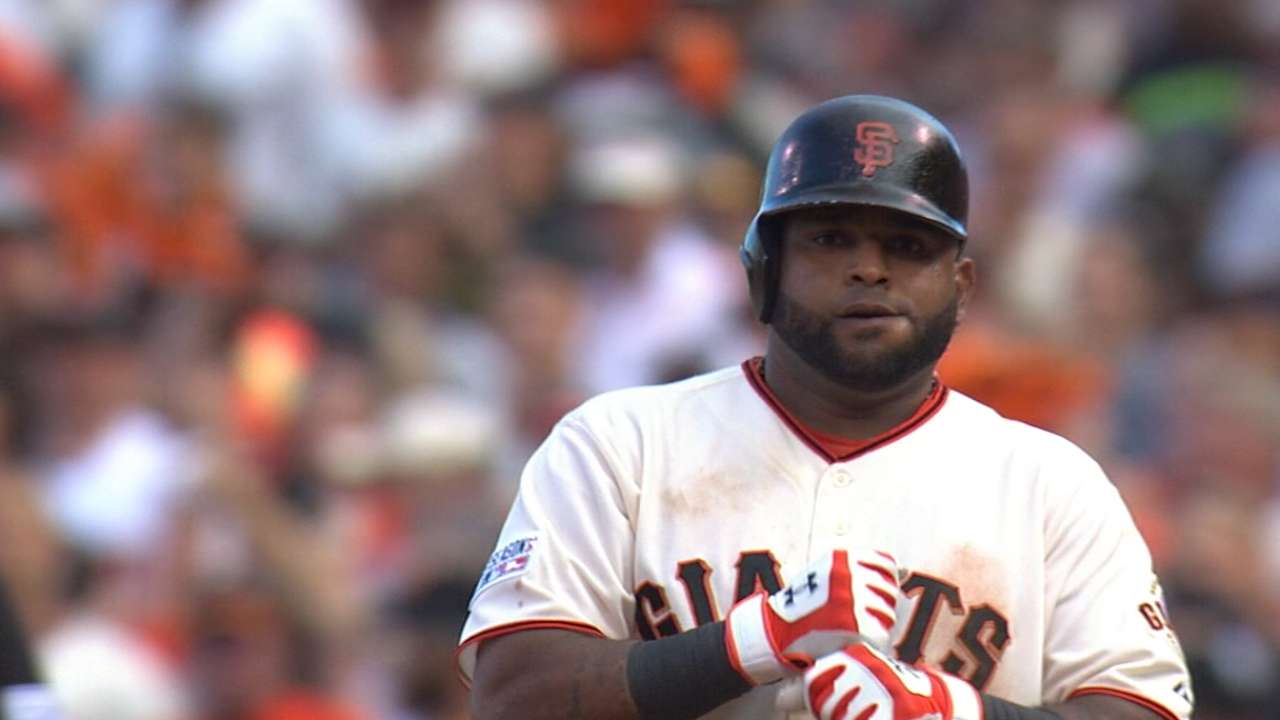 SAN FRANCISCO -- Pablo Sandoval extended his postseason hitting streak early in Game 3 of the National League Division Series between the Giants and Nationals on Monday, but it was a play he was involved with in the late innings of San Francisco's 4-1 loss that will be remembered most.
With runners on first and second with no outs in the top of the seventh, Madison Bumgarner fielded a Wilson Ramos sacrifice bunt and fired to third, rather than taking the easy out at first base. His throw was late and off to Sandoval's left. A hard slide from Ian Desmond prevented any potential stop by Sandoval, and two runs scored on the play, breaking the game's scoreless tie.
"It was a bunt, a hard bunt, so we thought we had a play at third base," Sandoval said. "He took me out. It's part of the game."
Panda bears down in playoffs
Pablo Sandoval extended his postseason hitting streak to 14 games in Game 3
| Player | Team | Years | Games |
| --- | --- | --- | --- |
| Hank Bauer | NYY | 1956-58 | 17 |
| Derek Jeter | NYY | 1998-99 | 17 |
| Manny Ramirez | Bos. | 2003-04 | 17 |
| Marquis Grissom | Atl. | 1995-96 | 15 |
| Pablo Sandoval | S.F. | 2012-14 | 14 |
Trainers checked on Sandoval, who initially remained on the ground, but he said after the game that he isn't injured, and that he wasn't surprised by the throw.
"I was ready for everything," Sandoval said. "It's part of the game; like I say, you have to be ready for everything to try to make a play."
With a single in the bottom of the second inning, Sandoval extended his Major League-leading postseason hitting streak to 14 games.
The streak is the longest in Giants franchise history.
The Major League record is 17 consecutive postseason games, a mark shared by Yankees outfielder Hank Bauer (1956-58), Yankees shortstop Derek Jeter (1998-99) and Red Sox outfielder Manny Ramirez (2003-04). The NL record is held by former Giants outfielder Marquis Grissom, who had a 15-game streak with the Braves from 1995-96.
Ryan Hood is an associate reporter for MLB.com. Follow him on Twitter @ryanhood19. This story was not subject to the approval of Major League Baseball or its clubs.