Lineups breakdown: Dodgers-Cardinals, NLDS Game 3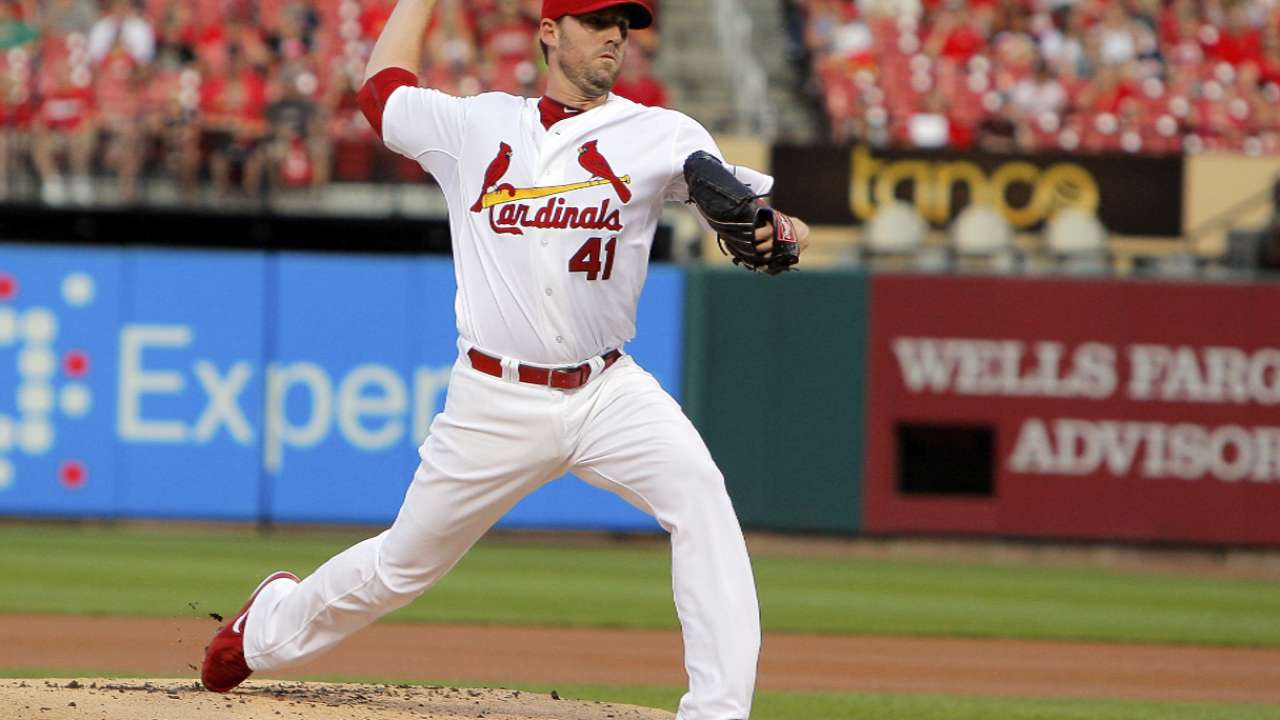 The Cardinals and Dodgers have traveled from Los Angeles to St. Louis for Game 3 of the National League Division Series (9 p.m. ET on FOX Sports 1), set for Monday night at Busch Stadium. Here is a breakdown of the starting lineups:
DODGERS
Cardinals starting pitcher John Lackey will attempt to navigate his way through a Dodgers lineup that once again features Matt Kemp in the cleanup spot. Kemp improved to 5-for-9 during this series with his go-ahead homer in the eighth inning of Game 2. A.J. Ellis, who is 5-for-8 in the series, will once again try to turn the lineup over from the lineup's eighth spot.
This might be a good matchup for Carl Crawford, who has two hits in his first eight at-bats of this postseason. Crawford has hit .479 (23-for-48) with two homers in his career against Lackey. Adrian Gonzalez has six hits, including a double, in 17 career at-bats against the Cardinals right-hander.
1. Dee Gordon, 2B
2. Yasiel Puig, CF
3. Adrian Gonzalez, 1B
4. Matt Kemp, RF
5. Hanley Ramirez, SS
6. Carl Crawford, LF
7. Juan Uribe, 3B
8. A.J. Ellis, C
9. Hyun-Jin Ryu, P
CARDINALS
The Cardinals' lineup starts with its most potent hitter in this series. Third baseman Matt Carpenter has been red hot against Dodgers pitching, batting 4-for-8 with three runs, two doubles, two homers and six RBIs. He'll lead off against Dodgers starter Ryu.
Behind him, St. Louis is hoping shortstop Jhonny Peralta (1-for-8 this series) can get going in the cleanup spot. He follows Randal Grichuk (2-for-8) and Matt Holliday (2-for-8 with a homer and three RBIs). Matt Adams and Yadier Molina each only have one hit apiece in the series.
Carpenter and Holliday each have 10 career plate appearances against Ryu, with a combined five hits between them. Molina is 2-for-6 lifetime against Ryu with a homer.
1. Matt Carpenter, 3B
2. Randal Grichuk, RF
3. Matt Holliday, LF
4. Jhonny Peralta, SS
5. Matt Adams, 1B
6. Yadier Molina, C
7. Jon Jay, CF
8. Kolten Wong
9. John Lackey, P
Joey Nowak is a reporter for MLB.com. Follow him on Twitter at @joeynowak. This story was not subject to the approval of Major League Baseball or its clubs.