Padres name Kemp director of international scouting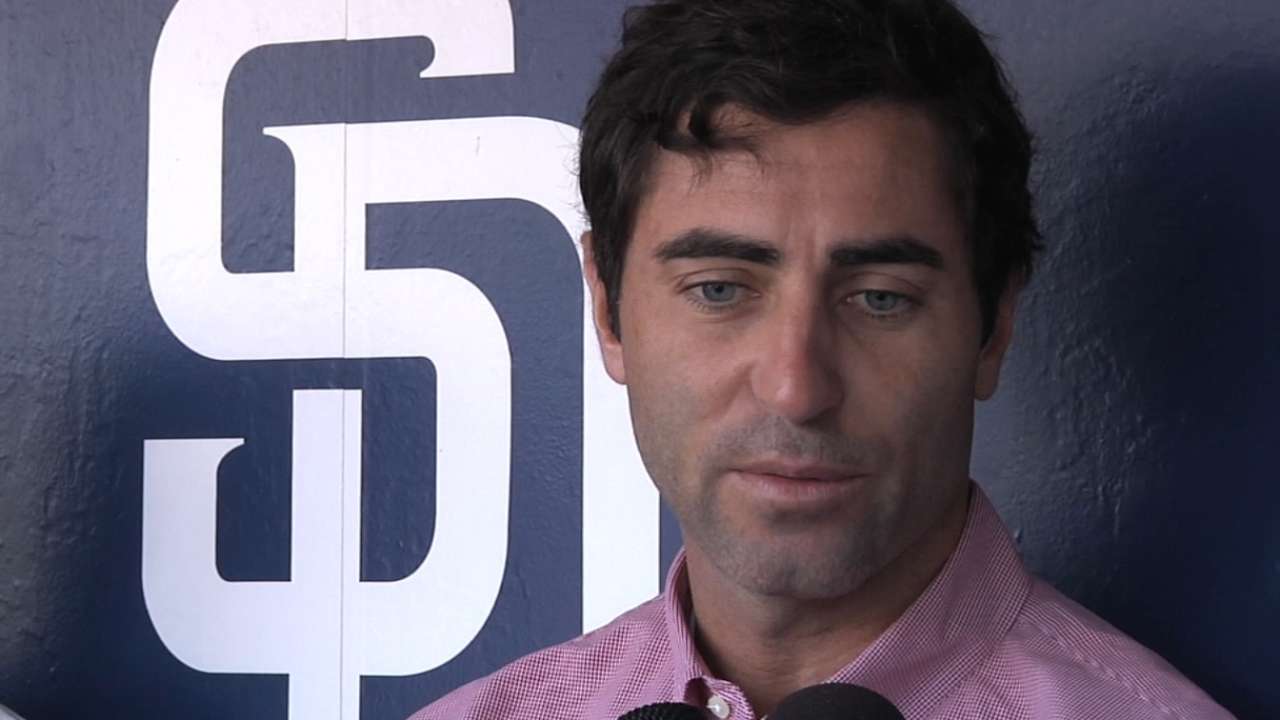 SAN DIEGO -- When A.J. Preller was hired as general manager of the Padres in August, Chris Kemp was excited for him, but in no way saw it as an opportunity to leave his own post with the Rangers for a job and a chance to be reunited with Preller in San Diego.
"I never really thought about the next job because I was so immersed in the one that I had," said Kemp, who had just completed his fifth year with the Rangers as an area scout, scouring the Carolinas and also eastern Tennessee for players.
"There are so many good players here. I was happy where I was."
But when Preller recently offered Kemp the opportunity for something bigger -- director of international scouting for the Padres -- the 31-year-old simply couldn't pass this up.
"Who wouldn't be interested in finding players on a worldwide scale," Kemp said Sunday from his home in Charlotte, N.C. "The Rangers were gracious enough to let me interview. Making that call to [Texas general manager Jon Daniels and director of amateur scouting Kip Fagg] was hard. If it wasn't for them, I would still be coaching junior college baseball."
Kemp becomes the third hire for Preller, who in August hired longtime mentor Don Welke as the team's vice president of scouting operations and then last month hired David Post away from the Astros to be a special assistant to the general manager, where he'll assist in scouting on all fronts.
As for Kemp, he shares a background with former Padres third baseman Chase Headley. Kemp, who was a first baseman, was a teammate of Headley's in 2004 at the University of Tennessee. He signed with the Rangers as an undrafted free agent in 2006 and played two seasons.
He later returned to Spartanburg Methodist JC, where he previously played, as an assistant coach for the 2008 and 2009 seasons before joining the Rangers as a scout in 2010.
"Those guys brought me on board and I hit the road and didn't look back," Kemp said. "I learned a ton from A.J. in those five years."
Preller was impressed with Kemp early on and thinks he'll flourish in his new role, even if he's short -- as in none -- on international experience.
"I think the biggest think is he's an evaluator, a good judge of talent with a very, very good work ethic," Preller said. "In all jobs, there are some learning curves, but his evaluation; he's got a high motor and a big time work ethic. He understands kids and players. I think he can jump into any arena. Those things come through no matter what."
Kemp won't waste any time getting to work. He'll fly to the Dominican Republic where he'll be picked up by Felix Feliz, one of the team's international scouting supervisors.
"I've always had a bug for finding players and have always liked scouting the younger kids," Kemp said. "And with scouting the international market, you're looking at the players who are off the radar a little bit more, the 15, 16-year-olds where you have to project them a little bit more.
"We plan on hitting the ground running. My No. 1 goal is to find the players to fill it. We've got to find the players."
Preller, who made a name for himself scouting internationally, has made it be known the Padres will do the same. The team's executive chairman, Ron Fowler, even said as much last spring. The Padres have been linked to Cuban power hitter Yasmani Tomas and recently held a private workout for him.
"I think you have to put it [international scouting] on the same level and amateur and pro scouting. All three of those need to be on the same level of importance," Kemp said. "When we were with Texas, it was about being creative and outworking the competition. I expect it will be the same here."
Corey Brock is a reporter for MLB.com. Keep track of @FollowThePadres on Twitter. This story was not subject to the approval of Major League Baseball or its clubs.