A's 2014 proves to be a tale of two seasons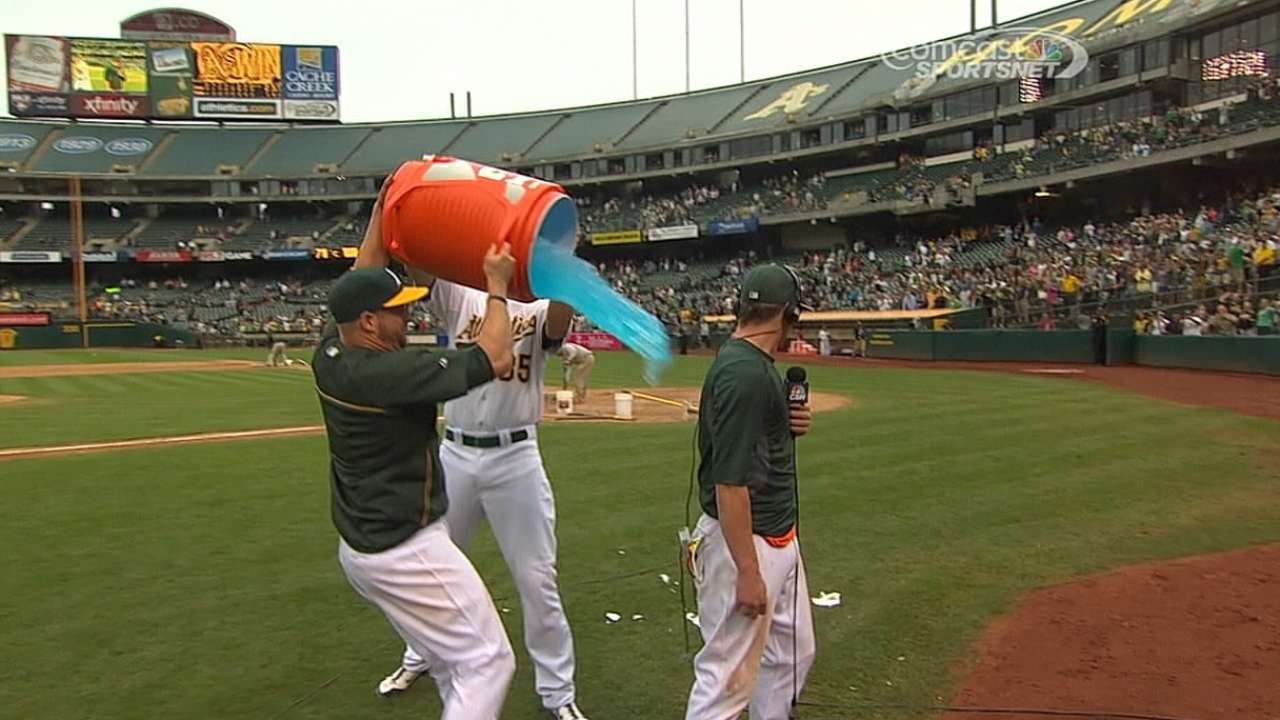 OAKLAND -- The 2014 A's so often resembled a bulkier version of the green and gold club that prematurely bowed out of the postseason in consecutive seasons. They had a rotation built for October and a lineup thought deep enough to support it, two fundamental weapons that were going to get them in and out of the first round alive.
But they didn't even get so far this time, suffering that same unsettling heartache a week earlier at the conclusion of a 12-inning escapade with the Royals in a Wild Card Game for the ages -- the kind of haunting loss that makes the rest of postseason play barely watchable.
"Might turn it on, watch a little bit," said A's manager Bob Melvin, "and then you get that uncomfortable feeling and walk away."
A's fans were subjected to similar disappointment for nearly the entirety of a nightmarish second half that nearly voided Oakland's postseason return altogether, save for the final day of the regular season that resulted in a clinching victory in Texas. That they had to wait so long for it, though, after bolting to baseball's best record in the first half, reflects just how far this club tumbled.
Their near-epic collapse, propelled by reasons that will long be debated, among them injuries and a pair of blockbuster trades, the A's not only lost grasp of another AL West crown, but of all the good that had defined a remarkable first half. For this was a tale of two seasons, and it's important to recognize each one.
The A's surely deserve plenty of credit for dominating the league in the first half, despite losing 40 percent of their rotation in the spring amid season-ending elbow injuries to Jarrod Parker and A.J. Griffin, both of whom underwent Tommy John surgery before Opening Day even commenced. Jesse Chavez was plucked from the bullpen to assume a starting role, and he did so admirably. And with Tommy Milone and Drew Pomeranz assisting in the rotation, too, the A's didn't miss a beat, instead creating a rhythmic winning atmosphere.
Chavez, though fantastic early, was worn down by the All-Star break, as had been predicted. Pomeranz was shelved when he broke his right hand by punching a wooden chair after his worst outing of the season, and the club's other starters, Sonny Gray and Scott Kazmir, were climbing the innings chart fast and furiously. This is when general manager Billy Beane, sensing trouble, made his first move, swapping out his two best prospects -- first-rounders Addison Russell and Billy McKinney -- for National League pitchers Jeff Samardzija and Jason Hammel from the Cubs.
Samardzija was one of seven A's named to the All-Star team, joining Kazmir, Sean Doolittle, Yoenis Cespedes, Josh Donaldson, Brandon Moss and Derek Norris at Minnesota's Target Field. Days later, they returned to play, already boasting the Majors' best record and run differential, when the baseball community woke to another Beane bonanza. Overnight, he had sent Yoenis Cespedes to the Red Sox to acquire ace Jon Lester, cementing his win-now mantra.
Lester was excellent in 11 regular-season starts for the A's, before allowing six runs in seven-plus innings in the Wild Card Game, but a Cespedes-less offense cracked at the same time its Cuban slugger left them, and everything that could go wrong for this club did.
Moss, hampered by a hip issue, endured the most prolonged slump. Norris' production took a big hit, too, after being exposed to more right-handers in the wake of platoon partner John Jaso's season-ending concussion. Coco Crisp, battling an ongoing neck injury first incurred in May, was mostly just a shell of his sparkplug self. Doolittle, Jed Lowrie and Craig Gentry also missed time because of injuries, disrupting a carefully crafted lineup, and Gray and Kazmir faltered at the worst of times.
The A's were a season-high 28 games over .500 at the conclusion of play Aug. 9 and had a four-game lead on the Angels in the AL West. They went 16-30 the rest of the way, finishing 10 games out of first place and stumbling into the Wild Card Game.
Beane believes they wouldn't have even reached the Wild Card Game "had we not made those moves."
"We can debate that all day long," he said. "We made the playoffs, and that was the goal.
"You always, at the end of the year, want to be the last man standing, but overall, under the circumstances, I think we're proud of the fact we made it to the playoffs a third straight year. It wasn't easy, and it looked like it would've been back in spring."
Record: 88-74, second in the AL West
Defining moment: The A's trudged into a four-game series in Anaheim on Aug. 28 just one game behind the Angels in the division. They were promptly swept with ease, scoring four runs total and suffering shutouts twice in a series that concluded with a closed-door team meeting, met with a furious Melvin who deemed his club's play "embarrassing" and "pathetic," saying, "I feel bad for our fans who have to watch that." The A's proceeded to go 10-16 over their final 26 games, while the Angels surged ahead and finished with baseball's best record.
What went right: Lots, in the first half at least: Chavez proved highly effective in the starting rotation, as did Tommy Milone before he was optioned upon the Samardzija/Hammel trade and ultimately dealt to Minnesota. … Doolittle emerged as the closer midseason, not long after being rewarded a five-year contract, and responded with 22 saves. … This helped solidify the remaining parts of the bullpen, which included Dan Otero. The righty racked up eight wins out of the bullpen, providing quality innings, and in different roles, as the Swiss Army knife of the A's relief corps. … Donaldson played through numerous injuries, but still managed to up his home run total while providing stellar defense, proving his 2013 breakout season, which culminated in a fourth-place MVP finish, was no fluke. … Josh Reddick bounced back from early-season knee issues and enjoyed a productive offensive second half. … Gray suffered his own lumps, but was mostly impressive in his first full big league season, earning AL Pitcher of the Month honors on two occasions and pitching his team into the playoffs with a shutout victory in Texas on the final day of the season.
What went wrong: Plenty. Second-half injuries to Lowrie, Crisp, Jaso and Gentry wreaked havoc to the lineup, and several others, including Donaldson, Moss, Norris and Stephen Vogt, played hurt down the stretch. … Kazmir, though tremendous in the first half, disintegrated in the second half, minus a couple of starts, and his place in a potential Division Series, particularly against an Angels team that mauled him all year, was up in the air. … Adding a $10 million closer in Jim Johnson proved to be a futile move. The right-hander coughed up one too many leads and lost the closer job within two weeks of the season. … To say the Lester/Cespedes trade went wrong, as some would argue, is simply debatable.
Biggest surprise: Chavez, though nearly forgotten in the bullpen by year's end, was a major factor in the A's first-half success -- posting seven wins and compiling 114 2/3 innings over 19 starts by the All-Star break -- and pitched himself into competition for a starting role again in 2015.
Hitter of the Year: Donaldson. Though his overall average took a hit amid some rough stretches, the same could be said of nearly every other hitter on the A's roster, and the third baseman was arguably the most productive of the bunch throughout, despite nursing hip, hamstring and knee injuries. He belted a personal-best 29 home runs, which will earn him a hefty pay raise in his first year of arbitration eligibility.
Pitcher of the Year: Lester was every bit as magnificent as expected when he came over, but Gray was in green and gold all year and thus gets the nod here. Much was expected of the baby-faced righty in his first full big league season, particularly after he rounded out his rookie campaign with two terrific Division Series starts, and Gray delivered with 14 wins and a 3.08 ERA, giving the A's a career-high 219 innings. He endured a handful of rough outings along the way, but was otherwise a model of consistency, allowing three earned runs or less in 26 of his 33 starts.
Jane Lee is a reporter for MLB.com. This story was not subject to the approval of Major League Baseball or its clubs.