Amidst GM search, Braves start reshaping front office
Atlanta expected to announce new additions later this week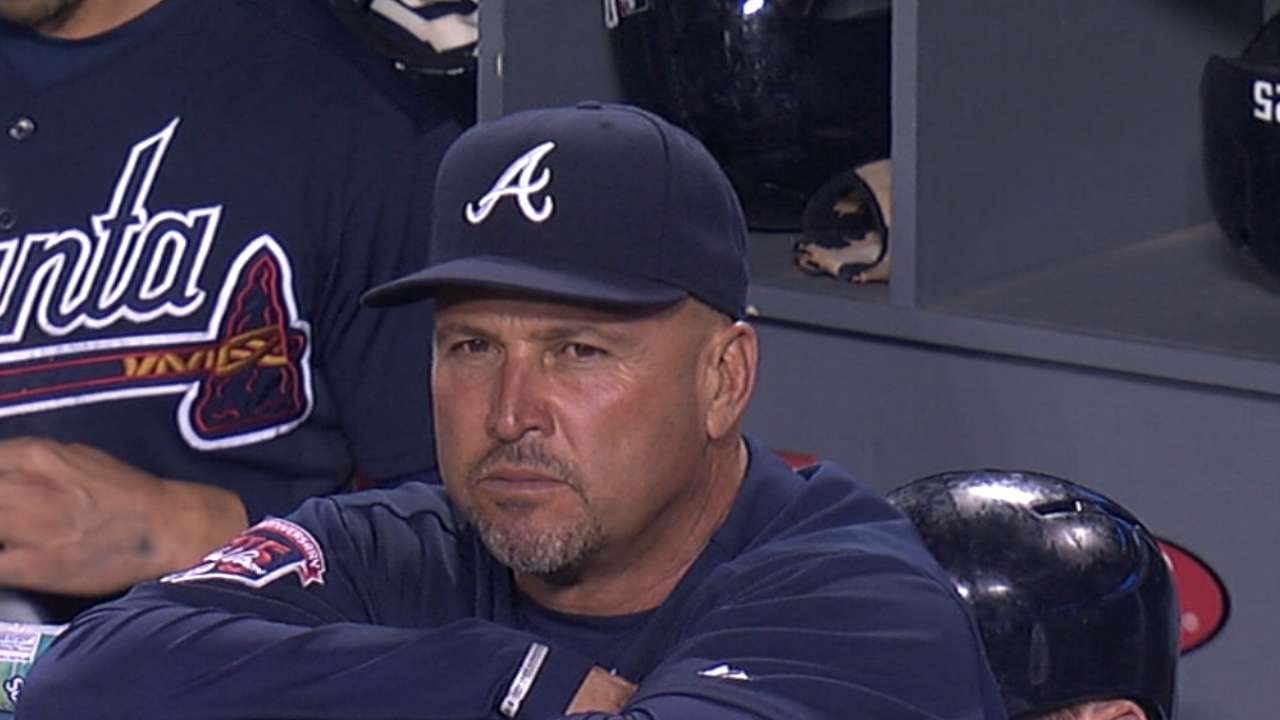 ATLANTA -- While they would have much rather spent the past week experiencing the postseason for a third straight year, the Braves have instead spent the time reconstructing their front office and evaluating the changes that need to be made to avoid a second straight disappointing year.
Braves CEO and chairman Terry McGuirk has welcomed team president John Schuerholz, interim general manager John Hart, manager Fredi Gonzalez and assistant GM John Coppolella to his Sea Island, Ga., residence this week for an annual planning session in preparation for an offseason that could prove to be quite interesting.
But before deciding how to deal with B.J. Upton's remaining contract or whether Atlanta will alter its roster by trading Evan Gattis, Jason Heyward or Justin Upton, the Braves will seemingly first have to decide who will serve as their general manager on a full-time basis.
Though Hart has impressed members of the organization with the dedication he has shown since Frank Wren was dismissed on Sept. 22, he has not provided an indication that he is willing to assume the GM role on a full-time basis. But the Braves have started adding some key pieces to their reconstructed front office, perhaps signaling they are set to give the role to somebody already familiar with the organization.
Later this week, the Braves are expected to announce a number of front-office changes, including the return of former scouting director Roy Clark, who was described by one American League scout as "the best [amateur] scout I've ever seen." With Clark already set to oversee the scouting department, the Braves appear to have a good idea that whoever becomes the GM will be comfortable working with him. Thus, Hart, Coppolella and Royals GM Dayton Moore remain the most likely candidates.
Clark served as the Braves' scouting director from 1999-2009, and he became a favorite of Schuerholz and also worked with Coppolella, who joined the organization in '06. Clark's time in Atlanta also allowed him to develop a bond with Moore, who was part of Schuerholz's staff from 1996-2006.
With the Royals now set to compete in the American League Championship Series, the possibility of luring Moore to Atlanta might have become a little more complicated. But despite the fact that he still has two years left on his contract in Kansas City, there is reason to view him as a legitimate candidate for the job.
Clark was with the Nationals from 2010-12 and then spent this past season with the Dodgers. When he was at Turner Field in August, it was apparent that he would be interested in returning to the Braves if there was a shakeup in the front office.
During his tenure with the Braves, Clark hired and mentored Brian Bridges, who will replace Tony DeMacio as Atlanta's scouting director. Bridges has established himself as one of Atlanta's most respected scouts. Some of the top players he has signed are Mike Minor, Craig Kimbrel and Alex Wood.
The Braves are also expected to announce later this week that Dave Trembley will be rejoining the organization to assist in the player development department. Trembley spent the past two seasons serving as the Astros bench coach.
Mark Bowman is a reporter for MLB.com. This story was not subject to the approval of Major League Baseball or its clubs.