Petit ready for anything, including Game 3 relief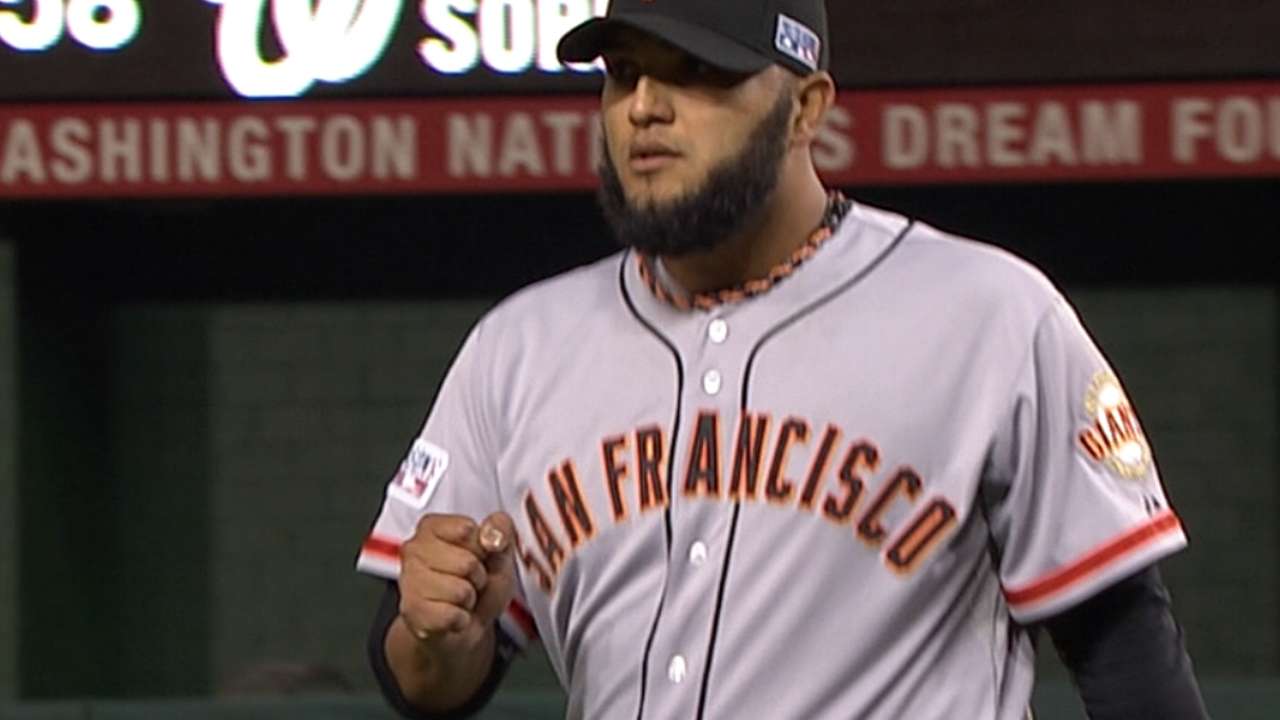 SAN FRANCISCO -- After six historic relief innings, a red-eye plane trip home and a mandatory day off Sunday with the rest of his Giants teammates, Yusmeiro Petit arrived at work Monday ready to do his thing. That is, he showed up ready to pitch, as always.
"I think I'm ready for three," Petit said when asked, somewhat tongue-in-cheek, how many innings he could deliver in a potential clincher for the Giants in Game 3 of the National League Division Series against the Nationals at AT&T Park.
Giants manager Bruce Bochy, meanwhile, was dead serious when he said Petit is on his list of pitchers who could make an appearance as San Francisco tries to advance to the NL Championship Series.
"You know what, if needed, I think he could give us an inning or two today," Bochy said prior to Game 3.
Hey, why not? The man whose stellar six innings of one-hit ball for the Giants gave them the chance to win the 18-inning marathon Game 2 of this Division Series has shown in the past and in particular with San Francisco that he's up for anything. Straddling the line between the rotation and the bullpen, Petit set a Major League record earlier this year with 46 consecutive batters retired through two starts and six relief outings.
But his performance Saturday at Nationals Park has taken his notoriety to a new level, and he said the aftermath of Game 2 has reverberated back to his native country of Venezuela.
"I know a lot of people here but also in Venezuela, a lot of people had been talking about what I did, and I think my hometown in Venezuela is very excited about what I've been doing lately," said Petit, who hails from Maracaibo and has a well-traveled resume leading up to this role with the Giants.
Bochy said Petit wouldn't be the team's long man in Game 3, that role likely falling to Tim Lincecum if needed -- Lincecum was going to be the next pitcher after Petit on Saturday. Having two pitchers stretched out just in case a game goes deep into the night, Bochy said, is a valuable part of the unique postseason experience.
On Saturday, it allowed him to use closer Santiago Casilla earlier in Game 2, he said. Ultimately, it wound up putting Petit in position to match Pedro Martinez's performance in Game 5 of the 1999 American League Division Series, the last time a pitcher went six in relief in the postseason.
Whatever role Petit might play in Game 3 and going forward, he's ready for anything, as always.
"I think that I'm here to do what the team asks me to do," Petit said. "If they want me to start, I'll start. If they want me to be a reliever, I'll be a reliever. But the bottom line is I know what I can do. I can do both jobs."
John Schlegel is a national reporter for MLB.com. You can follow him on Twitter @JohnSchlegelMLB. This story was not subject to the approval of Major League Baseball or its clubs.