Gio approaches Giants from a different angle
Nationals call on their first lefty starter of the NLDS in a must-win Game 4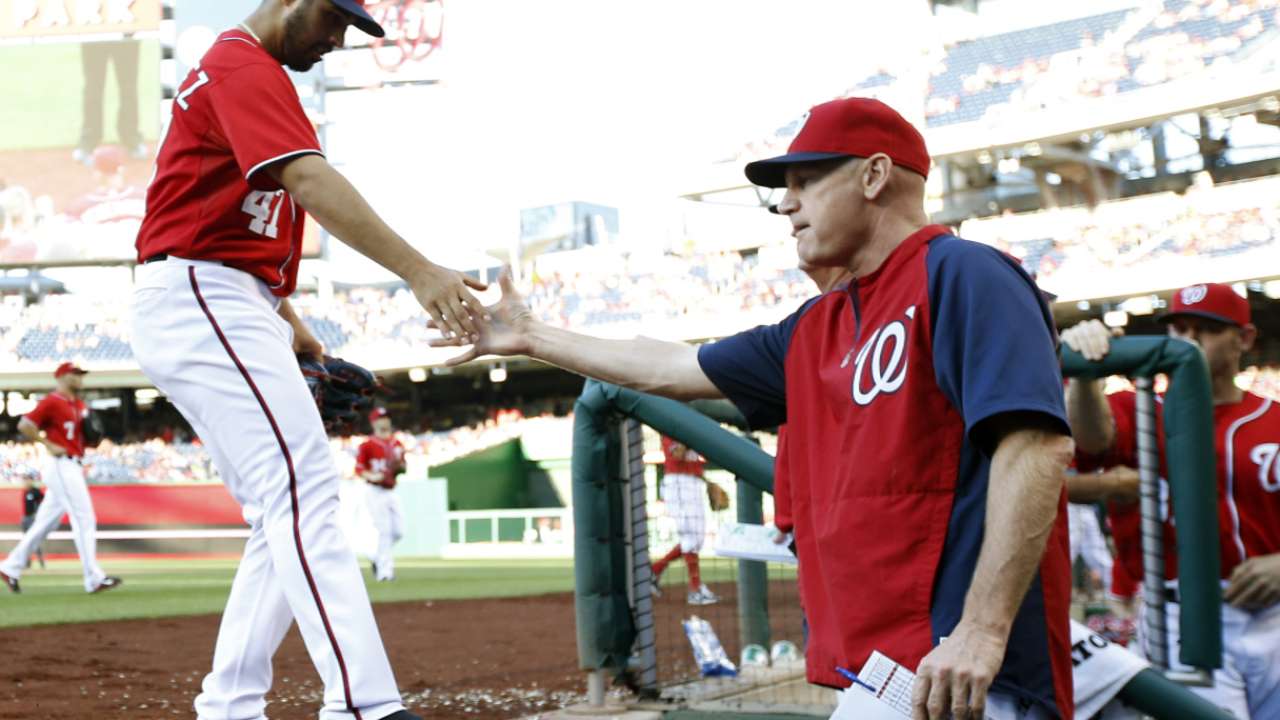 SAN FRANCISCO -- Baseball has become a sport in which teams try to find the smallest edge. Advanced metrics and extreme defensive shifts are two examples of the trend.
So the simple fact that Gio Gonzalez, the Nationals' starter against the Giants in Game 4 of the National League Division Series, throws with his left hand could be pretty significant as Washington attempts to keep its comeback hopes alive.
After staving off elimination with a 4-1 win on Monday, the Nats still trail the best-of-five series, 2-1, and face another must-win game at AT&T Park on Tuesday, 9 p.m. ET on FOX Sports 1.
The Giants were 58-44 when facing right-handed starters during the regular season, compared to 30-30 against lefties. The first four starters San Francisco faced in the playoffs have been right-handed. So Gonzalez will literally be coming at them from a different angle. Gonzalez finished strong -- 4-1, 2.48 ERA in September -- but Game 4 will be his first start since shutting out the Mets for seven innings on Sept. 25. He said he's been trying to stay on his routine as much as possible. On regular rest this season, he had a 3.42 ERA. With an extra day, it was 3.52. With more than that, 4.01.
"Keep practicing. Keep doing what I can to get ready," said Gonzalez -- who also noted that he would have been available in the 18-inning Game 2 on Saturday if he'd been called upon -- when asked what he's done to stay sharp. "Still stretch, stay with the same routine, know that it's not over yet."
"Over the last six weeks, he's given us really good pitching performances," said Nationals manager Matt Williams. "His numbers the last month were fantastic. He's been going deep into games and using all his pitches for strikes when he wants to."
Williams speculated that facing Gonzalez might compel the Giants to adjust a lineup that includes five lefty swingers: center fielder Gregor Blanco, second baseman Joe Panik, first baseman Brandon Belt, shortstop Brandon Crawford and left fielder Travis Ishikawa.
One possibility for San Francisco manager Bruce Bochy would be to start rookie Andrew Susac behind the plate and move Buster Posey to first. But that would mean sitting Belt, who is hitting .357 in this series, and Bochy has indicated he has no plan to do that.
Another would be to drop Blanco in the order and move Hunter Pence to the third spot. Bochy said he'd consider it, but he added: "I have no problem with Gregor. He's pretty good."
Third baseman Pablo Sandoval, a switch-hitter who extended his postseason hitting streak to 14 games with a second-inning single in Game 3, had an OPS of .824 this season against right-handers but just .563 against lefties.
Gonzalez pitches with a lot of emotion. During the most recent World Baseball Classic, he talked to Team USA pitching coach Greg Maddux about harnessing that aggression in big games.
"Definitely a situation where you've got to control it," Gonzalez said. "Definitely going to be some emotion. There's going to be some excitement. You get a double play, obviously there's going to be some emotion to that, but it's also staying professional as much as possible.
"In my career and my time playing, I definitely want to stay as composed and relaxed as possible. Picking up from other pitchers, that's the beauty about being a pitcher on the side, watching other people's emotions and the way they go about it, the way they compete, and just staying low key and professional as much as possible."
Gonzalez spent his first four big league seasons with the Oakland A's, who play just across the bay, and he said that familiarity creates a comfortable environment for him.
"I spent half of my career [in the Bay Area]. I've pitched here quite a few times, especially wearing the green and gold," Gonzalez said. "At Starbucks, I had a fan come up to me and say, 'I'm an A's fan and I remember you. Just want to wish you luck.' I definitely get a lot of support from the Bay Area and the green and gold."
Gonzalez didn't face the Giants this season. For his career, he's 2-2 with a 2.59 ERA against San Francisco.
Paul Hagen is a reporter for MLB.com. This story was not subject to the approval of Major League Baseball or its clubs.