Ryan has strong internal pool, but will also look outside
Molitor considered a frontrunner in Twins manager search; Mientkiewicz a possibility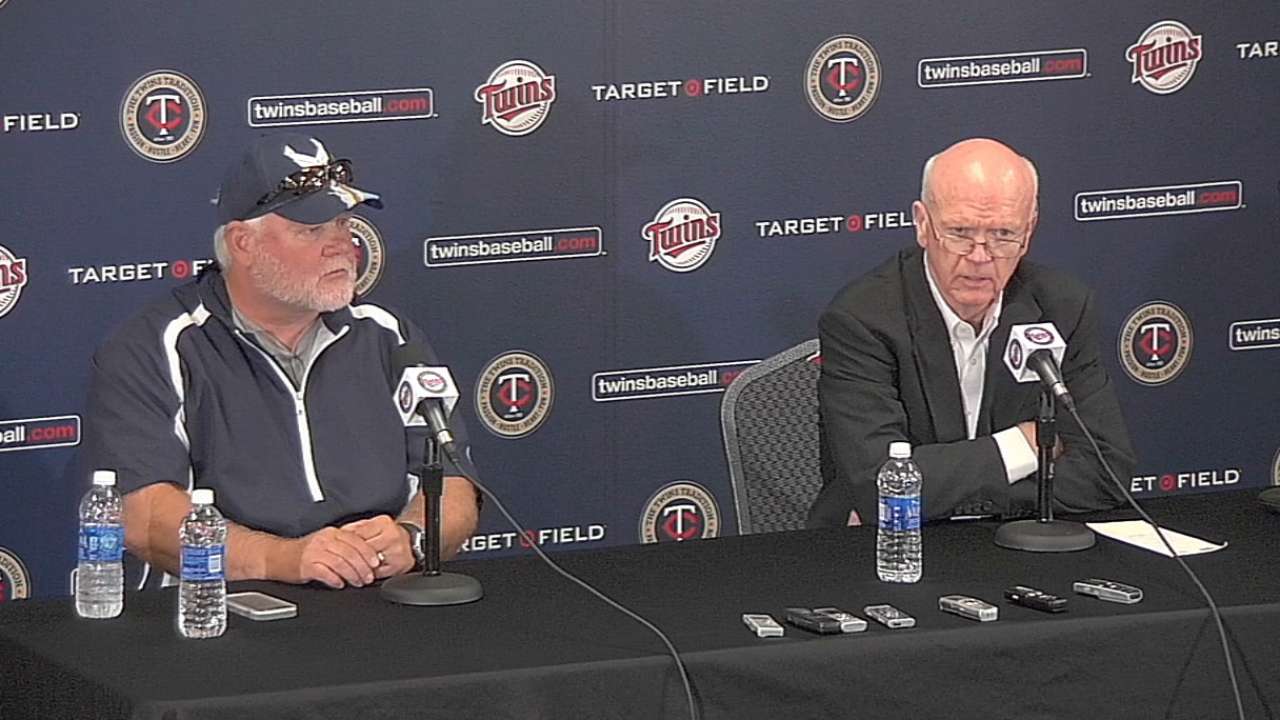 MINNEAPOLIS -- When Twins general manager Terry Ryan described his ideal candidate to replace Ron Gardenhire as manager, he left the door open on bringing in a fresh voice from outside of the organization.
But he also hinted that finding a manager from within the organization would be a preference, and one week after parting ways with Gardenhire, the Twins have yet to interview any potential skippers from outside the organization. Ryan has reportedly only interviewed Twins coach Paul Molitor and Class A Fort Myers manager Doug Mientkiewicz, but will interview more candidates from both inside and outside the organization in the coming weeks.
"I don't think we ought to just stay within, although that would be a nice preference, if you could," Ryan said. "My preference is to get the best guy. It'd be nice to get a guy that's inside, because he'd know the inner workings of this organization, and the market, and the ballpark and the personnel. That would be great, but sometimes, it's not meant to be."
Molitor, 58, is considered the favorite after spending last season as a coach with the Twins. The Hall of Famer is familiar with the players on the big league roster and also has worked with many of the club's top prospects such as Byron Buxton and Miguel Sano during his time as the organization's Minor League baserunning and infield coordinator.
Molitor, a St. Paul native who finished his playing career with the Twins from 1996-98, was also an on-field coach with the Twins in 2000 and '01 under former manager Tom Kelly. He's also thought of as forward-thinking and isn't afraid of advanced statistics or implementing infield shifts.
Molitor, though, has no managerial experience at any level, but Ryan has indicated that won't be an overriding factor for candidates. Several big league managers such as Mike Matheny, Brad Ausmus, Matt Williams and Robin Ventura were hired in recent years without any managerial experience.
"There are managers who are in the postseason right now who didn't have one game of experience as manager," Ryan said.
Mientkiewicz, 40, is also familiar with the Twins, playing the first seven years of his career in Minnesota from 1998-2004 before rejoining the organization as manager of Fort Myers in 2013. The Miracle went 79-56 in '13 and 82-57 in '14.
Mientkiewicz has also managed several top prospects, including Buxton and Sano, as well as Kennys Vargas, who was solid as a rookie for the Twins in '14. He's also known as more of a fiery type, which is in contrast to Molitor's more laid-back persona.
So while Molitor and Mientkiewicz are the top two internal candidates, the Twins are also expected to look at bench coach Terry Steinbach and Triple-A Rochester manager Gene Glynn.
Among candidates from outside the organization, White Sox third-base coach Joe McEwing and Red Sox bench coach Torey Lovullo are expected to be strongly considered. Orioles manager Buck Showalter also openly endorsed bench coach John Russell as a candidate, and he's expected to be interviewed once Baltimore's playoff run is over.
The Twins have also been linked to Cardinals third-base coach Jose Oquendo, Rays bench coach Dave Martinez and A's bench coach Chip Hale.
Ryan will be the main decision-maker on the next manager, but he has been working closely with assistant general manager Rob Antony. Twins owner Jim Pohlad has indicated that he won't get involved in the interview process initially, with Ryan handling the first round and looking for what he wants in a manager.
"He's got to be a tactician, handle the media, be involved in the community, take an interest in our Minor Leagues and in scouting and so forth, have a grasp of the organizational policies," Ryan said. "Everything that leaders do."
Rhett Bollinger is a reporter for MLB.com. Read his blog, Bollinger Beat, and follow him on Twitter @RhettBollinger. This story was not subject to the approval of Major League Baseball or its clubs.