Milwaukee BBWAA names Lucroy team MVP
Peralta gets Outstanding Pitcher nod; Duke honored as Top Newcomer, Unsung Hero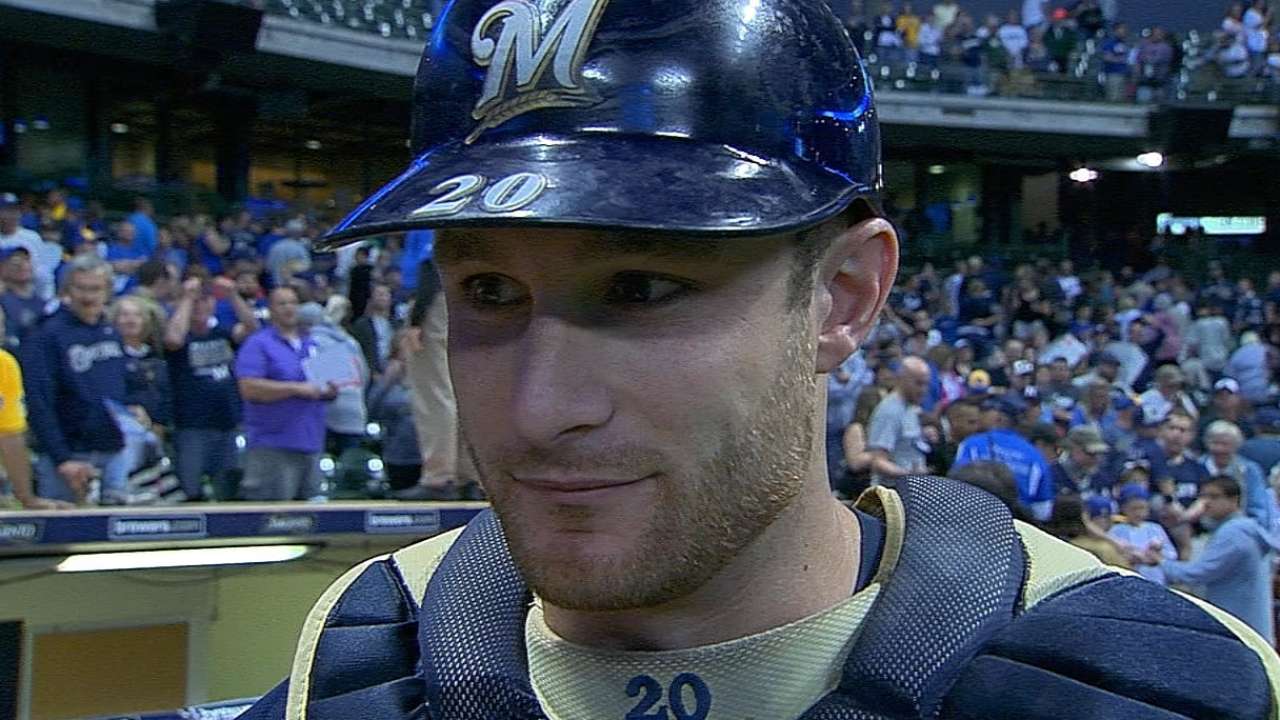 Jonathan Lucroy was named the Most Valuable Player and Wily Peralta was recognized as the Most Outstanding Pitcher when the Brewers announced the Milwaukee Baseball Writers' Association of America award winners on Monday afternoon. Along with being recognized as the team's top performer, Lucroy also received the Good Guy Award for the second straight season. Left-handed reliever Zach Duke was honored with two awards -- Top Newcomer and Unsung Hero.
Lucroy won the MVP Award in unanimous fashion, receiving each of the seven first-place votes cast by members of the Milwaukee chapter of the BBWAA. Carlos Gomez received each of the second-place votes.
Along with further proving his ability to handle a pitching staff, Lucroy spent this year cementing his place as one of the game's top catchers. He led the Brewers in games played (153), batting average (.301), hits (176) and extra-base hits (68). Lucroy's team-high 53 doubles distinguished him as the first primary catcher to lead his league in this category. He also set a Major League record by hitting 46 of his doubles as a catcher.
This was a breakthrough season for Peralta, who went 17-11 with a 3.53 ERA in 32 starts. The 25-year-old right-hander led the team in wins, innings pitched (198 2/3), quality starts (22) and strikeouts (154). Peralta received six of the seven first-place votes. Mike Fiers received the other.
Duke posted a 2.45 ERA in the 74 relief appearances he made after being the only non-roster invitee to make the Opening Day roster. The southpaw received just one first place vote, but was included on each of the seven ballots cast for the Top Newcomer Award. Francisco Rodriguez received three first-place votes, but finished a close second. Duke's competition in the Unsung Hero category came from Fiers, Will Smith and Scooter Gennett, who each received one first-place vote.
A total of seven players received votes in the balloting for the Good Guy Award. Lucroy and Kyle Lohse were the only members of this group with first-place votes.
Mark Bowman is a reporter for MLB.com. This story was not subject to the approval of Major League Baseball or its clubs.