Inbox: How is the Tribe looking this offseason?
Beat reporter Jordan Bastian answers questions from Indians fans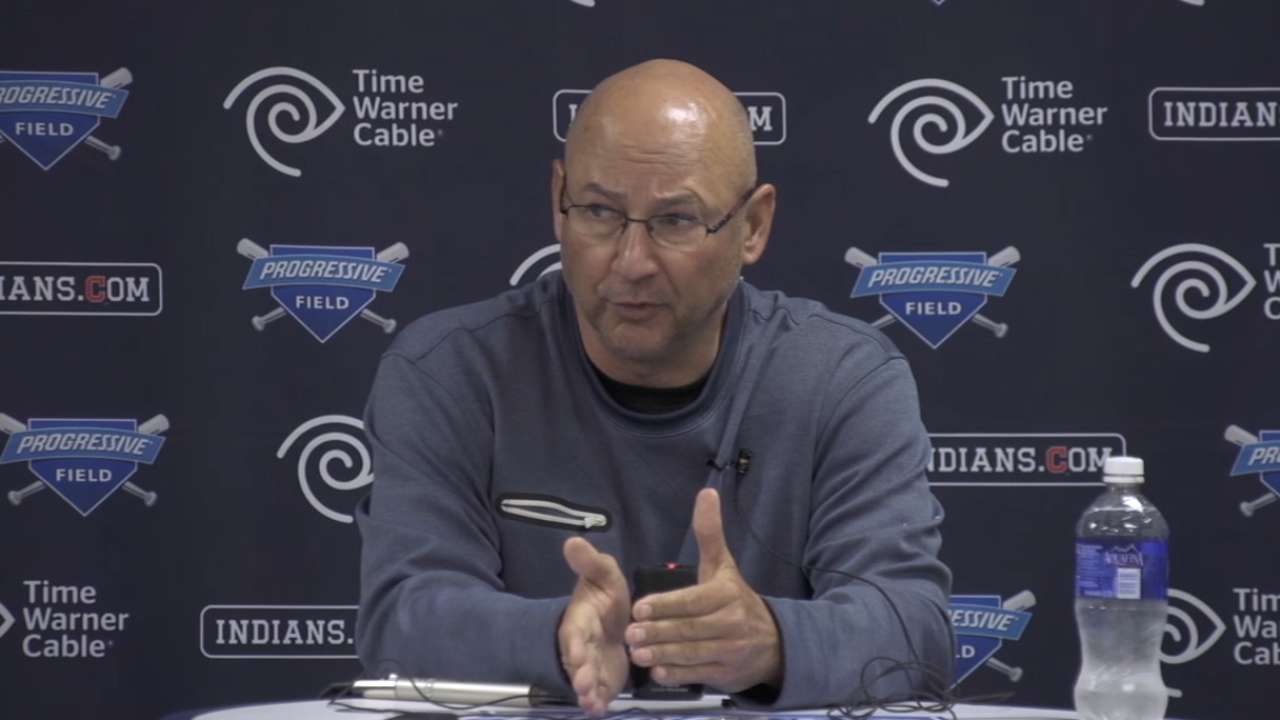 How do you judge the Tribe's offseason positioning this year compared to last? Are they in a better or worse position?
-- Joe B., Cleveland
That is a good question -- one that Indians general manager Chris Antonetti addressed during his season-end sit-down. Despite the team winning seven fewer games this season compared to 2013, Antonetti feels that Cleveland is in a better position heading into this offseason.
"At the moment, we're more disappointed, because at this time last year we still had games in front of us," Antonetti said. "But as we start to transition to the offseason, we have virtually the entirety of our roster in place for next year. Again, there's no complacency, we want to improve on that, but that's a great position of strength going into the offseason. Last year, we had more questions going into the offseason than we do right now."
I agree to a certain extent.
Pitching was the Indians' strength this year, especially in the second half. After the All-Star break, the rotation led the American League with a 2.95 ERA, 433 strikeouts and a 4.37 strikeout-to-walk ratio. The starting five of Corey Kluber, Carlos Carrasco, Danny Salazar, Trevor Bauer and T.J. House combined for 60 of the 68 starts in that time period.
Where I believe Antonetti is right is in that those five pitchers all project to be in the fold next season, and only Carrasco will be entering his arbitration years. Potentially, that is a lot of value at a low cost for several seasons. Cleveland had similarly strong starting pitching in the second half of 2013, but two key starters (Ubaldo Jimenez and Scott Kazmir) took their innings to the free-agent market.
Cleveland's solid bullpen can essentially return intact for 2015, too. That is a lot of good pitching, though the Indians would be wise to bolster the depth chart (rotation and bullpen) with some mid-tier or non-roster signings this winter.
The Indians are also in a position to retain their entire nine-man lineup. That is where I disagree slightly with Antonetti's notion. With so many contracts in place, Cleveland is limited in where and how it can upgrade an offense that went stagnant in the second half. Barring trades, third base and right field appear to be the most logical spots to make an upgrade. Without any major additions, the Indians will be asking for some strong bounce-back seasons from a few players.
The Indians won 85 games with the worst defense (116 errors) in baseball, John Axford unsuccessfully closing early in the year, Jason Kipnis hitting .240, Nick Swisher injured and so on. So many things went wrong, but they still won more often than they lost. Is it so farfetched to think the Indians could come in to Spring Training with the same team they signed off with and win five to seven more games?
-- Dave B., Lakewood, Ohio
The simple answer seems to be, "Yes." In the spring, if you rattled off all the things that would go wrong, I probably would have guessed Cleveland would finish in fourth or fifth place in the division. The Indians overcame a lot, and that gives hope for 2015. I think the roster in place can indeed win more than 85 games if the group stays healthy and performs to expectations. Then again, that might be asking a lot. Have you ever seen a season in which everything went according to plan?
-- How much money does the Tribe have to spend this winter?
Tyler M. (via Twitter)
What we know is that the Indians have roughly $54 million tied up in nine contracts for 2015 and the team needs to make a decision on Mike Aviles' $3.5 million team option (or $250,000 buyout). Add in the retained players at the league minimum, plus the estimated $12 million to $15 million in arbitration costs, and Cleveland projects to have a payroll around $72 million to $75 million. The Indians have operated in the $80 million to $85 million range for the past few years, so there is some flexibility. Where things get complicated is in the number of contracts in place. The trade market might be more opportunistic for the Indians this winter.
-- If the Indians keep the same personnel and don't add any big names this offseason, what should they do differently next year in order to make the postseason?
Jeff D., Canton, Ohio
Cleaning up the defense has to be the top priority. Consider the difference in Defensive Runs Saved by the Royals (plus 40) compared to the Indians (minus 75). Kansas City finished just four games ahead of Cleveland in the standings and made the playoffs. Next, the Indians absolutely need full, healthy, productive seasons from Kipnis, Swisher and Michael Bourn. You can't predict injuries, but the balance of rest and training in the winter can do wonders for that trio.
-- Do you think the Indians will go for Victor Martinez this offseason?
Ryan O. (via Twitter)
Cleveland appears to have its first baseman in Carlos Santana and the designated-hitter role, as a result, would fall to Swisher. On top of that, Martinez is in position to take advantage of an incredible season with the last lucrative, multiyear contract of his career. I could see him finishing his career in Cleveland, but I just do not see him winding up in a Tribe uniform for 2015.
-- What's the chance that Sandy Alomar Jr. gets the D-backs' managerial job?
Alex K., Granville, Ohio
As of this writing, Alomar (Cleveland's first-base coach) is one of 11 known candidates for Arizona's managerial opening. Reports have indicated that the D-backs might prefer to go with someone who already has managing experience. Alomar managed six games at the end of the 2012 season, but the rest of his post-playing career is limited to coaching. Alomar has been considered an up-and-coming manager for several seasons now, but his chances would seem to decrease if the D-backs are not willing to roll the dice on a less-experienced candidate.
Jordan Bastian is a reporter for MLB.com. Read his blog, Major League Bastian, and follow him on Twitter @MLBastian. This story was not subject to the approval of Major League Baseball or its clubs.