Versatile Marlins may look to shuffle players' roles in 2015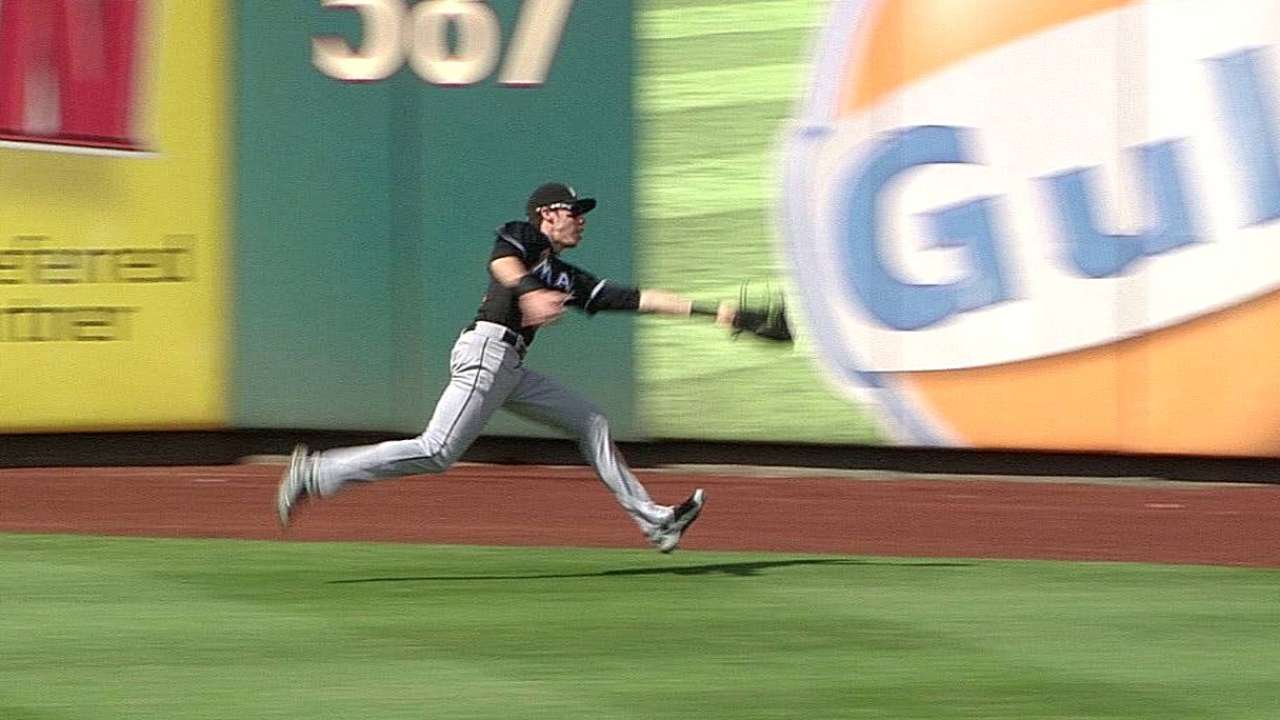 MIAMI -- In the National League, where pitching changes and double-switches are common, the Marlins realize the importance of versatility. The more roles a player can assume, the more options it presents to manager Mike Redmond.
Miami's front office continues to put an emphasis on building a roster with players who can adapt to various situations. Currently, on the 40-man roster, there are a handful of players who may find themselves in different spots in 2015.
At the end of the month, the Marlins will have their organizational meetings, in which they will break down each player on the roster and determine how to move forward in 2015.
Here are five players who could be candidates for changes.
1) Christian Yelich -- LF to 1B: This would be a shocker. But the speculation already is out there that Yelich could switch from left field to first base. The reasoning is the market is thin on first-base candidates, and an outfielder could be easier to acquire. Yelich did play first base in high school and he is athletic enough to make the transition.
Still, this scenario is a real long shot. Yelich is a rising star, and he's quite comfortable in left field. The Marlins feel they have the best young outfield in baseball, and the organization isn't leaning towards breaking up the trio of Yelich, Marcell Ozuna (center) and Giancarlo Stanton (right). Expect Yelich to remain in left field and in the leadoff spot.
2) Nathan Eovaldi -- Starter to reliever: The fastball velocity is certainly there, but Eovaldi's secondary pitches continue to be a work in progress. The 24-year-old finished the season with two promising starts, but he had a rough campaign overall, going 6-14 with a 4.37 ERA in 33 starts. He did log 199 2/3 innings.
If Eovaldi's offspeed pitches improve, there is no question he will remain in the rotation. If not, he could be headed to the bullpen, where he could get by with a fastball and breaking ball. As a starter, he needs at least three pitches to keep hitters off balance.
3) Derek Dietrich -- 2B to 1B or OF: Dietrich was Miami's Opening Day second baseman, and he saw action in 44 games at the position. But he had his problems in the field, making 10 errors. He also appeared in one game at third base and had an error there as well.
A left-handed hitter with power, Dietrich remains an intriguing offensive player. Over the last two seasons, he has 14 big league homers in 106 career games. He's also dealt with injuries, missing substantial time this year with a strained right wrist. He finished the season at Triple-A New Orleans.
Because of his defensive issues, and the fact Donovan Solano and Enrique Hernandez are on the roster, Dietrich's future with the Marlins may be at another position. In September, he took steps to increase his versatility by participating in Miami's instructional league, getting work at first base and left field.
4) Rob Brantly, C to 1B/3B: When he was acquired from the Tigers in July of 2012, the book on Brantly was he could hit, but he needed work behind the plate. The defensive struggles remain, and he spent all of 2014 at Triple-A. Hoping to get the most of out Brantly offensively, the 25-year-old spent time in the instructional league, also getting work at first base and third base.
For the first time in years, the Marlins have depth at catcher. Jarrod Saltalamacchia is under contract through 2016. Although Saltalamacchia had a down year, the club is expected to retain the 29-year-old. Jeff Mathis has a club option of $1.6 million next year, and Miami is leaning towards picking that up. J.T. Realmuto is regarded as the catcher of the future. If Brantly can handle another position or two, it could increase his value. He is a left-handed hitter with power potential.
5) Tom Koehler, starter to reliever: Koehler was a workhorse in the rotation, making all 32 of his scheduled starts, and he threw 191 1/3 innings. The 28-year-old is highly valued by the organization. He's also versatile.
Heading into Spring Training, Koehler will be a frontrunner to secure a rotation spot. But he may not be a lock.
High on Miami's shopping list this offseason is landing another starting pitcher. If that happens, Koehler could moved to the bullpen. Also, when Jose Fernandez returns, perhaps around the 2015 All-Star break, some shuffling to the rotation will occur.
Joe Frisaro is a reporter for MLB.com. He writes a blog, called The Fish Pond. Follow him on Twitter @JoeFrisaro. This story was not subject to the approval of Major League Baseball or its clubs.