Butler thrills fans with steal
Royals' DH nabs first bag since July 2012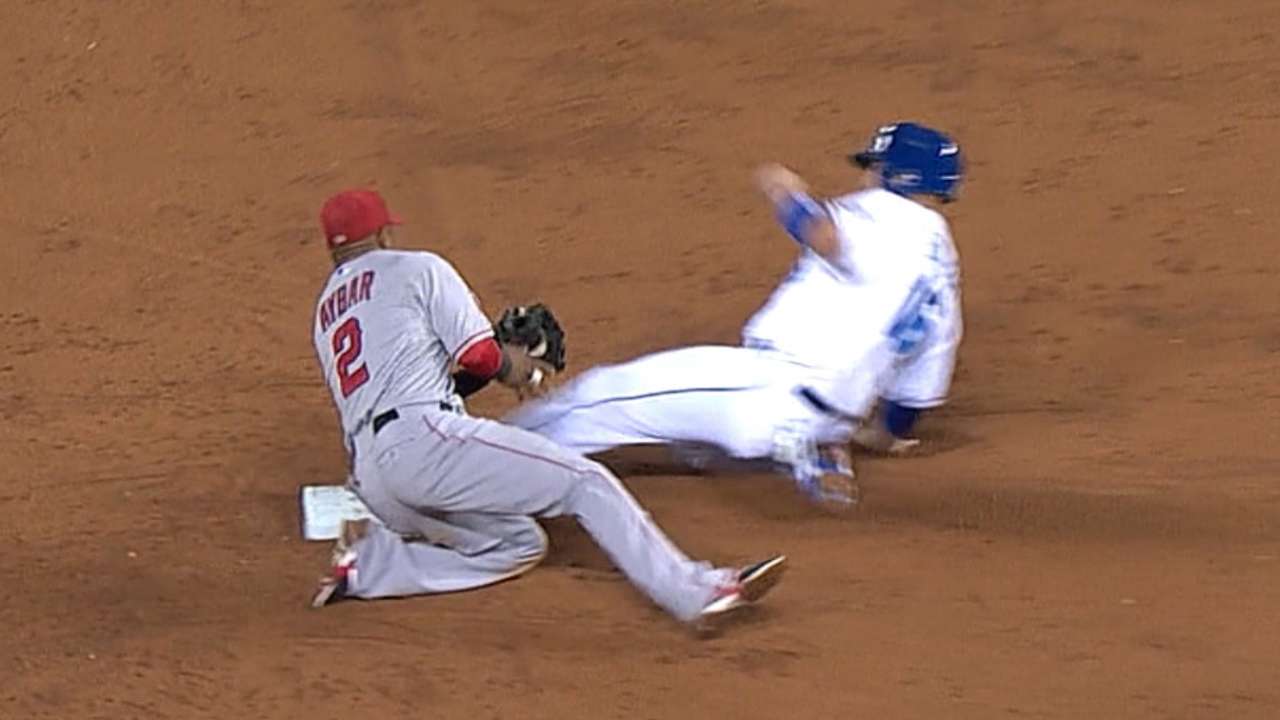 KANSAS CITY -- A low murmur resonated throughout Kauffman Stadium when Angels reliever Hector Santiago released a 0-1 offering to Alex Gordon in the third inning of the Royals' 8-3 win Sunday.
The 40,657 in attendance saw something unfamiliar. Something that startled them.
It was Billy Butler stealing second base.
The Royals designated hitter, regarded more for his exploits with his bat then his legs, swiped second base successfully in the third inning off an unassuming Santiago.
It was Butler's first steal since July 5, 2012.
According to James Shields, the winning pitcher in Kansas City's series-clinching win over Los Angeles, Butler finally took a piece of year-long advice.
"You know, I've been telling him to steal all season long. They don't hold him on," Shields said.
Not only did the steal draw the approval of the fans, it also came at the giddy delight of his teammates, who have been running amok on the base paths all season.
Once safely on second base, Butler mimicked the dance move Jarrod Dyson pulled after swiping third base in the American League Wild Card Game against the Athletics to put himself in position to score the game-tying run.
"They weren't holding me on," Butler said. "[Albert] Pujols was way back and Santiago was real slow to the plate. Rusty [Kuntz, first base coach] looked over at me and said, 'Hey, you think you can get 'em?' I said, 'Oh, yeah.'"
Butler's steal hardly played into the victory. He didn't even come around to score in the inning. But it provided one glimpse into an aspect of the game the Royals have utterly dominated in the postseason: the running game.
Butler's steal was the 12th Kansas City has notched in four playoff games thus far.
"I guess we've stolen a lot of bases this postseason, and he wanted to join everybody," Shields said. "I've seen some weird stuff happen in the postseason, and good for him, man."
Jackson Alexander is an associate reporter for MLB.com. This story was not subject to the approval of Major League Baseball or its clubs.