Oct. 5 Hosmer, Moustakas postgame interview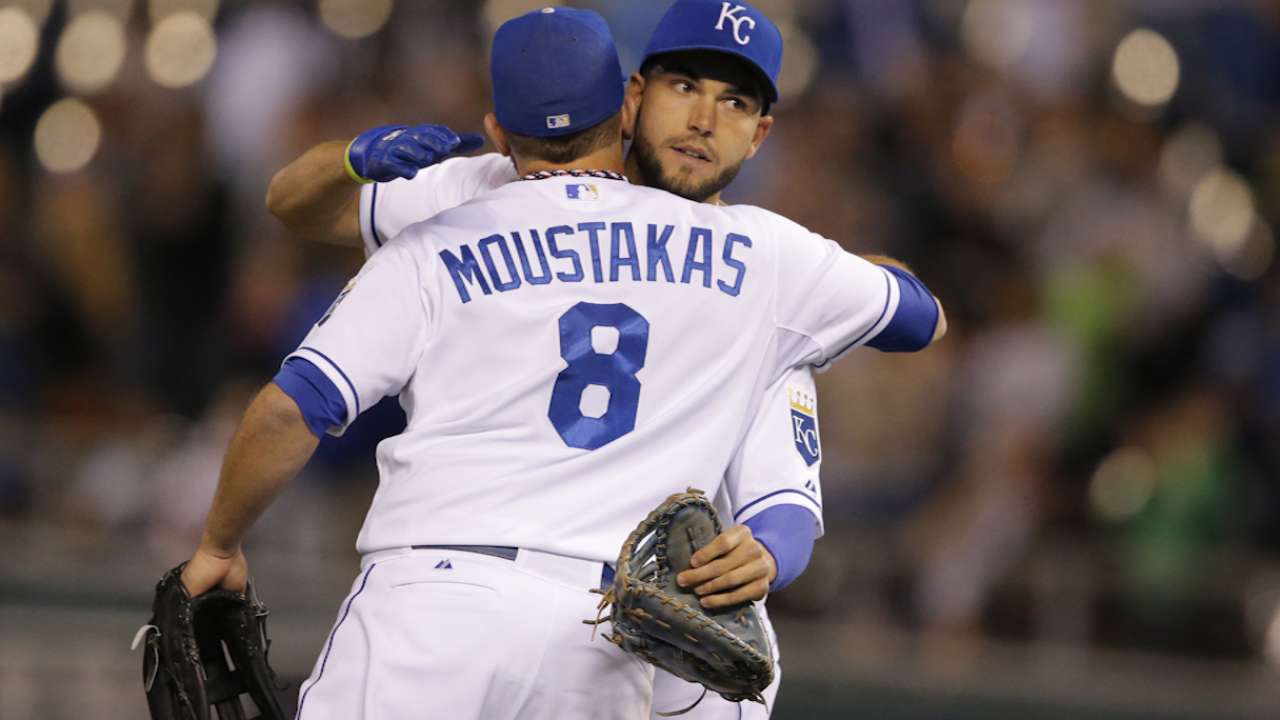 Q. You hit the big home runs on the road. What was it like hitting them here with the hometown fans in a game that means so much?
ERIC HOSMER: It was a blast. This crowd is bringing a lot of energy. Everyone knows how long it's been since we've been in the postseason, and you can tell because all these people out here, they're on their feet every pitch. They've got our backs every pitch, and we're feeding off that energy. To come do it at home and to do this in front of our home crowd, it wouldn't be any better than coming and celebrating with all these people out here.
Q. Hosmer, just how about Cain making those two great catches in the field?
ERIC HOSMER: Yeah, we've been seeing that all year. I know now the whole world is starting to see what he can do. He's on the big stage now making the plays and doing it with the bat, also. That's something we've been seeing all year from him, from Gordo, from Dyson and all these guys out there. They've been really controlling that outfield. There's a lot of turf out there obviously to cover out there, and they make the stadium and the field look a lot shorter than it is.
Q. Moose, what did you think of Billy's steal, showing off his wheels?
MIKE MOUSTAKAS: I thought it was awesome. That's the brand of baseball we're playing. Any time you can give us a base, any time we have an opportunity to take something, we're going to take it. Billy did that. It was awesome to see him do that and got himself into scoring position. It was awesome to see him steal second.
Q. Moose, the homer, were you just sitting on a pitch?
MIKE MOUSTAKAS: I was looking fastball and he threw one and I just put a good swing on it and was able to drive it out of the ballpark.
Q. Hosmer, how about James, big game tonight?
ERIC HOSMER: Yeah, he battled out there. That's what makes a great pitcher great is when you don't have your best stuff that night and you find a way to battle and you find a way to grind through and eat some innings up for us. That's what separates him.
Q. For both of you, is there a little satisfaction in winning the game with some home runs after there was a lot of talk about power was not your team's strength?
MIKE MOUSTAKAS: There's a lot of satisfaction in winning the game. It doesn't really matter how we do it. We'll bunt, we'll hit and run, we'll do it anyway we can. Tonight we were able to hit a couple big homers. Hos' blast was huge for us. We don't really care how we win ballgames, just as long as we get a W at the end of the night, and I think I speak for 25 guys in that clubhouse and will say the exact same thing. We go out every night with intentions to bin and whatever we can do to win, we'll do it.
Q. How big of a boost was it there in the first when Gordo cleared the bases after Trout hit his home run?
ERIC HOSMER: Yeah, that's a huge swing. After they put up the run there in the first inning for Gordo and two outs and battling against C.J. right there, that's a big reason why he's the leader of our team. He really shifted the momentum there and got us feeling good. Any time you can knock out their starter before the first inning and get into their bullpen, we obviously feel pretty good about that after. But none of that comes until the big swing from Gordo.
MIKE MOUSTAKAS: Absolutely. I mean, Gordo, hands down leader of this ballclub. For him to go out there in a huge situation like that after we're down one, drive in three runs, it just gave us so much confidence going into the rest of that game being up, especially knowing that we've got Juego on the mound and our bullpen is as good as it is, Gordo put a great swing on that ball, and that's huge for us, absolutely huge.
Q. Eric, it seems like Santiago is the kind of pitcher that could have settled in and had a nice long run there giving them some deep innings. The sequence in the third inning, can you kind of go through that a little bit, and then just Scioscia said he thought a big difference in the series was when they made a mistake, you guys didn't miss it, and maybe their hitters missed a couple.
ERIC HOSMER: Yeah, when you're coming in as an offense, we like to swing the bat, we like to put the ball in play, but when it comes down to the postseason, when it comes down to situations like this, you've got to battle and you've got to make sure you're staying aggressive but staying aggressive within your zone. As an offense I think we've been doing a good job staying aggressive in that zone, not going outside of it, getting good counts, and when we're getting good counts we're not missing the pitches. When you're rolling as an offense that's doing that, you're in a good spot.
Q. How about the at‑bat against Santiago?
ERIC HOSMER: Yeah, it was a couple guys on base, and like I said, I was trying to stay aggressive in my zone and he fell behind 2‑0, and you've got a guy like Billy Butler hitting behind you, you know he doesn't want to walk you and he needs to come after you and get a strike. So, that's the game plan is you're in a good count so you know you're going to get a good pitch, and you've just got to be on time, you can't miss it.
Q. You guys are on such a tremendous roll right now, but is it going to be nice to have four days off to kind of catch your breath a little bit before you take on the Orioles?
MIKE MOUSTAKAS: Yeah, we really haven't thought that far yet. We're just excited that we're moving on. We played great baseball tonight, and we're going to enjoy this tonight, going to hang out with the boys, enjoy it, and then come back to work tomorrow ready to go and have a couple days off, like you said. It will be nice to set up that rotation, get everybody going, get everybody feeling good again. But again, we've got work to do still. We're not done yet. We're going to celebrate, have some fun, but back to work as usual the next couple of days.
Q. Both you guys were early draft picks for Dayton and kind of the cornerstones that this franchise has been building around, and it hasn't always been easy for you guys. Can you put into perspective what this last week has been like for you considering the ups and downs you guys have both had?
ERIC HOSMER: It's been a lot of fun for us. It's times like this that we've been prepared for, and we're been preparing for in the Minor Leagues for a long time. But a big asset or a big characteristic when Dayton drafts guys is character, and I think every single person in that locker room is showing that right now with the way we've been battling back, the way we've been in some holes and we've had our season on the line at times. It's the guys that aren't going to quit, the guys that believe they can do it and the guys that are going to keep fighting. I think that just kind of sums up what it's been like for Moose and I, but we're just ‑‑ we're winners. We want to win. That's all we care about. The numbers are ‑‑ that's for the scoreboard and for the fans to see, but when it all comes down to it, we want to win, and we're going to do anything we can at all costs to win.