Hamilton can't find it in time
Angels veteran goes 0-for-13 in ALDS sweep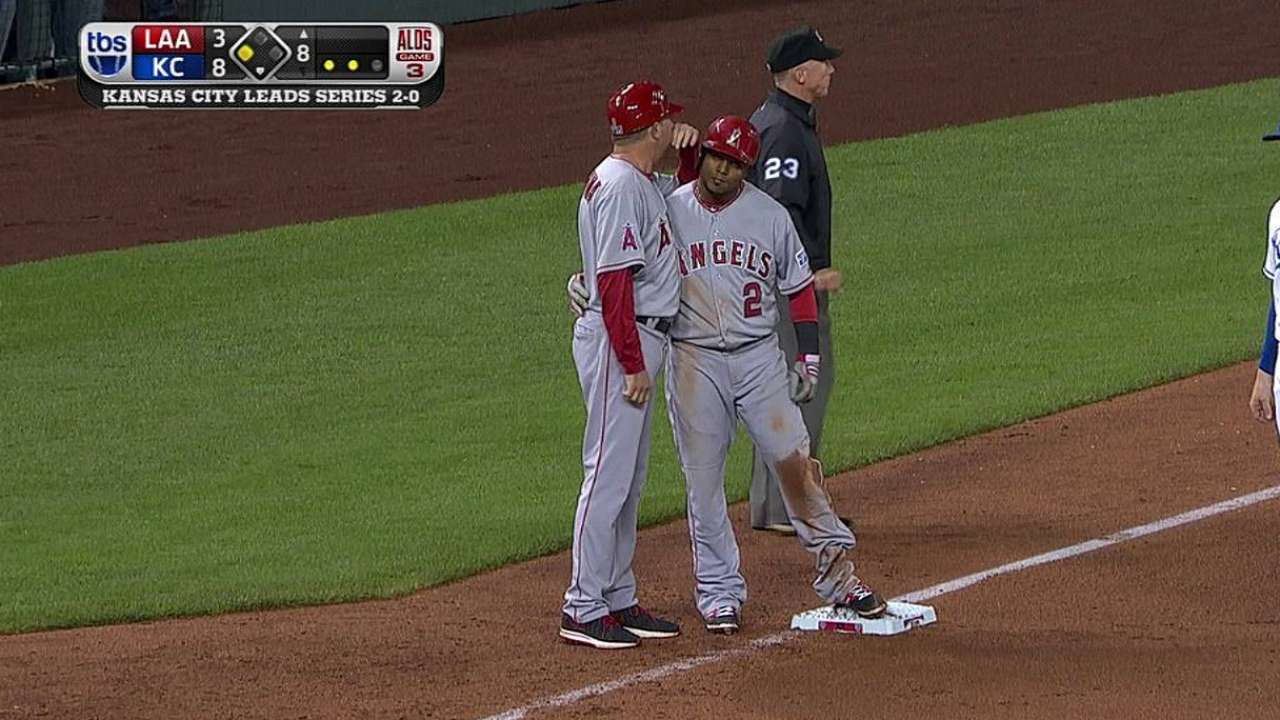 KANSAS CITY -- Josh Hamilton never got right.
He spent the four weeks leading up the American League Division Series in an uphill battle, dealing with an ailing right shoulder, fighting sharp pains in the right side of his body and trying to cram a month's worth of timing into three batting-practice sessions during the workouts that preceded the postseason.
"I felt like I had pretty good at-bats," Hamilton nonetheless said after his team was eliminated with an 8-3 loss in Game 3 of the American League Division Series at Kansas City on Sunday night. "Coming into it, the biggest thing was putting the ball in play. Tonight, I felt like I had some pretty good at-bats. It's a little late for that."
Hamilton, who drove in his only run of the series in the eighth inning on Sunday, became just the seventh player in the Wild Card era to have at least 10 plate appearances in the Division Series and not reach base. His timing was off and some pain lingered, but Angels manager Mike Scioscia stuck with him in the No. 7 spot, holding out hope that some lightning remained in his bat.
Hamilton once again brought up 2010, when he missed a month toward the end of the season, managed only two hits in the ALDS, then was named Most Valuable Player of the AL Championship Series.
This year, there wasn't an opportunity for that.
Instead, Hamilton's second season with the Angels -- the second of a five-year, $125 million contract -- ended with a .263 batting average, 10 homers and 44 RBIs in 89 regular-season games, and an 0-for in three postseason games.
"Of course it's frustrating," said Hamilton, who won't have to undergo any surgical procedures in the offseason. "I'd be lying to you if I said it wasn't. But I'm not going to not do what I can to get back and help the team. Last year ended on a positive note. This year, going to the playoffs is pretty positive. That's something to build off and fuel the fire for next year going to Spring Training."
The result: 0-for-13, with two strikeouts and six weak groundouts to the right side.
Alden Gonzalez is a reporter for MLB.com. Read his blog, Gonzo and "The Show", and follow him on Twitter @Alden_Gonzalez. This story was not subject to the approval of Major League Baseball or its clubs.