Oct. 5 Mike Scioscia postgame interview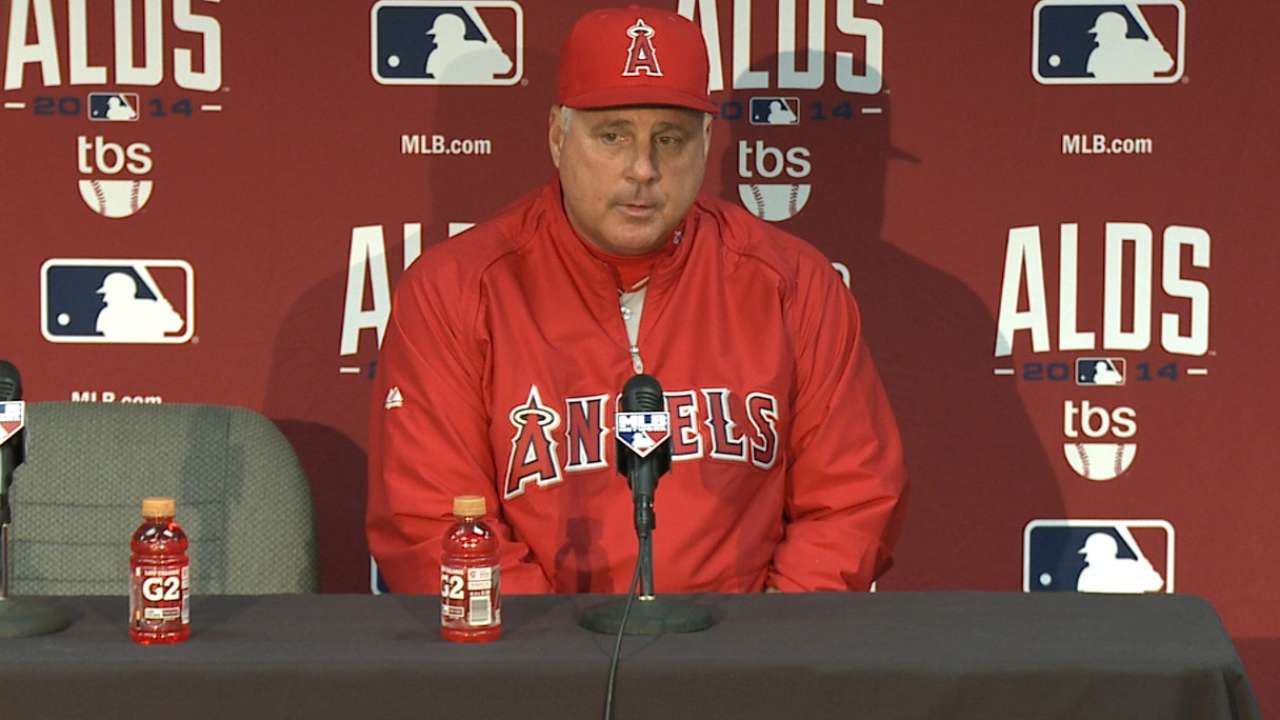 MIKE SCIOSCIA: Before we start, I want to congratulate the Kansas City Royals. They obviously had a great series. They played terrific baseball, and they deserve to move on. We tip our caps to them, and they had a great series, and they're going to be a team tough to beat in this tournament.
We congratulate them.
Q. You guys won 98 games this year. What's the feeling with the season ending this abruptly?
MIKE SCIOSCIA: Well, right now it's tough. It stings. You know, we're all feeling this. We expected better results, but as disappointing as the series was and is right now with us, those guys in that clubhouse had a terrific season. They put everything aside. They played banged up. At times we didn't have quite the depth we wanted to and guys would step up and want the ball more in the pen, or guys went out there and played 90 straight games because they knew how important it was. It's a great group of guys in there, and they're feeling it right now. There's a definite level of disappointment, but there's nothing they need to hang their heads about. They played hard all season, and we had a rough three games.
Q. Again having had the best record in the regular season, could you have ever imagined that you would get swept by a team that had to win a Wild Card Game to get in?
MIKE SCIOSCIA: Anything happens. Anything happens in the playoffs. You don't go in with any badge saying you won the most games, and you're certainly not going to get any points for that going into the playoffs. We did a lot of things well during the series. We just didn't finish some games off, those guys got some big hits and they beat us. But you have to get your foot in the door. That's what you have to do. We know how tough it is to get your foot in the door. The Royals did it, and they beat us in the series.
Q. What did you see from C.J. Wilson?
MIKE SCIOSCIA: I thought his stuff looked okay. I mean, C.J.'s stuff looked good, it just looked like just being able to finish some hitters off was an issue, and I think he was behind too many counts, and it ended up hurting in that first inning. As we talked about before, there's not a long leash pitchers are going to have in a series where it's an elimination game, and unfortunately we had to try to match up and get out of that first inning, and that was the night for C.J.
Q. Back in '02 you guys were a wild card team and you had that momentum train going, beat a 100‑plus win team in the Yankees. Do the Royals have that kind of team where they have the momentum where they're going to be a tough out no matter who they go up against?
MIKE SCIOSCIA: Well, the wild card is totally different. We won 99 games in 2002 and were a Wild Card team. The Wild Card now is set up a little bit different. Basically when we won the Wild Card we had standing as a division champ. We didn't have home field but we had standing as a division champ. And I think it remains to be seen how this Wild Card affects things. I think I don't know when they're going to start the next series, but I think their pitching will get a chance to regroup. I think they'll reset the rotation.
I think any advantage that they lost through the Wild Card should be neutralized now. They should be in good shape for their series. I think it's a totally different thing. They do a lot of things over there that they're going to have to keep doing, you know, as they move forward in the next series. They present a lot of obstacles for a team to try to shut them down. In the first two games they didn't swing the bats, they got key hits at the end. Tonight they swung the bats and just blew the game open. It remains to be seen how they're going to do in the next series, but they played terrific baseball against us and definitely deserve to move on.
Q. How different do you think this game could have gone if Lorenzo Cain doesn't make those two catches in center field?
MIKE SCIOSCIA: I think it's a whole new ballgame. I think it is. It sounds like a broken record from the two games we played out in Southern California and the game here. You're probably looking at a one‑ or two‑run game if both those hits drop in, but they didn't. That's part of their team is their range in the outfield, and it showed up in this series for sure.
Q. What did Kansas City's pitching staff do to slow down your offense so much?
MIKE SCIOSCIA: Well, you know, I mean, I don't think there's any secret about how well their bullpen pitched. That's one of the reasons I think we didn't have a real long leash with C.J. because you don't want to turn the game over too early to their bullpen because they're good, and it ended up that's what happened.
The starters I think threw strikes, relied on their defense, and pitched the way they have all season for those guys. Again, I mean, two close games in Southern California, this one obviously got away from us a little bit, Royals have a terrific pitching staff, and those guys all performed very well for them.
Q. You mentioned that they got key hits in those early games, the games in Anaheim, but they were home runs, and then two home runs tonight. Just how much of a difference ‑‑ that's one thing that you probably wouldn't expect them to do, and they hit four big home runs in the series.
MIKE SCIOSCIA: Right, they stole some bases but it never really factored in any of the games. For a team that was really, coming into the series, I think some of the questions were they don't hit the ball out of the park and they don't draw the ball in their slugging percentage, those guys did not miss mistakes this series. Eric Hosmer and Mike Moustakas, when they got pitches to hit, they hit them. I think that some of our guys in the club early in a couple games got some pitches and we missed them. I think we did a better job at the plate in Game 1 and then again tonight, but unfortunately we didn't get enough done.