Oct. 5 Ned Yost postgame interview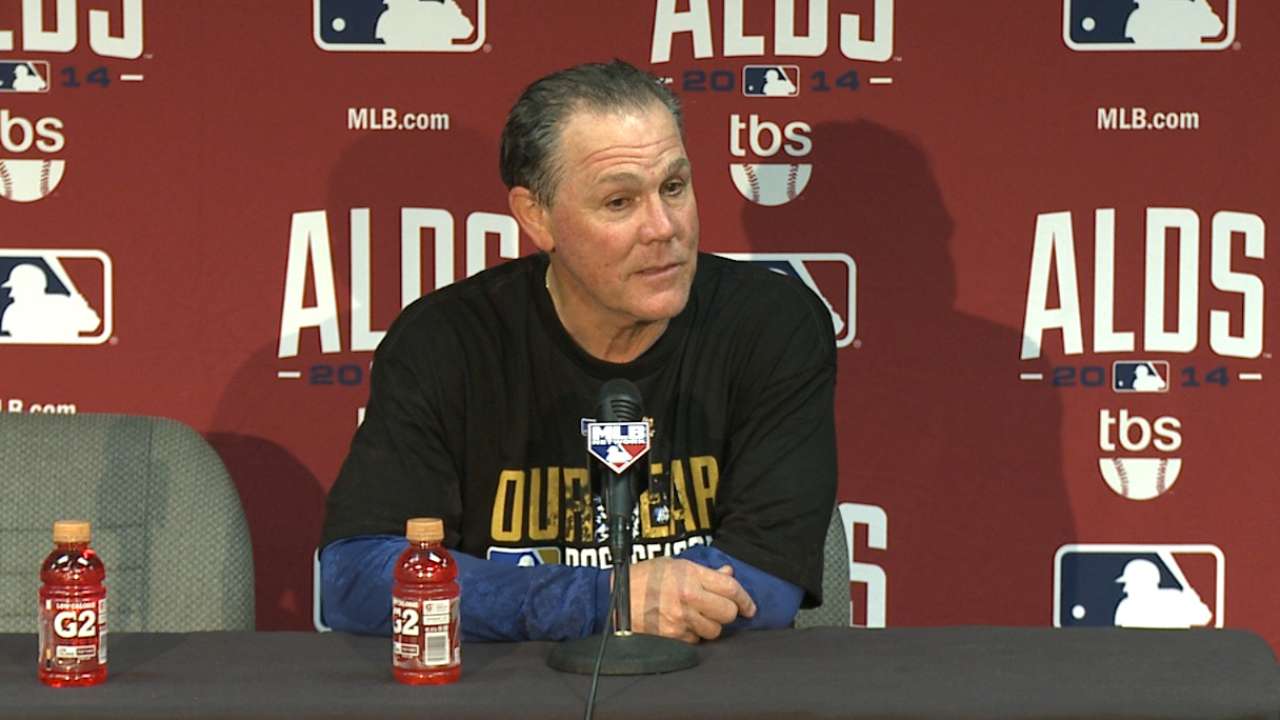 Q. I suppose Shields gave you exactly what you wanted?
NED YOST: That was the game plan. You know, keep us in the game through the sixth inning, we can go to Herrera, Wade Davis and Holly to close it out. We got some offense tonight. We had some breathing room. But that's how we drew it up.
Q. Not just tonight but the two 11th inning home runs in Anaheim, how big was the power hitting that you might not have forecast?
NED YOST: Well, you know, it was huge. Won us two games. Coming into this game, we were hitting .162 as a team, they were hitting .141, but the difference were the two big home runs. That gave us the edge. Tonight the power was huge again, Hos with another monitor shot to left‑center field, Moose with a beautiful home run to right field. But Gordy's double in the first inning was as big as both of those right there. You go ahead, you take the lead after Trout hit the home run, you take the lead and then your whole mindset is let's tack on, let's tack on. We did a great job of tacking on runs tonight, too, to keep the pressure on them.
Q. Following that up, Scioscia said he thought when you guys got pitches to hit, you hit them, and his guys missed a couple, especially early. Would you agree with that?
NED YOST: Yeah, I'd agree with that. That's normally the difference in the game. When you're struggling, we're getting pitches to hit or fouling them back or popping them up. We centered some balls up today. We got pitches to hit and we hit them, we didn't miss them. That's what you have to do when you get in these types of environments, these type of situations, playoff type atmosphere. You can't miss a mistake, and we did a good job of not.
Q. How different this game could have been if Lorenzo Cain doesn't make those two catches out in center field?
NED YOST: It would definitely be different. Both of those plays were phenomenal plays. The first play I didn't see anyway that he could make that play. I mean, when the ball was hit, I'm thinking, okay, that ball is a base hit, and he came out of nowhere like Superman and caught it. The next play was a little bit easier, but it was still every bit as pretty, if you will, you know, the way that he caught the ball.
He's a phenomenal center fielder, got tremendous athleticism, he's got tremendous speed, and he gets great jumps on balls because he reads them right off the bat.
Q. What do you make of that each game in the postseason, including the Wild Card Game, that the game winning or the go‑ahead run was driven in by a home‑grown player?
NED YOST: Oh, home‑grown player was huge for us. I told the boys with about a week to go, look, some of you guys haven't had years that you really wanted to have, but we get to the playoffs, nobody is going to remember that, and we've gotten to the playoffs now. Mike Moustakas, Eric Hosmer, these kids are all stepping up big time and putting us in the position that we're in now. I mean, we're going to go to Baltimore and fight for the American League. There's two teams left standing, and it's going to be a great series. Both teams coming in with a lot of momentum, both teams very, very good baseball teams. It's going to be a great series.
Q. Defense played such a huge role in this. So did speed. How much of a kick did you get out of Billy's stolen base tonight?
NED YOST: Yeah, a little bit, yeah. We try to pick spots that we feel like we've got a high‑percentage chance of stealing bases, and that was a spot where ‑‑ I mean, it's only natural not to pay attention to Billy at first base, you know. But it was ‑‑ it just kind of shows the character of our team a little bit, you know. Everybody gets after it.
Q. As confident as you guys were coming into the series after the win over Oakland, would you have ever predicted a sweep or envisioned a scenario where you guys come in and sweep the 98‑win Angels?
NED YOST: No, that's a tremendous baseball team over there. They have tremendous power, they're a tremendous offensive club with great pitching. Their bullpen is very solid. If you would have given me the choice to go to Anaheim and come out of there 1‑1, I think I might have taken it, you know. But it just shows that our team stepped up at the right time. Everybody is so ‑‑ I've never seen this group of kids so confident on the big stage. It's really fun to see their development and watch them come into the postseason and just really take their game to the next level.
Q. You had the bullpen up in the fourth and sixth inning. Were you a little nervous about what you saw from Shields?
NED YOST: Well, not really, you know, but in the playoffs things can happen fast, and that was more of a precaution in case something happened fast. I wanted to make sure I was prepared for it. But Shields did a great job of making sure nothing happened fast, and we got through it.
Q. Getting back to Cain's plays on defense, in addition to keeping the people off the bases, is there sometimes a disheartening effect to the batting team?
NED YOST: Most definitely. Most definitely. When you're trying to battle your way back into a ballgame and somebody makes a great play, let alone two great plays in the same innings, it is a bit disheartening.