Shields pads postseason resume, earns nickname
'Big Game James' sticks to plan in series clincher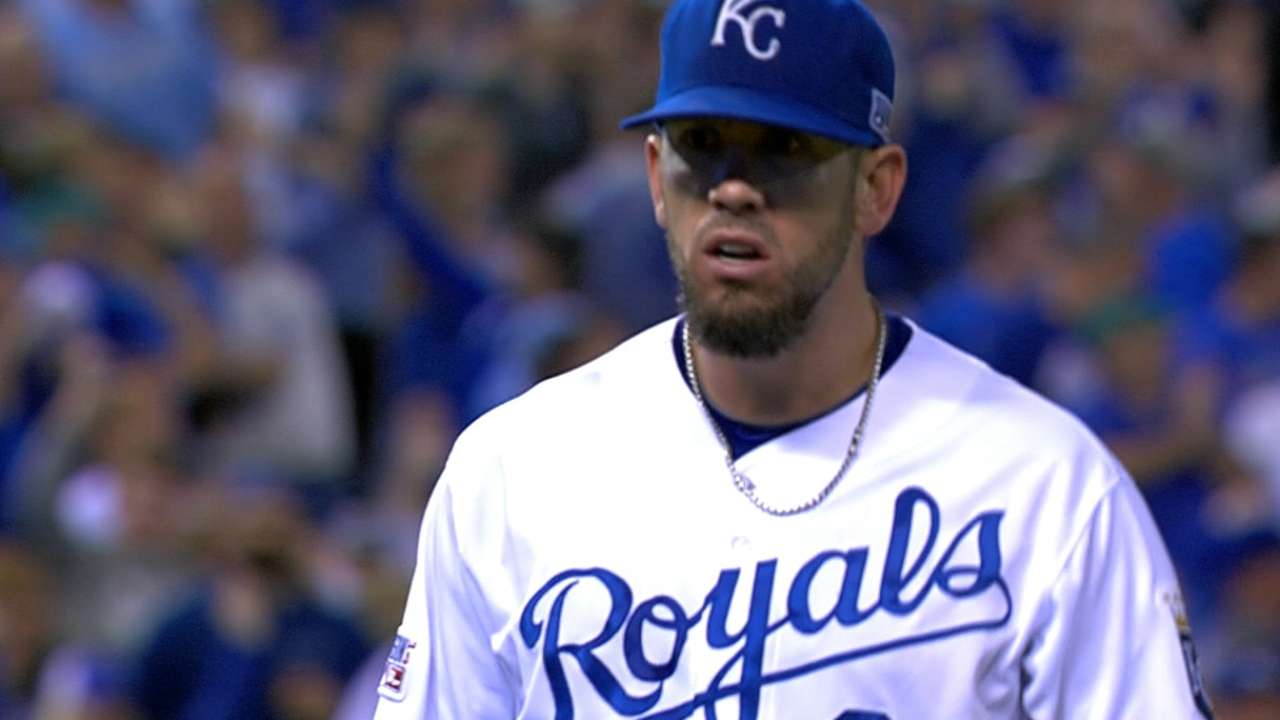 KANSAS CITY -- This was all Royals manager Ned Yost wanted from James Shields. Yost just wanted Shields to get the Royals through six innings and then he would turn Game 3 of the American League Division Series at Kauffman Stadium over to a trio of hard-throwing relievers to close it out.
Shields did as ordered and the Royals are going to the AL Championship Series. Shields held the Angels to two runs in six innings and ended up getting the win, as the Royals advanced with an 8-3 win Sunday night.
"That was the game plan, keep us in the game through the sixth inning," Yost said. "That's how we drew it up."
Shields wasn't overpowering and it took him 105 pitches to get through six. He allowed six hits and two walks, but the only two runs came on solo home runs from Mike Trout and Albert Pujols.
The Angels were 0-for-8 with runners in scoring position against Shields. In eight career postseason starts, Shields has held opponents to a .114 batting average with runners in scoring position.
"I mean, the Angels gave me a grind tonight," Shields said., "I had to grind it out. They seem to do that. They're one of the best teams in the game. They got a bunch of good hitters one through nine in that lineup, and any hitter can do some damage. I was just fortunate enough to make some pitches when I needed to with runners in scoring position."
Shields is now 3-4 with a 4.96 ERA in eight postseason starts. He has a reputation for being a "big game" pitcher but this was his first postseason win since Game 2 of the 2008 World Series against the Phillies, when he was a member of the Rays.
The Royals acquired Shields in December 2012 with an eye to turning the franchise around.
"This is the postseason; anything can happen," Shields said. "Bottom line, every pitch counts, every hit counts. I mean, guys just tend to lock in. You just never know what's going to happen. Hopefully you can go out there and do your job, take care of business, and that's the fun part about the postseason."
Shields gave up a home run to Trout in the top of the first inning. That marked the first time the Angels had a lead in the series. But the Royals went ahead in the bottom of the first on a three-run double from Alex Gordon and Shields made sure they stayed in front.
"He battled out there," first baseman Eric Hosmer said. "That's what makes a great pitcher great, when you don't have your best stuff that night and you find a way to battle and you find a way to grind through and eat some innings for us. That's what separates him."
It wasn't easy. Shields had a 5-1 lead going into the fourth but Pujols led off with a home run. Shields struck out Howie Kendrick but gave up a double to Erick Aybar and hit David Freese with a pitch. Yost had his bullpen going at that point but Josh Hamilton grounded into a force play and Shields struck out C.J. Cron to end the inning.
Yost, witth a 6-2 lead, also had the bullpen going in the sixth with two on and two out. This time Shields struck out Chris Iannetta to end the threat. Yost said having the bullpen ready was a precaution more than anything.
"In the playoffs things can happen fast," Yost said. "I wanted to make sure I was prepared for it. But Shields did a great job of making sure nothing happened fast, and we got through it."
Yost went to the bullpen in the seventh, just as he planned from the beginning.
T.R. Sullivan is a reporter for MLB.com. Read his blog, Postcards from Elysian Fields, and follow him on Twitter @Sullivan_Ranger This story was not subject to the approval of Major League Baseball or its clubs.