Look ahead to O's: Royals had slight edge in regular season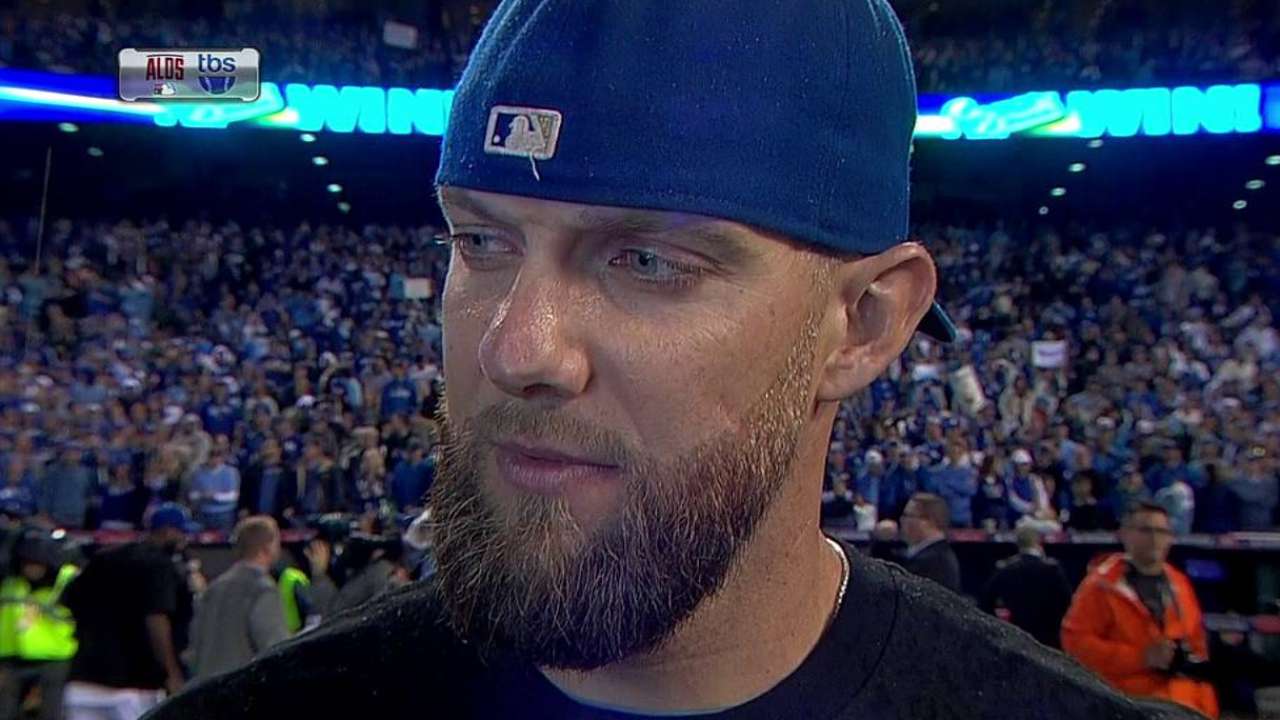 KANSAS CITY -- How will the Royals do against the Orioles in the American League Championship Series? Hard to say, based on this year's results. The Royals did prevail, but just four games to three.
"We're playing well right now," said Royals left fielder Alex Gordon, "but Baltimore is too. It's going to be a challenge going there. We know what they have -- great pitching, good defense, kind of like us and they've got some hitters in their lineup. So it's going to be a battle and we're up for the challenge."
The Royals went to Baltimore in late April and won the opener, 5-0, as Yordano Ventura pitched eight innings and Greg Holland finished up. The second game, though, went to the Orioles, 3-2, as Danny Duffy, in a 10th-inning relief role, hit a batter and made two throwing errors to load the bases with no outs. Nick Markakis singled off Louis Coleman to end it.
Omar Infante knocked in six runs, two on a homer, to lead a 9-3 Royals rout in the series finale.
There was a four-game split in mid-May at Kansas City. Nelson Cruz's two-run homer off Ventura won the opener for the Orioles, 2-1. The O's Chris Tillman pitched his first career shutout to win the second game, 4-0.
Duffy, starting this time, had a perfect game going with two outs in the seventh inning when Adam Jones grounded a single to center. Duffy went seven-plus innings in a 1-0 win. Gordon had six RBIs with two three-run homers as the "Kansas City Monarchs" beat the "Baltimore Black Sox," 8-6, in the finale.
Gordon went 10-for-29 (.345) with two homers against the Orioles this year and Nori Aoki also was 10-for-29. On the other end, Eric Hosmer was just 5-for-28 (.179) and Mike Moustakas 3-for-19 (.158).
In addition to the wins by Ventura and Duffy, James Shields beat the Orioles twice. He's 11-7 against them in his career. He'd have four days' rest by Friday night's opener at Baltimore, so he's a good bet to start Game 1 of the ALCS (7 p.m. CT on TBS).
"They've got some really good hitters in that lineup," Shields said. "I think we match up well against them. I think we've got a lot of speed. They hit the ball -- they hit the long ball."
Dick Kaegel is a reporter for MLB.com. This story was not subject to the approval of Major League Baseball or its clubs.