Angels' attempts fended off by Royals' outfield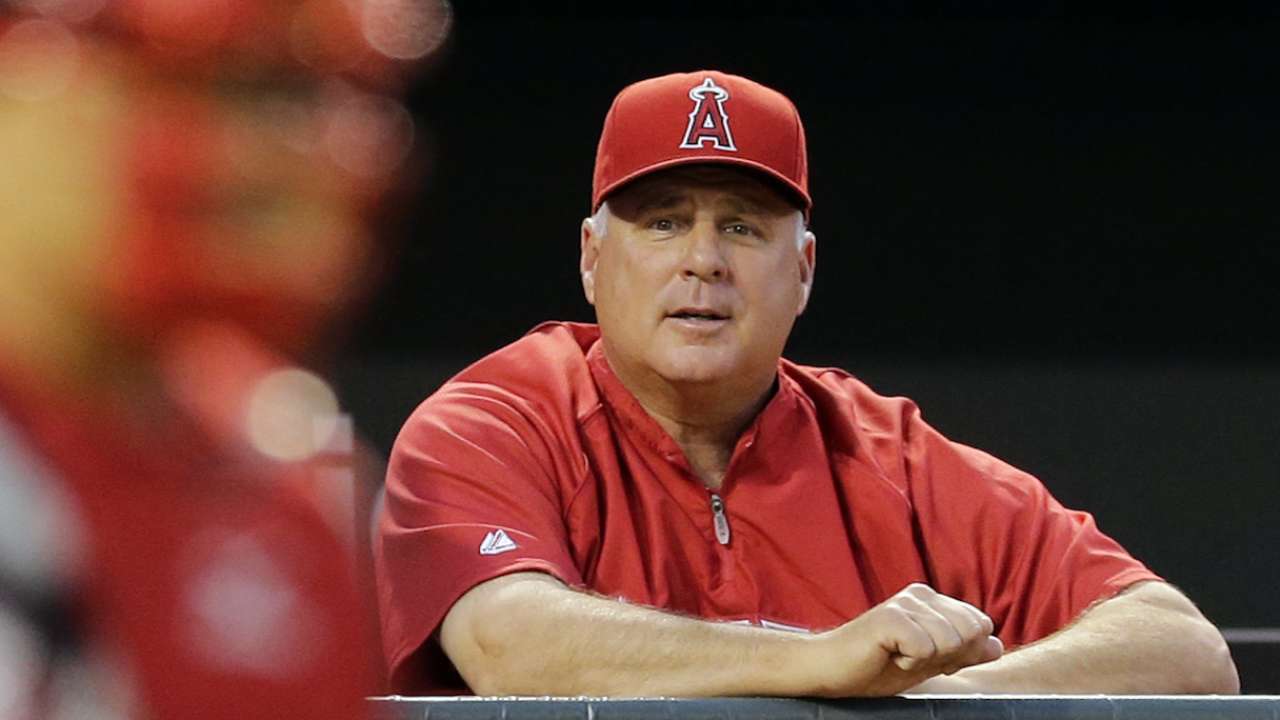 KANSAS CITY -- The Angels had seen this show before. As spectacular as it was in living color, they didn't care much for it.
Lorenzo Cain, in back-to-back fifth-inning at-bats with two runners on in Sunday night's Game 3 of American League Division Series, stole hits from Albert Pujols and Howie Kendrick in center field with plays that will be replayed on telecasts for decades in the "Show Me State" of Missouri.
Down by five runs, the Angels thought they had a chance to rally and get back in the game before Cain put the capper on an amazing display of athleticism by the Royals in a three-game sweep completed with this 8-3 decision at Kauffman Stadium.
"When Cain made the catch on Albert [flying headfirst through left-center] and the sliding catch on me [in shallow right-center], it was another case of changing the momentum," Kendrick said. "Those guys made plays all through the series, great plays. We thought we could get back in it there. We had our chances, but it just didn't happen."
Angels manager Mike Scioscia also felt things could have turned out differently if Cain hadn't taken flight behind Royals ace James Shields.
"I think it's a whole new ballgame," Scioscia said when asked about the impact of the two catches. "I think it is. It sounds like a broken record from the two games we played out in Southern California and the game here.
"You're probably looking at a one- or two-run game if both those hits drop in, but they didn't. That's part of their team ... their range in the outfield. And it showed up in this series, for sure."
Kendrick was two spectacular catches away -- by Cain and right fielder Nori Aoki -- from having a memorable series. But he's not the kind of guy who dwells on misfortune too long.
"There's a famous saying that when you play with skills, luck will happen," Kendrick said, grinning. "You can never overlook that."
The magic in the Royals outfield began in Game 1 in Anaheim with the first Angels batter of the series. Kole Calhoun crushed a first pitch by Jason Vargas that seemed destined to find him cruising into third base, but Cain climbed the wall in right-center to bring it down.
There was another great play by Cain, taking a hit away from Erick Aybar, before Aoki stole extra bases -- and very likely the game -- from Kendrick and the Angels with a seemingly impossible grab off the wall in the sixth inning of a 2-2 game. Two runs would have scored if it had fallen. The Royals went on to prevail on Mike Moustakas' homer in the 11th inning.
"It's a different series if that ball falls, and a couple others fall," Kendrick said. "It's all about momentum. They won that play-in game against the A's and got the momentum flowing. They carried it right through this series."
The Angels had watched another potential rally fizzle in the fourth inning after Pujols' leadoff homer had trimmed the deficit to 5-2. Kendrick, after narrowly missing the right-field foul pole with a drive, struck out before Aybar doubled -- his second of four hits -- and David Freese was hit by a pitch.
But Josh Hamilton grounded into a force and C.J. Cron struck out, ending the threat.
"They made all the plays," said Aybar, who led the Angels with his .455 batting average in the series. "Cain was running all over the field. They took some big hits from us, but that's part of the game. You have to give them credit. They have some great athletes on that team."
Lyle Spencer is a reporter for MLB.com. This story was not subject to the approval of Major League Baseball or its clubs.