MLB.com Columnist
Lyle Spencer
Wilson's rough start short-circuits Halos, forces Scioscia's hand
Manager uses seven relievers after lefty can't get out of first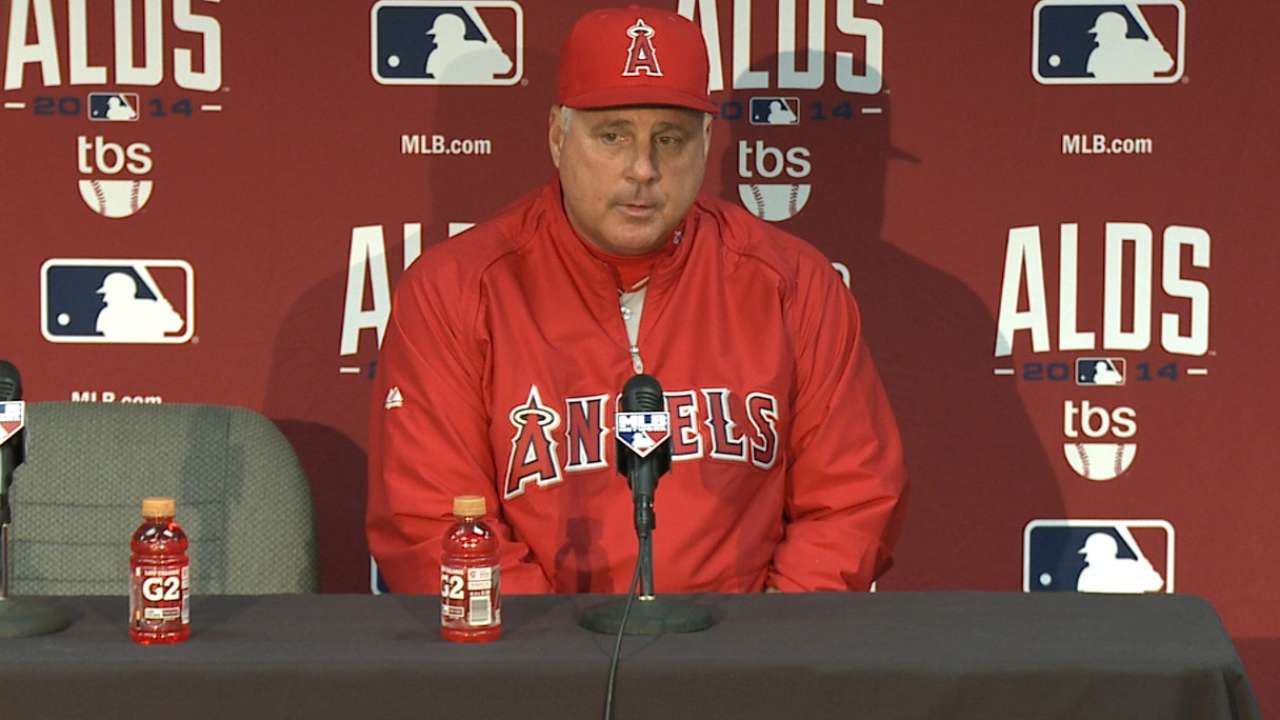 KANSAS CITY -- The box score for the visitors looked like something out of March in the Cactus League, in Arizona. Eight Angels pitchers against the Royals? In Game 3 of the American League Division Series, with the season on the line?
Yes and yes, and that pretty much says it all in the wake of a distressing 8-3 loss that ended a season of enormous promise with a completely inappropriate thud.
"The season's ending and we're going home," said C. J. Wilson, who threw all of 23 pitches before departing with a 3-1 deficit. "It's bizarre. Nobody in Spring Training expected we would fail to get out of the first round. We all felt we were a World Series team."
They looked the part for six months, winning more games (98) than any team in the Majors, but three bad nights in October ended autumn with a terrible fall, bringing on winter prematurely.
Wilson, so confident he and his team would find a way to reverse the momentum after a pair of 11-inning losses in Anaheim, got two outs in the first inning and then was gone, one strike away from getting out of it, after Alex Gordon's three-run double. The merry-go-round on the mound was about to start rolling around and around.
"The pitch was maybe three inches from where I wanted it," Wilson said of the curveball Gordon sent off the wall in left-center. "It wasn't down the middle. The pitch was on the black. It wasn't a meatball. Sometimes they pop the ball up. Sometimes they hit it hard.
"It is a little surreal. It puts an exclamation point to the fact I couldn't get anything to go my way."
As the door closed on Wilson, it swung open to a bullpen full of pitchers. It turned out the only Angels relievers who didn't pitch were closer Huston Street and setup man Joe Smith.
There were two outs from Vinnie Pestano, four outs from Hector Santiago, three outs from Mike Morin, one out from Fernando Salas. There were three outs from Jason Grilli, one out from Kevin Jepsen and the last eight outs from Cory Rasmus.
It got to a point where it felt more like open auditions than a playoff game. Angels manager Mike Scioscia probably would have summoned club announcers Mark Gubicza and Mark Langston if he could have squeezed them onto the roster.
"When you're faced with an elimination game," said catcher Chris Iannetta, "everything goes. Every pitch, every run, every at-bat is crucial. You're not worried about saving guys. You're doing everything you can to stay in the game."
Before Wilson could find solutions, Scioscia was searching for his own. Arm after arm showed up as Wilson was trying to process what had happened so swiftly after Mike Trout's home run off James Shields seemingly had the Angels finally pointed in a positive direction.
Their first lead of an excruciating series lasted about as long as a TV commercial.
Wilson was on the verge of escaping unscathed, striking out Eric Hosmer on three pitches for the second out after a pair of singles. But Billy Butler walked on four pitches, and when Gordon went the other way with a 2-2 curve, here came Scioscia.
"C.J.'s stuff looked good," Scioscia said. "It just looked like just being able to finish some hitters off was an issue. I think he was behind too many counts and it ended up hurting in that first inning.
"As we talked about before, there's not a long leash pitchers are going to have in a series where it's an elimination game. Unfortunately, we had to try to match up and get out of that first inning, and that was the night for C.J."
Wilson wasn't looking for any help but recognized these were dire straits.
"I like to think in general I'm the kind of guy who can give the team a good start even with a bad inning," Wilson said. "In the situation we're in, backs to the wall, what can I do? It's a little frustrating.
"I walked Butler and turned around and saw Vinnie warming up in the bullpen, and I was a little bit upset. I felt like I made some good pitches, but I didn't get the result. They're hot right now, obviously. That's what happens."
The Royals for three nights were simply better than the AL West champs in every way imaginable. Kansas City's athletes made the spectacular and routine plays with the gloves, manufactured runs with their legs and launched unexpected bombs, and had a pitching staff that brought the most prolific offense in baseball for 162 games to its knees.
In Game 3, Trout and Albert Pujols unloaded homers and Erick Aybar had four hits, but the Angels were 1-for-12 with men in scoring position, underscoring the incredibly frustrating nature of the series.
"It's crazy -- but it's a crazy game," said leadoff catalyst Kole Calhoun, who hit .333 in the series while scoring only one run. "Hopefully, we can bottle up this emotion and use it in the offseason to do everything we can to get further next year.
"It's been awhile since the Angels were in the playoffs. We got a taste. Hopefully, everybody's hungry. We don't want to have this feeling again."
Lyle Spencer is a reporter for MLB.com. This story was not subject to the approval of Major League Baseball or its clubs.