Angels' title quest ends in ALDS heartbreak
Wilson lasts two-thirds of an inning, Halos can't recover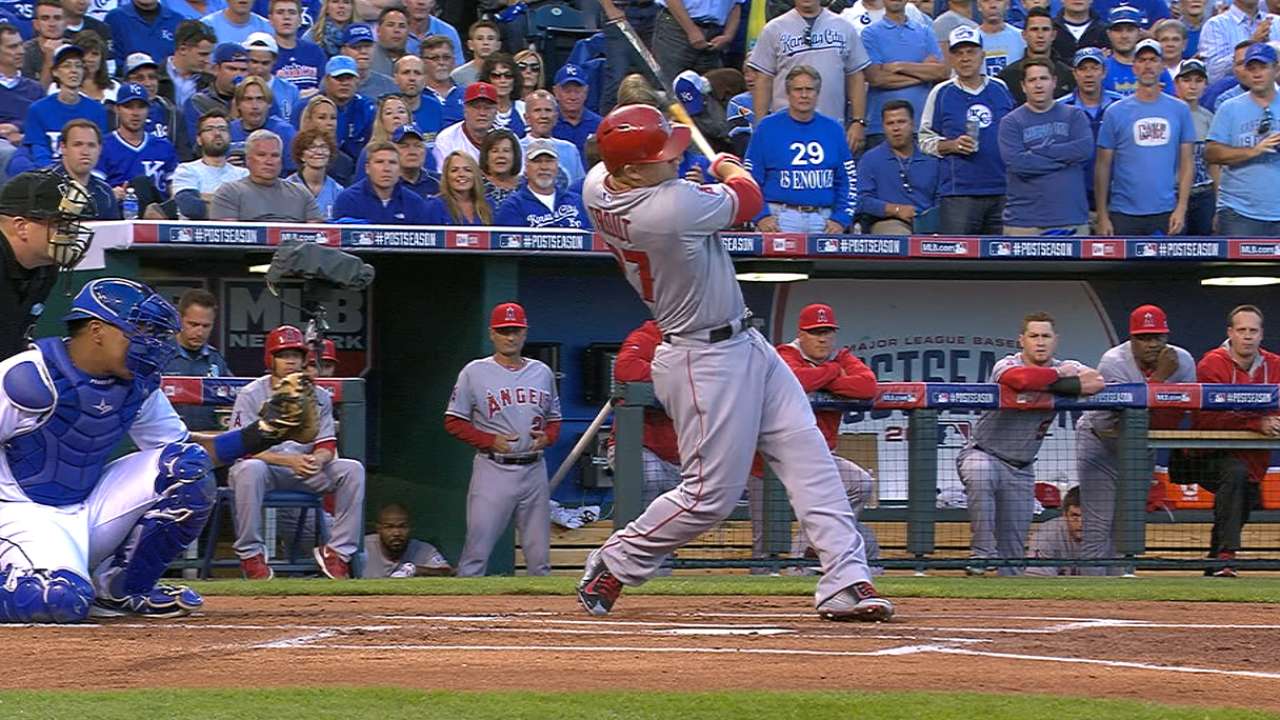 KANSAS CITY -- In the wake of the a season-ending, 8-3 loss late Sunday night, and in the middle of a stunned, star-laden visitors' clubhouse that was anticipating a two-night stay, Albert Pujols was asked a variety of questions about the Royals' game-changing defense, his lineup's head-scratching struggles and the Angels' collapse in Game 3 of the American League Division Series.
Finally the veteran first baseman looked up, cracked a smile and said, "You know what, it wasn't meant to be."
"That's the simplest way I can put it," Pujols said. "It wasn't meant to be. That's it."
The Angels' triumphant return to the playoffs after a four-your drought -- with a 98-win season that finally met the grand expectations of their payroll -- lasted all of three games.
That's it.
The speedy, hungry, youthful Royals stormed into the ALDS like a freight train, doing all the little things to steal a couple of 11-inning games in Anaheim and then pounding the Angels in front of a sold-out, Kauffman Stadium crowd that wouldn't let a little rain keep them from enjoying their first postseason team in 29 years.
"Not the way we wanted it to end," Mike Trout said, "but give them a lot of credit. They played good baseball. When they needed a big play, they made it. When they needed a big hit, they got it. It's tough."
Starter C.J. Wilson gave up three runs and recorded only two outs, and by the end of the sixth, Angels manager Mike Scioscia had used eight pitchers, a turn of events indicative of the rotation concerns facing his team as it entered October.
Alex Gordon hit a two-out, three-run double in the first, forcing Wilson to exit what was the briefest, non-injury-related postseason start in the Majors since the Cardinals' Rick Ankiel in 2000, and the Angels never recovered.
"I like to think, in general, I can give the team a good start even if I have a bad inning," Wilson said. "But in the situation we were in, with our backs against the wall, there's nothing you can do."
Eric Hosmer, whose 11th-inning two-run homer off Kevin Jepsen won Game 2, hit a two-run shot off Hector Santiago in the third. Mike Moustakas, whose 11th-inning solo homer off Fernando Salas won Game 1, hit a solo shot off Mike Morin in the fifth.
That's four home runs in three ALDS games for a Royals team that hit the fewest in the Majors during the regular season.
"We're running on a high right now," Billy Butler said in his champagne-soaked clubhouse. "We're a hot team. We played well in all facets of the game. That's a great team there. It just shows you the type of baseball we're playing."
Trout, 0-for-8 in his first two ALDS games, gave the Angels their first lead of the series with a solo homer off James Shields in the first. Down, 5-1, in the fourth, Pujols tried to breathe some life into the Angels' dugout with another solo homer.
But the Angels, Major League leaders in runs scored this season, couldn't cash in on premium run-scoring opportunities. They went 2-for-25 with runners in scoring position in this series, and they stranded two runners each in the fourth, fifth and sixth innings of the finale.
"Give them credit, for sure," Trout said, "but offensively, we didn't do our jobs."
Often times, though, the Royals' gloves just got in the way.
In Game 1, it was Nori Aoki making a miracle catch against the fence in right-center field, robbing Howie Kendrick of what could've been a game-changing two-run triple in the sixth. In Game 2, it was Jarrod Dyson throwing out pinch-runner Collin Cowgill trying to tag up in the eighth inning of a tied game. In Game 3, it was Lorenzo Cain making two spectacular catches in the fifth, halting any chance of momentum.
With runners on first and second and one out, Cain dove full extension to snag a flair from Pujols just before it hit the ground in left-center field, then sprinted in to catch Kendrick's sinking liner with a sliding catch.
If Can doesn't make those plays "it's a whole new ballgame," Scioscia said.
"That's a good ballclub over there," Kole Calhoun said. "They played well in all facets of the game. Played defense, hit the ball, threw the [heck] out of it."
The Angels lost starting pitchers Tyler Skaggs (Tommy John surgery) and Garrett Richards (knee surgery) in August, but were nonetheless the first team to clinch a playoff spot, then they won the division with 10 games left and entered the postseason with home-field advantage throughout.
They also went into the ALDS with major questions, because starting pitcher Matt Shoemaker spent the last two weeks rehabbing an oblique strain and Josh Hamilton played in only one of the Angels' last 23 regular-season games due to ailments in his right shoulder and right side.
Shoemaker responded in Game 2, giving up one unearned run in six innings one night after Jered Weaver pitched seven innings of two-run ball. But Hamilton went 0-for-13 and never looked right at the plate.
"Coming into it, the biggest thing was putting the ball in play," Hamilton said. "Tonight I felt like I had some pretty good at-bats. It's a little late for that."
The Angels had their chances in Games 1 and 2, nights when the offense couldn't cash in on some strong pitching and a couple of extra-inning homers burned them. Game 3 then slipped away quickly, the Royals riding the momentum of 40,657 towel-waving fans, and that was it.
"It's a great group of guys in there, and they're feeling it right now," Scioscia said. "There's a definite level of disappointment, but there's nothing they need to hang their heads about. They played hard all season, and we had a rough three games."
Alden Gonzalez is a reporter for MLB.com. Read his blog, Gonzo and "The Show", and follow him on Twitter @Alden_Gonzalez. This story was not subject to the approval of Major League Baseball or its clubs.