Price's impressive effort for naught in Game 3 loss
Acquired to help Tigers win title, lefty limits O's but receives no support from offense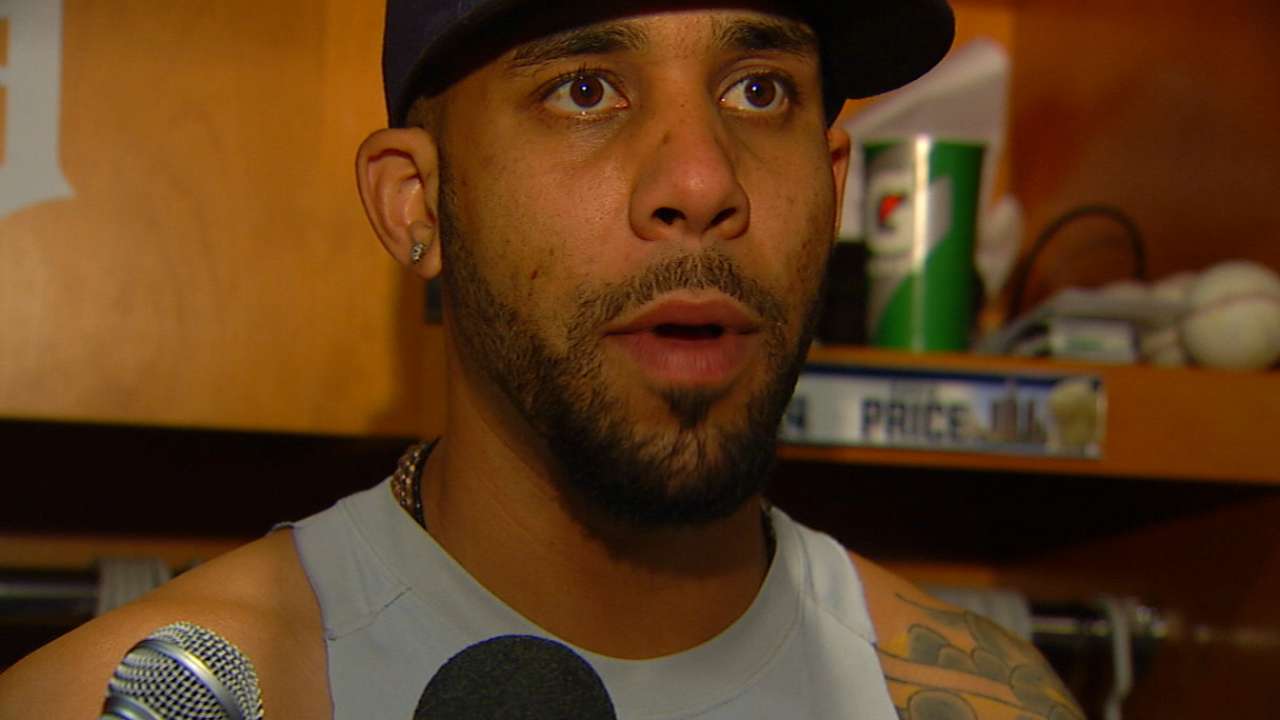 DETROIT -- This kind of game was the reason the Tigers traded for David Price. Not only the situation and the setup, with their season on the line and the spotlight almost as bright as it can shine -- but the performance as well.
Price delivered the outing you would expect out of an ace, holding the Orioles to two runs on five hits over eight innings. It was the best starting pitching performance by any of the Tigers' Cy Young Award-winning trio all series in just about every respect. Price kept the Tigers' bullpen seated, kept the Orioles' lineup at bay and limited himself to only one costly mistake.
But it wasn't enough. The Orioles beat the Tigers, 2-1, in Game 3 of the American League Division Series on Sunday and ended Detroit's season. Price would have preferred to see himself stumble instead of watching his team fall.
"It's always good to be able to step up in these big games. I've definitely been on the other end, where I haven't pitched so well in very big games. It's good," Price said. "I would rather pitch like crap and us go out there and win, 12-11, or something like that."
The Tigers gave up a promising young starter in Drew Smyly, their everyday center fielder in Austin Jackson and a top prospect in shortstop Willy Adames so they could reel in Price. They did so with the World Series in mind, not a win-or-go-home Game 3 of the ALDS. This round was supposed to be one step toward a much bigger goal.
To a man, everyone in the Tigers' clubhouse afterward said they felt they had enough talent to keep playing in October. Instead, they'll head home for the winter and try again next spring, potentially with a much different cast.
"It stinks. The guys we have in this clubhouse, we definitely feel like we had a very good baseball club. Definitely good enough to be still playing right now," Price said. "It stinks, because this is the best team I've ever been on. To get knocked out in the first round, it's never fun. Hopefully everybody uses it as a little bit of motivation ... and we can get ready to do something special next year."
Price made one mistake against a player the Tigers couldn't figure out all series. Nelson Cruz, the one guy capable of beating them almost on his own, did exactly that.
The 29-year-old left-hander cruised through five innings on 69 pitches, then he lost his catcher, Alex Avila, when a foul tip to the facemask knocked him out two pitches into the sixth. Price gave up a ground-ball single to Adam Jones and left a fastball away up too high against Cruz. The Orioles' designated hitter took it the other way, using the strength that helped him lead the Majors in home runs to push it just inside the foul pole and into the first row of stands in right field.
Just like that, it was 2-0, Orioles, and Price was in line for the loss. According to Elias Sports Bureau, he became the first pitcher in Major League history to lose all of his first five postseason starts. But to be fair, though he is 0-5 with a 4.98 ERA in those starts, his teams have given him an average of two runs of offensive support.
"It was a well-placed home run, but Nelson Cruz is a pretty darn good hitter with the ability to hit the home run anywhere in the ballpark. So that happens," Tigers manager Brad Ausmus said. "Really, the story today was a pitchers' duel between David Price and Bud Norris and the home run by Cruz. That's what it boils down to."
Of course, the larger story is that the Tigers' vaunted rotation -- seemingly an enormous advantage on paper -- left with a pair of losses and another unimpressive performance that ended in a loss. The trio of AL Cy Young Award winners became the fourth such group to lose a postseason series.
"We didn't exactly beat up on them. They did what they do and you don't match them," Orioles manager Buck Showalter said. "You try to stay engaged with their starters and hope you can grind 'em enough where some other situations might present themselves. They did their job."
Price has never hid the fact that he didn't want to leave the Rays at the July 31 Trade Deadline. He grew up as a baseball player in St. Petersburg, liked the clubhouse and the atmosphere and led a rotation full of potential young stars.
But Price has one more year of team control on his contract. He will be back next year, hoping the season ends with a similar setup and performance -- but a different result for his team.
"It was special. It wasn't something that I wished had happened, being traded in general. But being traded to this team and this organization, it's been a blessing," Price said. "The way the front office, all the guys in the clubhouse, all my teammates, they treated me extremely well in the clubhouse and out on that field. That's all I can ask. These guys, they work their tails off. It was good."
Adam Berry is a reporter for MLB.com. Follow him on Twitter at @adamdberry. This story was not subject to the approval of Major League Baseball or its clubs.