In clincher, Norris superb in first postseason start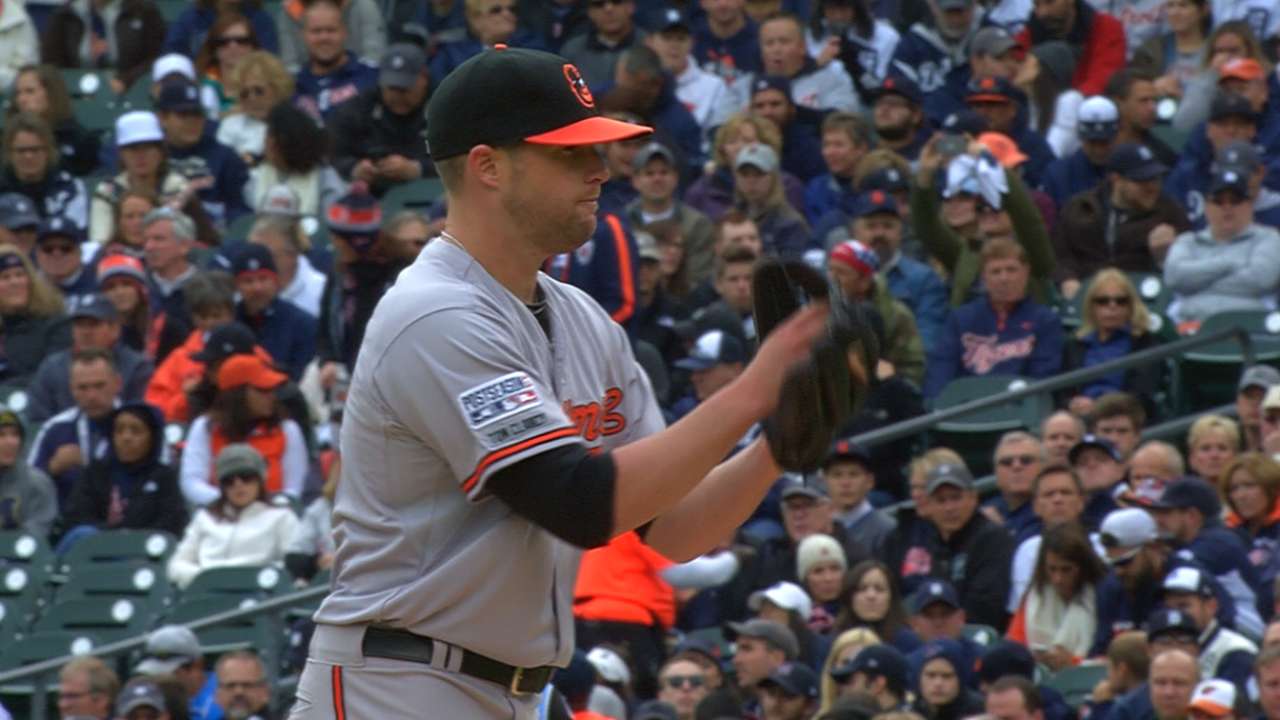 DETROIT -- Bud Norris had never stepped on a mound in the postseason until Sunday afternoon. He responded with the game of his life.
The Baltimore right-hander was borderline dominant in the American League Division Series Game 3 clincher against the Tigers. The fiery starter from California kept his emotions under control and had the look and feel of a seasoned vet.
Norris didn't allow a run over 6 1/3 innings, leading the Orioles to a 2-1 victory and a surprise series sweep over a Tigers team that a lot of people expected to make the AL Championship Series. It was the type of outing people could be talking about for a while.
"I had some nerves, some butterflies. You have to expect that in a playoff atmosphere, especially on the road," Norris said. "But this is what you dream about, this what you want to play so hard for. To get into that situation and to get the job done, I couldn't be more excited than I am right now."
Norris scattered two hits and two walks over the course of his strong outing. In 158 career starts in the regular season, Norris had gone six or more innings and allowed four baserunners or fewer a total of four times. When Baltimore needed him at his best in Game 3, he was able to do it again.
The 29-year-old became the first Orioles pitcher to toss at least six scoreless innings in his postseason debut since Storm Davis did so on Oct. 8, 1983, in Game 4 of the ALCS vs. the White Sox. There was a one-out Alex Avila double in the second and a leadoff single by Don Kelly in the third, but after that, Norris was rolling along.
There's really nothing else the Orioles could have asked for as Norris went toe to toe with former AL Cy Young Award winner David Price. Norris might not have had that postseason experience before Sunday, but in the end, it didn't matter.
"Today was my first day getting out there, different beast," Norris said. "Something I can't wrap my head around right now. I'm sure it will soak in the next couple of days. But it's just something we played since we were kids. You dream of the opportunity to pitch in a postseason game and get to the World Series.
"I was excited to have my number called and go out there and play. You got adrenaline and same thing, 60 feet, six inches."
The outing wasn't without its tense moments. There was zero margin for error until Nelson Cruz hit a two-run shot off Price in the top of the sixth inning. There were also runners in scoring position for the Tigers in the second and third innings, but both times, Norris was able to escape without any damage.
Norris consistently hit the mid-90s on his fastball and struck out six. There had been some initial question marks about whether Norris or right-hander Miguel Gonzalez should get the ball in Game 3, but there's no doubt that the right decision was made.
For all the talk of Max Scherzer, Justin Verlander and Price, Chris Tillman, Wei-Yin Chen and Norris bested Detroit's big three.
"Bud was great today, he came out and he was throwing the ball pretty hard -- 95, 96 [mph] I think I saw a couple of times," Orioles shortstop J.J. Hardy said. "Good slider, kept them off balance. He has been great for us all year. Tillman the first game, we can go through the whole starting five, and the bullpen, and everybody has been great."
The way Norris saw it, he was just thankful manager Buck Showalter had enough confidence to give him the shot.
"I was just lucky enough to get the opportunity today to go out there," Norris said. "Buck just called my number. Miggy was ready to go, I was ready to go, we were both chomping at the bit.
"We have so many guys help each other push through it, fight through it, a lot of bulldogs going out there. Exciting day. But our rotation is pretty good. We know how to compete and you see it time in and time out and wouldn't be sitting here right now if it wasn't the case."
Gregor Chisholm is a reporter for MLB.com. Read his blog, North of the Border, and follow him on Twitter @gregorMLB. This story was not subject to the approval of Major League Baseball or its clubs.