Cain's ability on display with back-to-back diving grabs
Outfielders have dazzled in early stages of postseason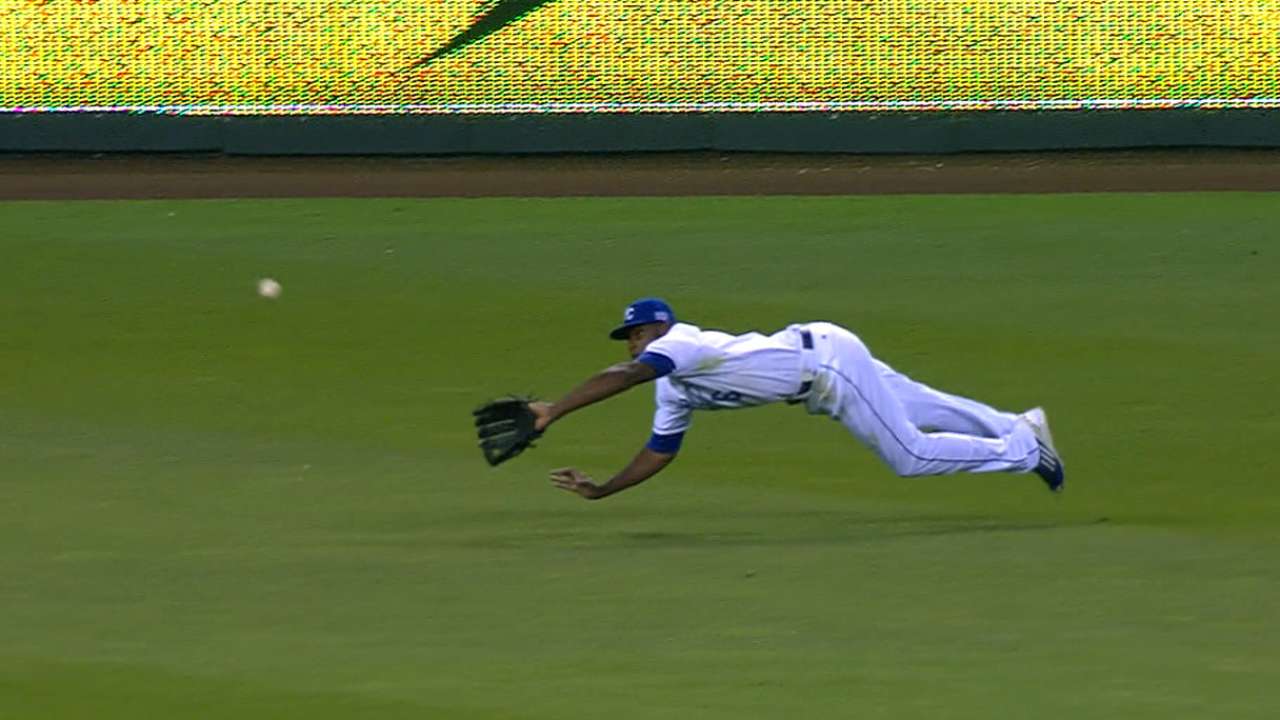 KANSAS CITY -- At the moment Lorenzo Cain secured his second straight phenomenal catch in the fifth inning, Royals starter James Shields turned toward the dugout, and raised his cap in the air, not letting his right arm rest until he crossed the first-base line, where he waited to congratulate his center fielder.
"I tipped my cap to him after the inning was over just strictly because I'm a fan," said Shields, the winning pitcher in Kansas City's 8-3 American League Division Series clinching win over the Angels at Kauffman Stadium on Sunday night.
Even before Cain preserved a 7-2 fifth-inning lead with back-to-back sliding catches, Royals pitchers owed their gratitude to the outfield defense.
On Jason Vargas' first pitch of Game 1, Cain robbed Kole Calhoun of extra bases. Later in the 3-2 win, Nori Aoki denied Los Angeles runs with dazzling catches in right field. A 4-1 Game 2 win featured outfield substitute Jarrod Dyson cutting down Collin Cowgill attempting to go second-to-third on a fly ball. The play potentially saved a run with the game knotted at 1 in the eighth inning.
"It sounds like a broken record from the two games we played out in Southern California and the game here," said Angels manager Mike Scioscia, who added: "That's part of their team is their range in the outfield, and it showed up in this series for sure."
Cain's first catch Sunday elicited awe from the 40,657 in attendance, and even his manager and one of his outfield brethren.
With men on first and second and one out, Albert Pujols poked a weak fly ball into shallow left-center. Cain gave chase and went prostrate at the last moment. The ball nestled into his glove for the second out.
"I didn't see any way that he could make that play," Royals manager Ned Yost said. "I mean, when the ball was hit, I'm thinking, 'OK, that ball is a base hit,' and he came out of nowhere like Superman and caught it."
Left fielder Alex Gordon raced over for appearances, but was simply a witness to Cain's diving gem.
"The first one, I didn't think he was going to get to, so that kind of surprised me," Gordon said.
However, Gordon admitted that Cain's inning-ending catch moments later did not surprise him. Howie Kendrick sent a sinking liner into shallow center. Cain tracked the ball down, went into a slide on his backside, and scooped the ball away for the third out.
He rose to his feet and pounded his chest enthusiastically, undoubtedly aided by the histrionics of the crowd.
"After I made the catch, all kinds of excitement ran through my mind. I was definitely pumped up that I was able to save a few runs," Cain said.
Shields ended the sixth inning on his own accord, notching a strikeout of Chris Iannetta to complete his outing.
The right-hander let out an emphatic "Let's Go!" following the strikeout, but once in the dugout, with the euphoria of the moment cooled, he immediately turned his attention to a piece of unfinished business.
Shields approached Cain and embraced his teammate, and potentially game-saving outfielder.
"Nothing really surprises me anymore with these guys," Shields said. "These guys have been making plays like that all season long. To be able to step up in the playoffs the way they did this series is just amazing."
Jackson Alexander is an associate reporter for MLB.com. This story was not subject to the approval of Major League Baseball or its clubs.