MLB.com Columnist
Tracy Ringolsby
Bullpens have evolved into key postseason factor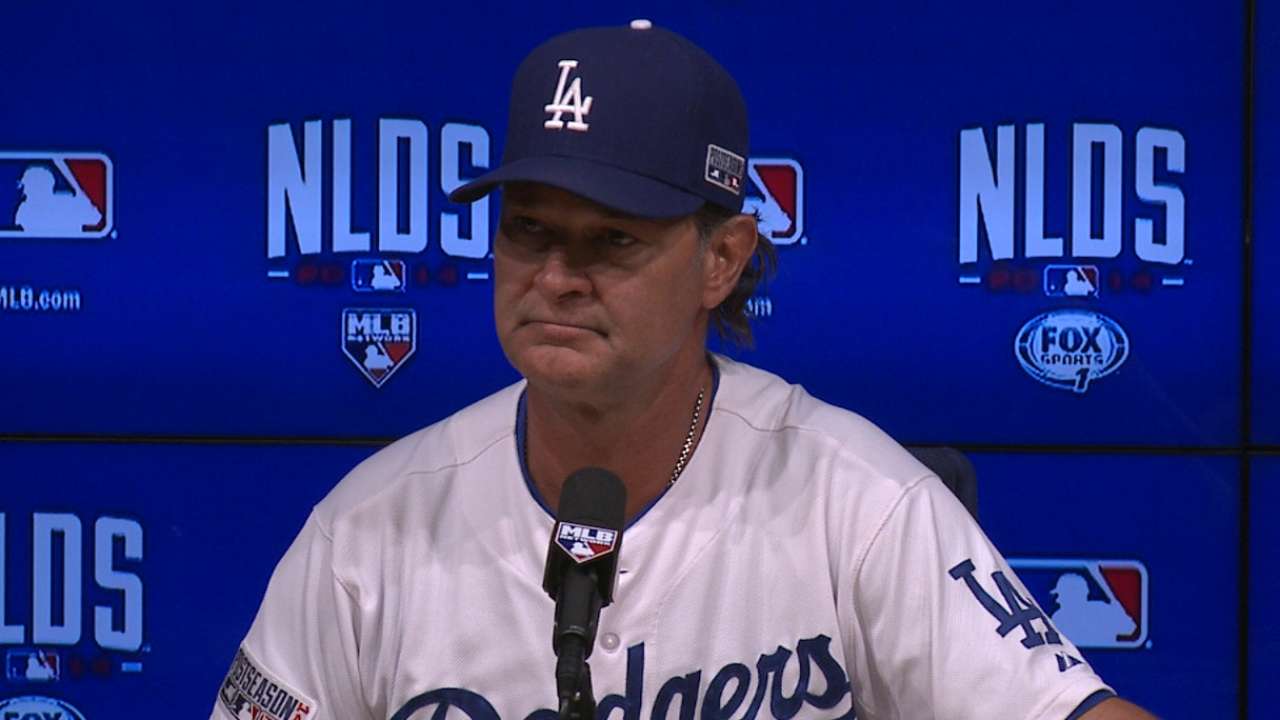 ST. LOUIS -- Jimmy Collins had it easy managing the Boston Americans to the championship in the first World Series in 1903, defeating the Pittsburgh Pirates five games to three in the best-of-nine Series. He used only three pitchers. Bill Dinneen worked four complete games, Cy Young three, and Young picked up seven innings in relief of starter Tom Hughes in the other game.
And it's not like Pirates manager Fred Clarke wore a path from the dugout to the mound. Oh, he had some mixing and matching to do. Sam Leever hurt his right shoulder trap shooting and made it through only one inning in Game 2, and No. 3 starter Ed Doheny was committed to an insane asylum shortly before the record season ended. Deacon Phillippe, however, picked up the bulk of the work load, pitching five complete games.
Baseball, however, has changed over time, and nowhere is that more evident than in the composition of a pitching staff -- with which complete games are now an oddity, not an expectation, and managers find themselves questioned more about bullpen moves than any other aspect of the game.
The Dodgers have split the first two games of their National League Division Series with the Cardinals, but that hasn't made life any easier for manager Don Mattingly. He can't win for losing.
After Game 1, when the Cardinals rallied for a 10-9 win, Mattingly was questioned about sticking with Clayton Kershaw, who was unable to maintain a 6-1 lead. Kershaw gave up a first-inning solo homer to Randal Grichuk and a solo shot to Matt Carpenter in the sixth before being charged with eight runs over 6 2/3 innings when the Cardinals staged an eight-run seventh.
The next night, even though the Dodgers won, 3-2, Mattingly was asked to explain the handling of his pitching staff when he took out Zack Greinke with a 2-0 lead after seven innings and lefty J.P. Howell was unable to retire three straight left-handed batters, giving up the game-tying runs.
"It hasn't been that complicated," said Mattingly "It just hasn't worked out very well, as much as anything."
Mattingly explained he never lost confidence in Kershaw, who is likely to earn the NL MVP Award as well as the NL Cy Young Award. And Greinke, he said, had admitted he was done after seven innings, which made it easy to go to Howell -- who had allowed left-handed hitters a .170 average and had given up only one home run to a left-handed hitter this season before Saturday's game-tying shot by Carpenter.
Besides, Mattingly admits he doesn't have the luxury of having a bullpen alignment with predetermined pitchers to work the seventh and eighth innings to get to closer Kenley Jansen in the ninth.
"You manage the team that you have," Mattingly said. "This is what we've had to do this year to try to get to Kenley in the ninth. So we're kind of used to it.
"It doesn't make it any more fun or anything else. It's definitely a little more complicated, because you're trying to match up and find who is exactly the right guy. Do you let the lefty get the one righty in between, or bring in the righty? Those are the choices you have to make. Ideally, I'd like to have one [for the seventh], one [for the eighth], one [for the ninth] and not have to make any decisions, really.''
It is not like Mattingly is the only manager who has been grilled this postseason.
The Royals rallied to beat the A's, 9-8, in 12 innings in the American League Wild Card Game, but that didn't keep manager Ned Yost from having to explain why he pulled veteran James Shields with a 2-0 lead after the first two batters in the sixth and turned to rookie Yordano Ventura, who was greeted by Brandon Moss' three-run home run. It was the 23-year-old Ventura's second Major League relief appearance.
Oakland, meanwhile, felt its bullpen was its strength. But Luke Gregerson, who took over for starter Jon Lester with one out in the eighth, two men on and a three-run lead, gave up two more runs before he got out of that inning, setting the stage for closer Sean Doolittle to blow a postseason save for the third year in a row.
And in the bottom of the 12th, A's manager Bob Melvin tried three different relievers but couldn't avoid seeing an 8-7 lead that the A's had taken in the top of the inning turned into an eliminating loss.
On Saturday night, the Giants pulled out a 2-1, 18-inning victory against the Nationals when they rallied for a game-tying run with two outs in the ninth. Nats starter Jordan Zimmermann shut out the Giants for 8 2/3 innings, but after a two-out walk in the bottom of the ninth, manager Matt Williams went to his closer, Drew Storen, who gave up a single to Buster Posey and a subsequent game-tying double to Pablo Sandoval on which Posey was thrown out at the plate to force extras.
"He's our closer," Williams said of Storen. "He's been perfect in every situation we put him in since he's been in that role, with the exception of the last game he pitched. So we get in the situation tomorrow where we have opportunity for him, we want him to get back out there and do what he does."
Face it, second-guessing managerial pitching decisions has become just as much a part of a baseball fan's October as the postseason.
The more options a manager has, the more questions can be raised with his every move.
And bullpens have become major factors.
In the first 10 games of this postseason -- the two Wild Card Games and first two games of each of the four Division Series -- relievers had worked 84 2/3 innings. That's more than the total relief work in 76 of the previous 109 postseasons.
Consider that Phillippe's five complete games in 1903 remain the record for a postseason -- not merely a World Series -- and Dinneen's four complete games that year rank No. 2 on the all-time list. It is rare now for teams to have a combined total of five complete games in the postseason, even though it is now possible to have as many as 43 postseason games each year -- which means 86 chances to pitch a complete game -- compared to the eight-game World Series in 1903.
In 55 of the first 109 postseasons, an entire team had four or fewer complete games.
There hasn't been a postseason with five complete games since 2001.
The previous 19 postseasons account for the top 19 seasons in terms of bullpen innings worked.
So if it seems like there's a lot more talk about pitching decisions today than there used to be, it is because there are a lot more pitching decisions being made.
It's part of the evolution of the game.
Tracy Ringolsby is a columnist for MLB.com. Read his blog, Write 'em Cowboy. This story was not subject to the approval of Major League Baseball or its clubs.