O's uncork celebration with bigger goals in mind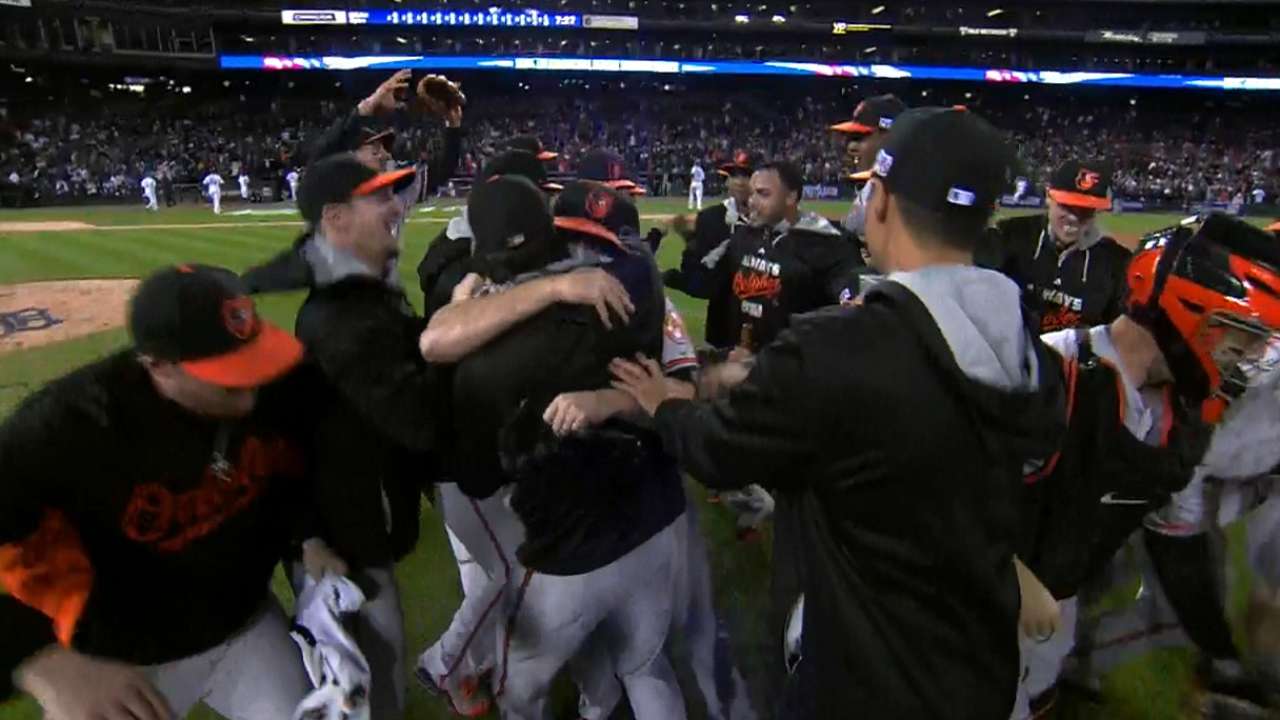 DETROIT -- If one had to guess, Jenny Perez probably got the worst of it. You don't know her name, and you probably haven't eaten her food, but she's the team chef, and she was the recipient of the waterfall of booze that poured out of the bottles held aloft and upside down by the Baltimore Orioles on Sunday night.
"They're getting Jenny!" somebody yelled, before Perez somehow escaped into the safety and relative serenity of Comerica Park's visitor's clubhouse kitchen.
Meanwhile, the music blared and the corks were popped and the goggles protected the O's eyes. This was all standard postseason fare for a club that clinches advancement in October, as the Orioles did when they swept the Tigers in this best-of-five American League Division Series set.
It really wasn't long, though, before the music got quiet and the rate of consumption waned. This party was actually somewhat subdued by postseason standards, and certainly by the standards of a team that hasn't gotten this deep into October since 1997.
Those goggle-protected eyes, clearly, were still on a bigger prize.
"It can get better," center fielder Adam Jones said. "It can get better."
The O's won Game 3 in nail-biting fashion, taking a 2-0 lead on Nelson Cruz's sixth-inning home run off David Price and then holding on for dear life in the ninth. Closer Zach Britton gave up consecutive doubles to Victor Martinez and J.D. Martinez to make it 2-1, and then, with one out, intentionally walked Nick Castellanos to put the winning run at first. When he got Hernan Perez to ground into the inning- and series-ending double play, the O's rushed out to make a mob scene at second base, but this, too, was a short-lived celebration that quickly gave way to the traditional shaking of hands and a confident strut toward the clubhouse.
Really, everything about this O's celebration was relatively calm and collected, which, come to think of it, was exactly how the O's played this series, in which every game was tight going into the late innings.
"I think we partied enough when we won the division," Britton said, as the volume went down. "We don't think we've peaked yet. We expect to be doing this again. We're excited for everybody and what we did this series, but we know it's going to be tougher going forward."
This was evident as executive vice president of baseball operations Dan Duquette greeted each player passerby in the hallway outside the clubhouse with a smile, a handshake, a congratulations and then -- most meaningfully -- a message.
"Go play for the pennant," he told them.
Duquette got a classy show of respect from his Detroit counterpart and former boss in Montreal, Dave Dombrowski, who made it a point to visit the winning clubhouse in the aftermath of this surprisingly short series. The O's earned such respect for the way they quickly dismantled a Detroit ballclub that was viewed as a World Series contender all year.
Several players were shocked to learn this was the first playoff series victory of any sort for their esteemed manager, Buck Showalter. And they were proud to deliver it for him.
Mostly, though, they spoke of bigger goals.
"This is one step," shortstop J.J. Hardy said. "It's going to get more fun."
All of which is to say chef Perez would be wise to buy herself a raincoat.
"There are so many people who are important outside of what we do on the field," Britton said. "It's nice to reward those people and give them a splash of beer, too."
Anthony Castrovince is a reporter for MLB.com. Read his columns and follow him on Twitter at @Castrovince. This story was not subject to the approval of Major League Baseball or its clubs.