Showalter's bold move pays off in first postseason series win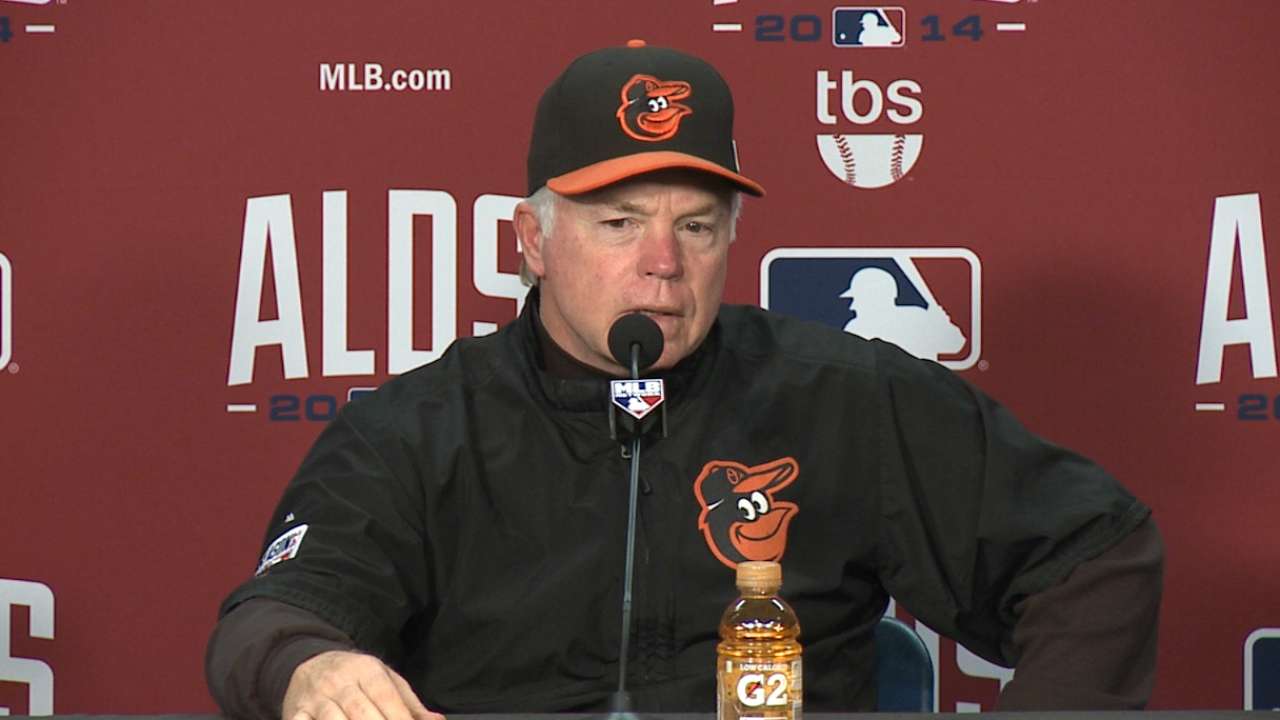 DETROIT -- Buck Showalter's first postseason series win as a manager in 16 years didn't come without some late, tactical drama.
The Orioles' American League Division Series-clinching 2-1 victory over the Tigers on Sunday was made possible at least partially by the way Showalter managed. He flawlessly utilized his bullpen during the first two games and made a number of tough decisions. Even the ones that might have been considered controversial paid off in the biggest way possible.
In the series finale, he allowed right-hander Bud Norris to pitch into the seventh inning and then stuck with left-hander Andrew Miller for 1 2/3 even though righty Darren O'Day was warm and ready. When Orioles closer Zach Britton entered in the ninth and allowed a pair of back-to-back doubles, Showalter called for an intentional walk to Nick Castellanos.
That broke a cardinal rule of never putting the winning run on base. As unconventional as it might have been, the move paid off as Britton induced pinch-hitter Hernan Perez to hit into a series-clinching double play.
"Sure, I did," Showalter said when asked if he had any hesitation about the intentional pass. "What do you define hesitation as? Nobody's that smart. Just needed a little karma, change the way that inning was going. Had a lot of faith in Zach and there is a lot of factors going on there."
There was plenty of humor in Showalter's final news conference of the series, but inside the Orioles' clubhouse, nobody laughed when asked about their manager. Instead there was non-stop praise flowing in for a a skipper who arrived in 2010 and has played a big part in changing the culture of the franchise.
"All of us in the dugout are sitting there guessing, what's the right move?" said Miller, who was a member of last year's World Series championship team in Boston. "Whatever he does seems to be the right one. I've had a lot of great coaches, a lot of great managers, but I don't know that I've ever seen anybody as prepared as Buck Showalter. I think it pays off. I think the staff as a whole is really, really special and I think it goes a long ways."
This is the fourth time one of Showalter's teams qualified for the playoffs, but until Sunday's Orioles victory over the Tigers in Game 3 of the ALDS, there was never any cause for celebration. As hard as it might be to believe, Showalter had never made it past the first round.
Showalter tried to downplay the feat after Baltimore swept Detroit at Comerica Park, but it has to be a relief for a manager who has drawn a lot of praise but had yet to experience October success.
"It means we won an opportunity," Showalter said. "Some of the guys were talking in there afterwards, you know, what do you -- I kind of respected that they weren't over the top. They got a lot to be proud of. It's a step.
"There are different steps during the season that you have to take and this is one of 'em. And so hard against a team like Detroit with such a great pedigree and experience, you know, at this. It's a challenge and it will continue to be."
Multiple players were caught offguard during the clubhouse celebrations when informed the series win was the first for Showalter. It had just been assumed that a manager with his kind of reputation had made at least one run deep into the postseason.
After all, this is someone who was twice named AL Manager of the Year, with both of those awards coming before he arrived in Baltimore and helped turn around a struggling franchise. He also has an impressive 1,259-1,161 record in the regular season, but will now be part of an AL Championship Series for the first time.
"I can't believe that, the way he manages our ballclub," Britton said in disbelief after being told of Showalter's first series win. "This is not only special for me, but a lot of people. We're going to enjoy it. But we have some work to do, we're going to have another tough team coming in."
Gregor Chisholm is a reporter for MLB.com. Read his blog, North of the Border, and follow him on Twitter @gregorMLB. This story was not subject to the approval of Major League Baseball or its clubs.