Haren named Dodgers' Game 4 starter for now
Righty could be used to relieve Ryu in Game 3 if lefty aggravates shoulder injury early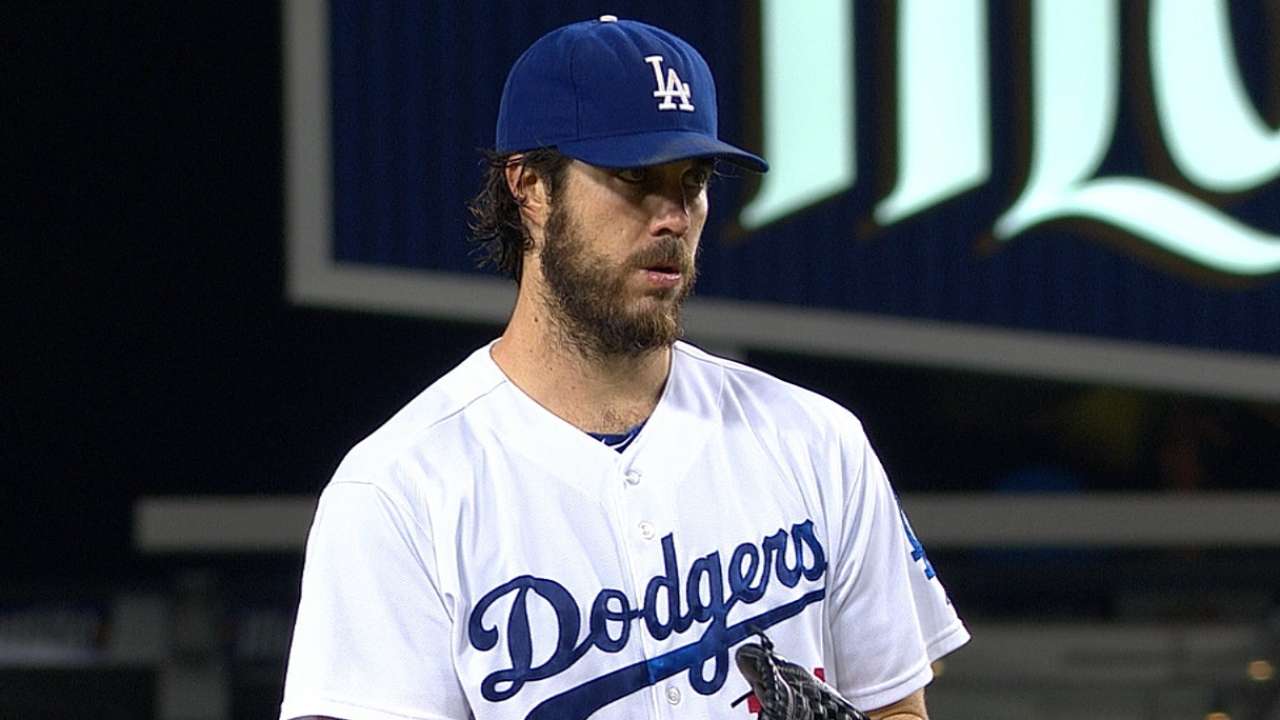 ST. LOUIS -- Right-hander Dan Haren has been designated by Don Mattingly as the Dodgers' Game 4 starter on Tuesday night against Cardinals righty Shelby Miller in their National League Division Series, but with a number of strings attached, the Dodgers' manager said as the team went through a light off-day workout here on Sunday evening.
Haren could be used as the first man of out the 'pen on Monday night in Game 3 if starter Hyun-Jin Ryu has a recurrence of left shoulder problems that have sidelined him for the last three weeks.
"It depends on how early in the game it is," Mattingly said. "If it gets deeper in the game, then we would try to put it together with the bullpen. We wouldn't try to drag Danny into that. When we start the game tomorrow, Danny Haren will be ready to pitch tomorrow."
It seems likely, then, assuming Haren isn't needed in Game 3, that ace left-hander Clayton Kershaw would be held for a possible Game 5 back at Dodger Stadium on Thursday night, but even that is up in the air at this point. Kershaw's certainly still an option on three days' rest in Game 4.
"Danny Haren is our starter for Game 4," Mattingly said. "I'm not sure what Clayton is doing today. I know he's going to throw. A couple of the guys were going to do something. I'm not sure, I don't know if it was a bullpen or just play catch. So we're still at Danny for Game 4."
Kershaw just threw off flat ground rather than his usual bullpen two days after the previous start. Asked if he might flip to Kershaw for Game 4 if the Dodgers lose on Monday night to fall behind 2-1 in the best-of-five series, Mattingly added:
"Win-loss won't have anything to do with it."
Last year in the NLDS against the Braves, Mattingly had designated Ricky Nolasco as his Game 4 starter, but after the Dodgers went up, 2-1, in the series at home, he opted to use Kershaw on three days' rest to wrap up the series. Kershaw pitched the first six innings, leaving with the score tied at 2. The Dodgers won, 4-3, on Juan Uribe's eighth-inning two-run homer.
But there's a big difference between this year and last October. Kershaw opened that series at Atlanta by pitching seven innings of one-run, three-hit ball as the Dodgers won Game 1, 6-1. On Friday night, Kershaw sailed into the seventh inning with a four-run lead, having allowed two hits and two runs on a pair of solo homers. The Cardinals scored eight times in the seventh and now Kershaw has allowed 15 earned runs in consecutive postseason starts against St. Louis, including Game 6 of last year's NL Championship Series right here at Busch Stadium.
This is what is complicating matters: In Ryu's last start on Sept. 12 at San Francisco, he lasted an inning in a 9-0 loss, allowing four runs on five hits and leaving with the injury after throwing just 27 pitches. Thus, Mattingly needs to have contingency plans.
"Yeah, we have to have flexibility," Mattingly said. "We don't know what's going to happen tomorrow for us. Anything could happen with Hyun-Jin. We have to be prepared for that. Just because of what happened in San Francisco, after one inning, and 20-something pitches, we've got to be prepared for that. So then we have to be prepared for the next scenario also. So Danny is going to prepare for that to start tomorrow just like Hyun-Jin is. He's not going to go out and throw and do the long toss and all of that. Mentally, he's going to be ready to pitch tomorrow."
Mattingly added that he wasn't being coy about who is going to fill that spot. There are just too many variables right now. He wouldn't even tentatively commit to Kershaw for Game 5.
"Well, again, we're not making any commitment beyond Game 4 at this point besides Danny Haren," Mattingly said. "And we're talking about a number of options. What happens if? Then is it Clayton or possibly [Carlos] Frias or somebody else? Again, we've got to make that decision depending on what goes on."
Barry M. Bloom is a national reporter for MLB.com and writes an MLBlog, Boomskie on Baseball. This story was not subject to the approval of Major League Baseball or its clubs.