Did you know: Orioles-Tigers, ALDS Game 3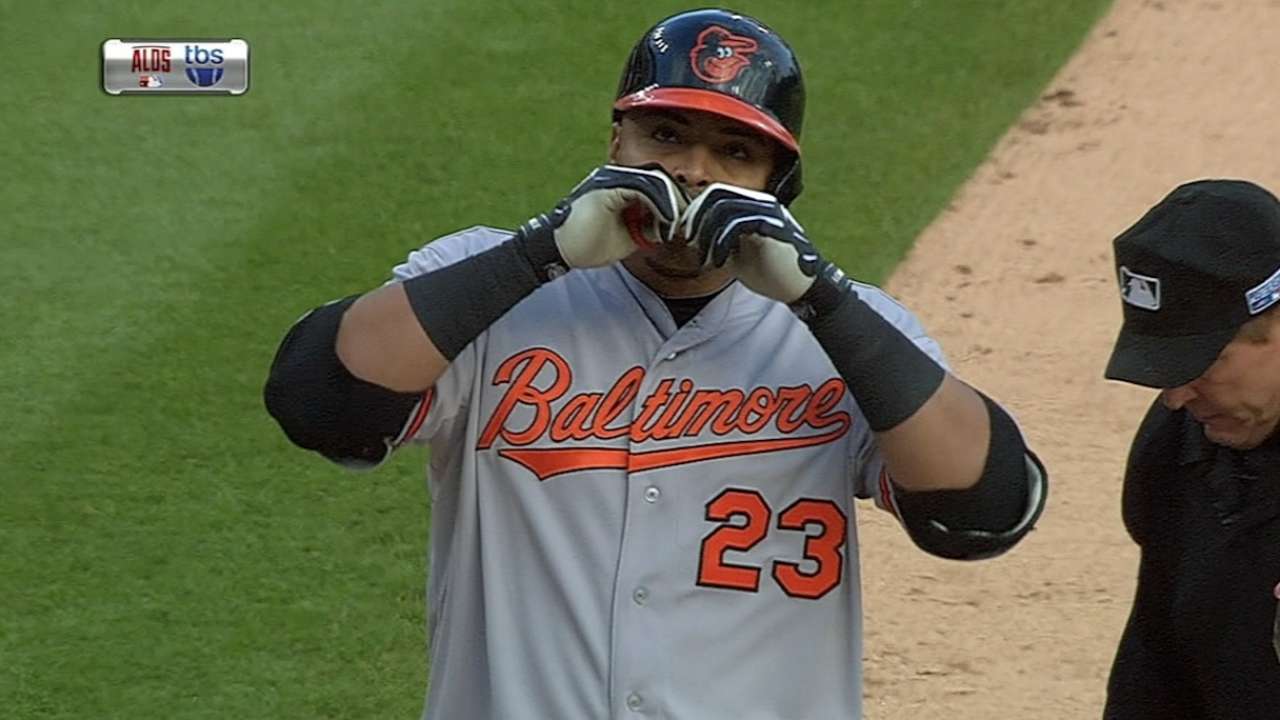 The Orioles are heading to their first American League Championship Series since 1997 on the back of a two-run home run by Nelson Cruz and a gem from starting pitcher Bud Norris. Their performances helped seal a sweep in the AL Division Series with a 2-1 win on Sunday in Detroit, despite the Tigers rolling out Cy Young Award winners Max Scherzer, Justin Verlander and David Price in the three games.
Here are some interesting stats to digest:
• Cruz passed Babe Ruth on the all-time postseason home runs list with his sixth-inning shot. The outfielder is now tied with Carlos Beltran for ninth on the all-time list with 16 homers.
• Speaking of Cruz, the outfielder's career slugging percentage in the postseason is up to .710. He trails only Ruth and Lou Gehrig -- who slugged .744 and .731, respectively -- on the all-time list for players with a minimum of 100 plate appearances.
• Baltimore became only the fourth team in Major League history to win three games started by opposing Cy Young Award winners in a single series. The others: the 1997 Marlins, the '98 Padres and the '99 Yankees, all of whom won against Braves starting pitchers Greg Maddux, Tom Glavine and John Smoltz.
• Price's eight-inning start was the longest postseason outing of his career. His previous came last October in the ALDS, when he allowed seven runs in seven innings to the Red Sox when he was a member of the Rays.
• In Norris' 155 career regular-season starts, he had only gone at least six innings while allowing four or fewer baserunners four times. He did that on Sunday, allowing two hits and two walks in 6 1/3 innings.
• Before Game 1 of the ALDS, Andrew Miller had only gone as long as 1 2/3 innings once since joining the O's at the Trade Deadline. In Game 3, he did that again. The lefty reliever set down five in a row, including Ian Kinsler, Torii Hunter and Miguel Cabrera in the eighth.
• Detroit cut the Orioles' two-run lead to the eventual 2-1 final with back-to-back doubles by Victor Martinez and J.D. Martinez off Zach Britton. In his first season as Baltimore's closer, Britton hadn't given up multiple extra-base hits in any game. Britton only gave up seven doubles all season.
• The O's completed their first postseason sweep since beating the Athletics in four games during the 1971 ALCS. The Tigers were swept for only the third time in postseason history. The other two both came in the World Series, as they lost to the Giants in 2012 and the Cubs in 1907.
David Wilson is a reporter for MLB.com. This story was not subject to the approval of Major League Baseball or its clubs.