Postseason beast Panda not looking ahead
Free agent-to-be Sandoval riding 13-game hitting streak in playoffs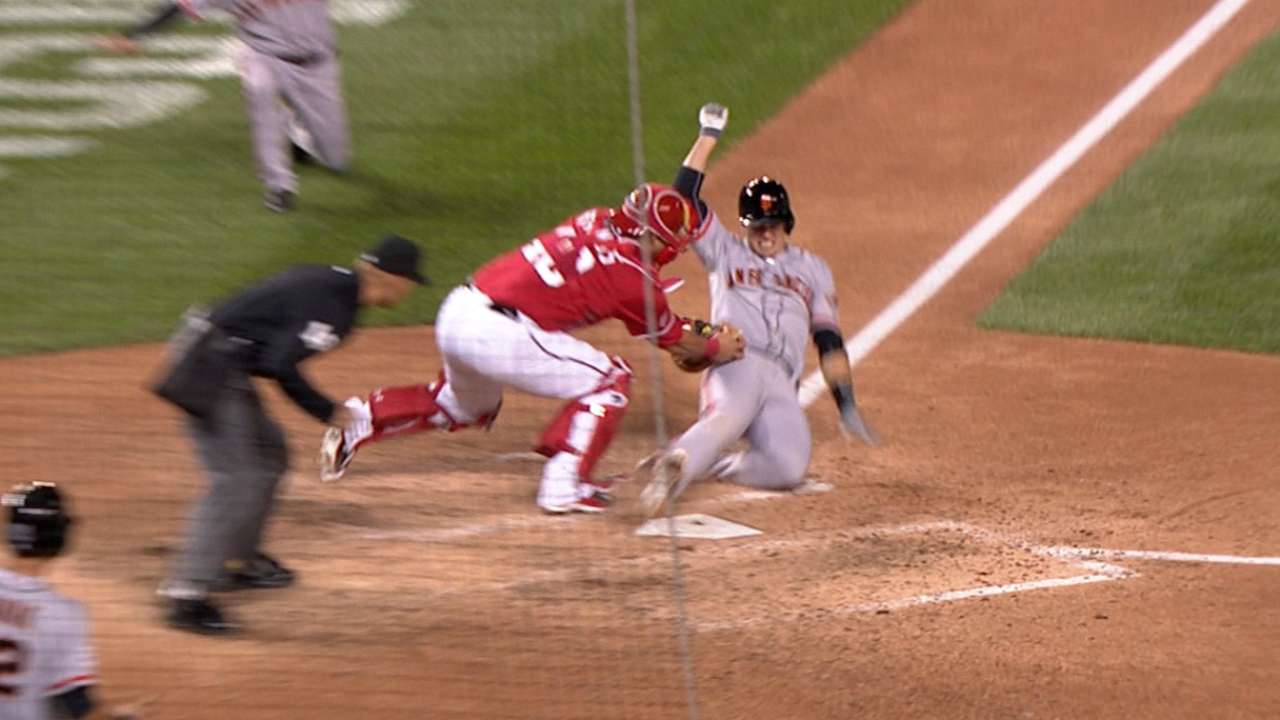 SAN FRANCISCO -- The Giants are hot on the trail of a third World Series title in the last five seasons. Many of the dramatis personae have changed and it's a given that any successful team will get contributions from every corner of the roster.
But there's this: The Giants have won 10 straight postseason games. Third baseman Pablo Sandoval has hit in 13 straight. And manager Bruce Bochy isn't willing to attribute that completely to coincidence.
"We have a guy in the heart of the order swinging well and getting hits -- that helps win ballgames," Bochy said during a media availability Sunday at AT&T Park. "In order to have a streak like we have now, you need guys who come through and deliver for you in a big way. I think it goes hand in hand. Your guys are swinging well, you win ballgames."
It's not just the quality of hits that matters, of course. Timing can be everything. Sandoval had only one hit Saturday night at Nationals Park, but it was a ninth-inning double that tied the score and set up the Giants' epic 2-1 win in 18 innings to take a 2-0 lead in the National League Division Series. That, in turn, gives San Francisco a chance to advance to the NL Championship Series against the winner of the Dodgers-Cardinals series as soon as Monday (2 p.m. PT on MLB Network).
Sandoval has been a clutch postseason performer. In 25 career playoff games, he's a .313 hitter with a .915 OPS. His three home runs in his first three at-bats in Game 1 of the 2012 World Series against the Tigers became an instant part of Fall Classic lore and he went on to be voted MVP of the World Series.
For the time being, the focus will be on whether Sandoval can keep hitting and the Giants can keep on winning. But the reality remains that Sandoval can be a free agent at the end of the season. And there's already speculation that his market price could be in the range of $100 million over five years and that the Giants could be reluctant to extend themselves that far financially.
The Red Sox, Yankees and Dodgers have been mentioned as possible landing spots. But when Sandoval was approached recently by a Boston reporter, he smilingly cut the conversation short.
"Can't talk about anything right now. We have a big job ahead. We've got a lot of work to do through the playoffs," he said.
Sandoval is a 28-year-old switch-hitter and a good defender. The Kung Fu Panda's outgoing personality is considered a plus in the clubhouse.
"I've always been happy, enthusiastic, aggressive. That's the way I play. It's been that way since I was a kid," he once said. The Giants are the only organization he's known since signing as a 16-year-old out of Venezuela.
But there are other considerations. He's battled weight problems and there are concerns that will eventually hurt his defense. His OPS has declined for three straight seasons, from .909 in 2011 to .789 to .758 to .739 this season.
In the end, it will likely come down to money -- not just the dollars but how many years they'll be guaranteed for.
The Giants have been one of baseball's most successful franchises in recent years. But they haven't done it by playing a pat hand. When they won it all in 2010, their first three starters in the World Series were Tim Lincecum (now a reliever), Matt Cain (out for the year) and Jonathan Sanchez (out of the organization). The closer was Brian Wilson (now with the Dodgers).
The lineup included Andres Torres, Freddy Sanchez, Pat Burrell, Cody Ross, Aubrey Huff, Juan Uribe and Edgar Renteria. None still plays with the Giants.
Change is inevitable in baseball. Whether Pablo Sandoval is part of that with the Giants remains to be seen.
Paul Hagen is a reporter for MLB.com. This story was not subject to the approval of Major League Baseball or its clubs.