Oct. 5 Norris and Cruz postgame interview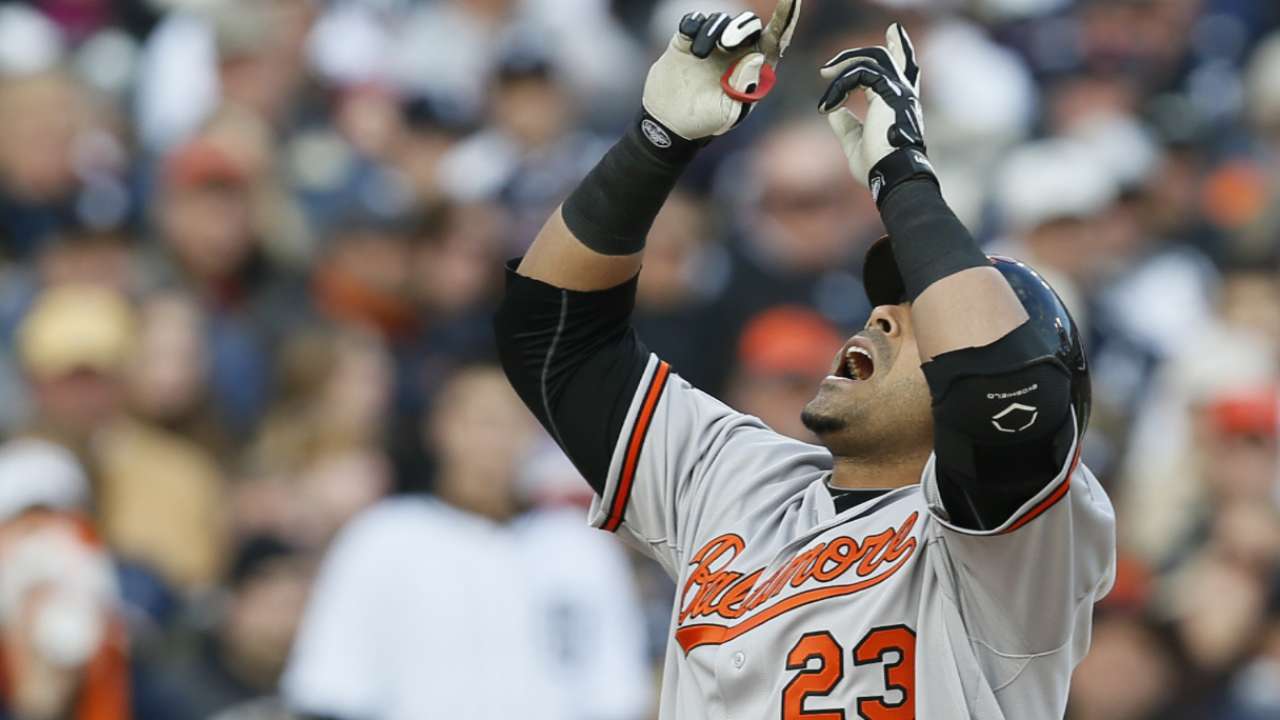 Q. What was the key to your success today?
BUD NORRIS: Playing baseball, 60 feet, 6 inches, great lineup over there. Understand what the task is at‑hand. But to go out and execute my game plan, make pitches, corners in, out, sliders down, away, let the defense play the game.
We got nine innings to play a game, great bullpen, great offense, team game and just want to go out there and do my part. Biggest focus was getting three outs every inning and putting as many zeros up as I could.
Q. Bud, if you could just describe the emotion when you see Nelson's ball land in that first row of seats in right field.
BUD NORRIS: I really didn't get a great view of it. I was down in the tunnel. But I saw him run halfway down the line and the entire bench erupts, so you get a clue.
And I said, Did it go to right field down the line?
And they go, Right down the line.
And I know we're 2‑0, and getting deeper in the game. And 2‑0 in this park means a lot more than you think. 1‑0 changes the game. A lot more sac bunts and everything. A two‑run homer, a little more cushion. Pass the ball to the bullpen, hitter from hitter. Two was enough today and with that bullpen, you feel that comfortable.
Q. You swept the series where Detroit started three of the best pitchers in the Major Leagues, and your rotation doesn't have the same name recognition, but what does it say about your group?
BUD NORRIS: We'll let you guys talk about that. We have had six starters get out there and compete and compete and compete. We're so excited. We understand what those guys got in their clubhouse, but we know what we got in our clubhouse and everything else.
I was just lucky enough to get the opportunity today to go out there. Buck just called my number. Miggy was ready to go, I was ready to go, we were both chomping at the bit.
But we have so many guys help each other push through it, fight through it, a lot of bulldogs going out there.
Exciting day. But our rotation is pretty good. We know how to compete and you see it time in and time out and wouldn't be sitting here right now if it wasn't the case.
But just pretty excited.
Q. Bud, a lot is talked about experience, and Detroit had a lot of playoff experience. Guys like you and your teammates, this was a first‑time experience. Can you describe the experience and what you do to take that forward?
BUD NORRIS: Today was my first day getting out there, different beast. Something I can't wrap my head around right now. I'm sure it will soak in the next couple of days.
But it's just something we played since we were kids. You dream of the opportunity to pitch in a postseason game and get to the World Series and so forth. And once again, I was excited to have my number called and go out there and play. You got adrenaline and some butterflies, but same thing, 60 feet, 6 inches.
I've been throwing a baseball my entire life. Hundley called me down in the bullpen and said we had a good plan going in.
I just wanted to go out there and compete for my people and that's exactly what they did for me, too. And 25‑man roster got it done today.
Q. What is it about Detroit that gets you so fired up to get up to the plate?
NELSON CRUZ: Nothing against Detroit, it's just, basically it was crazy, and I guess I get hit at the right time.
Q. Nelson, you've had postseason success before. You've been to the World Series. How important is it getting here in your first year for the Orioles?
NELSON CRUZ: Important, you know, I think when I got the season to come here, that was my goal to take to the playoff. I think what takes us here is the pitching. The pitching has been unbelievable.
Q. Nelson, when you signed in Spring Training, did you expect this season to be this good? You led the Major Leagues in homers, now you hit a big home run to win the series. How great has that been and how surprising maybe has it been?
NELSON CRUZ: For me and any of the other players to stay healthy is the main thing. When you can accumulate that many at‑bats, the numbers are going to be there.
So for me or any other player to take the number of at‑bats as you can, 160 games, the numbers are going to be there.
Q. The Tigers' started three Cy Young Award winners in the series, and you swept them. What does that say about this team?
NELSON CRUZ: We count on each other. Like I said, the pitchers are great and that's what takes us here, and they're going to take us all the way.
Q. Could you have imagined when this series started that you would be able to sweep these guys?
NELSON CRUZ: No, I mean, if you tell me before the series we're going to sweep, I don't believe it. Like you say, we have three great pitchers, you know, and they have a great offense, also. And to be able to win three in a row, it was pretty shocking.
Q. Do you have a preference between the Angels and the Royals starting at home against the Royals on Friday rather than going to Anaheim?
NELSON CRUZ: Yeah, maybe, because it will be easier to go to Kansas City.