Oct. 5 Buck Showalter postgame interview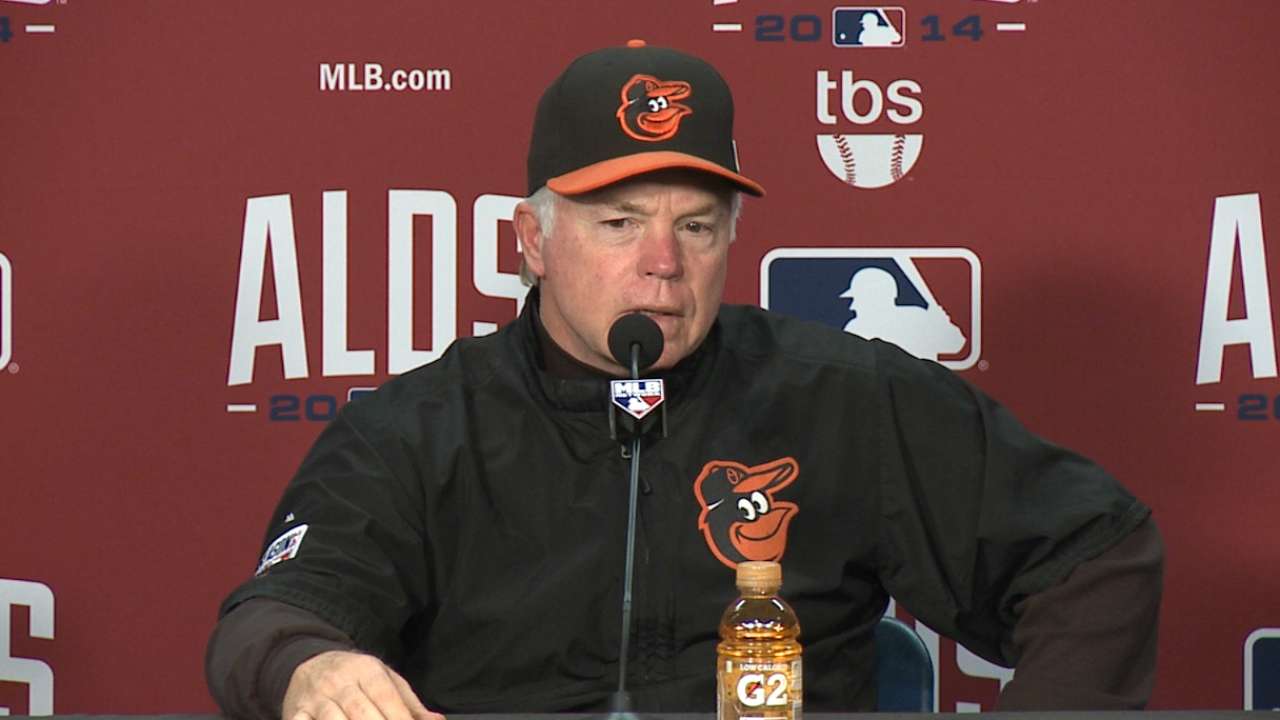 Q. Buck, congratulations. A long journey to get your first series win as a manager in the postseason.
BUCK SHOWALTER: Really? I got one in Albany.
Q. For give me, in the Majors.
BUCK SHOWALTER: They're all relevant.
Q. How does that feel?
BUCK SHOWALTER: Good, it means we won an opportunity. Some of the guys were talking in there afterwards, you know, what do you ‑‑ I kind of respected that they weren't over the top. They got a lot to be proud of. It's a step.
There are different steps during the season that you have to take and this is one of 'em. And so hard against a team like Detroit with such a great pedigree and experience, you know, at this. It's a challenge and it will continue to be.
But basically what you won is an opportunity to keep rolling the dice. Dave Dombrowski came over and I appreciate that, very classy organization.
Q. When you saw Nelson Cruz early in Spring Training, could you have expected everything that you've gotten from him, leading the Majors in home runs?
BUCK SHOWALTER: Heavens, no. We just felt like it was a good fit where he was, not necessarily in his career, but his mindset going into the season. I think Nelson, not a vindictiveness, he knows things were self‑inflicted. He really wanted to establish himself, reestablish himself, and we thought we could provide a real good opportunity for him, and the sky might be the limit. But we weren't that smart.
Certainly glad he passed our way. It was another good signing by Dan. He judged where things might fall potentially down the road. I know there was a lot of, not panic, a lot of anxiety by some of our Baltimore family, big range about what we were doing.
But just because things are delayed don't mean they're denied. But Nelson has been a great contributor for us, that goes without saying.
Q. Do you believe you match up better against the Royals or the Angels?
BUCK SHOWALTER: Serious? Come on, man. I'm not going to ‑‑ I don't think anybody matches up good against those two teams. You don't match up good. These are the best teams left. The best players in the world, and these are the best the world has to offer and the best players right now, teams, the American League has to offer.
So everybody is very capable. Everybody's got strengths and weaknesses and we're just excited and honored to be a part of it.
We're looking forward to the challenge, because it's going to be tough again. But real proud of everybody for getting the opportunity, and more importantly, getting back from this season what they put into it.
The baseball Gods have kind of let them get a return for what they put in it. The sad thing is only one team is going to be completely happy when this is all over. It can be real cold. I know the first time you play the last game of the season, it's extremely sobering. You realize how cutting and how quick this can all end. And that's why people don't want it to stop.
Q. Buck, you swept a series in which you faced arguably three of the top‑10 pitchers in the Major Leagues. What did it mean to do that?
BUCK SHOWALTER: We didn't exactly beat up on them. They did what they do and you don't match them. You try to stay engaged with their starters and hope you can grind 'em enough where some other situations might present themselves. They did their job.
I think the key to it was Tilly and Wei‑Yin not imploding and the job our bullpen did. And, of course, Bud today, that's a prerequisite.
Those guys are going to do what they do. And when a hitter is on top of his game and a pitcher is on top of his game, the pitcher wins. That's why it's such a premium. Everybody is trying to find guys like them, and that's a huge reason why they're here as opposed to why they're not going to be playing tomorrow.
Q. Did you have any hesitation about walking Castellanos?
BUCK SHOWALTER: Sure I did. What do you define hesitation as? Nobody's that smart. Just needed a little karma, change the way that inning was going. Had a lot of faith in Zach and there is a lot of factors going on there.
But we got some key outs from Andrew. Again, of course Bud was the difference. Runs were going to be at such a premium.
Just really played to the strength of our guys. So, I don't know, you guys can judge conventionality. What is it compared to what's been done? I think each situation changes depending on the strength of your players and the strength of their players on a given night.
You know, we were lucky because we had good players. Jonathan turned a good double play and Ryan played real well at third base again tonight.
Q. You were not picked at the top of your division by most before the season. You had to sort out your bullpen a little bit. You had some pretty key injuries throughout the season. Can you sum up why your team is in the ALCS?
BUCK SHOWALTER: It would take a while. Why do you think? I don't know. We kind of know who we are and never got caught up in the disease of "me."
There is not a "woe is me." It's where is the next challenge coming?
In Spring Training we talked about where the next thing is coming from and we haven't played with Chris and Manny and Matt the whole year. But that's something we talked about was going to happen. This is an opportunity for somebody else to be something that people say they're not.
We may not be able to outdo in some other areas, but we can 'outopportunity' people. A lot of guys took an opportunity and ran with it, so they're going to get a chance to continue to roll the dice. That's what this is, a bounce here, a bounce there. You know, it's different than the regular season.
I know people that aren't in the arena every day, probably got to shake their heads sometimes and say, Why would anybody subject themselves to that? But that's what separates these guys. They want to be there.
They don't want to watch it. They want to participate and they want to be put in that cooker, so to speak. That's what you look for in players.
Really happy for Bud because he's a guy that ‑‑ just because someone hasn't had the opportunity to do something before, doesn't mean they can't too it.
Q. Buck, you have waited an awful long time for this ‑‑
BUCK SHOWALTER: Not really. It's not going to drive my life. That's not the way I'm going to be defined. The bottom line is what kind of father, your children ‑‑ it's not going to ‑‑ I haven't been waiting around like this.
I had a great time at ESPN. It's an honor every day. The thing I'm most excited about is the players getting an opportunity to do this and trying to have an impact on their lives.
I mean, I got it. I'm a ship passing in the night. This is fun to watch, and believe me, I'm happier than you can imagine. But most of it comes from getting to see the players get what they put into it.
And I never let you finish your question, which my wife gets mad at me about.
Q. I think you've answered it.
BUCK SHOWALTER: Good deal.