Cy ya later: Series win puts O's in rare company
Baltimore is fourth club to claim playoff set with games started by three award winners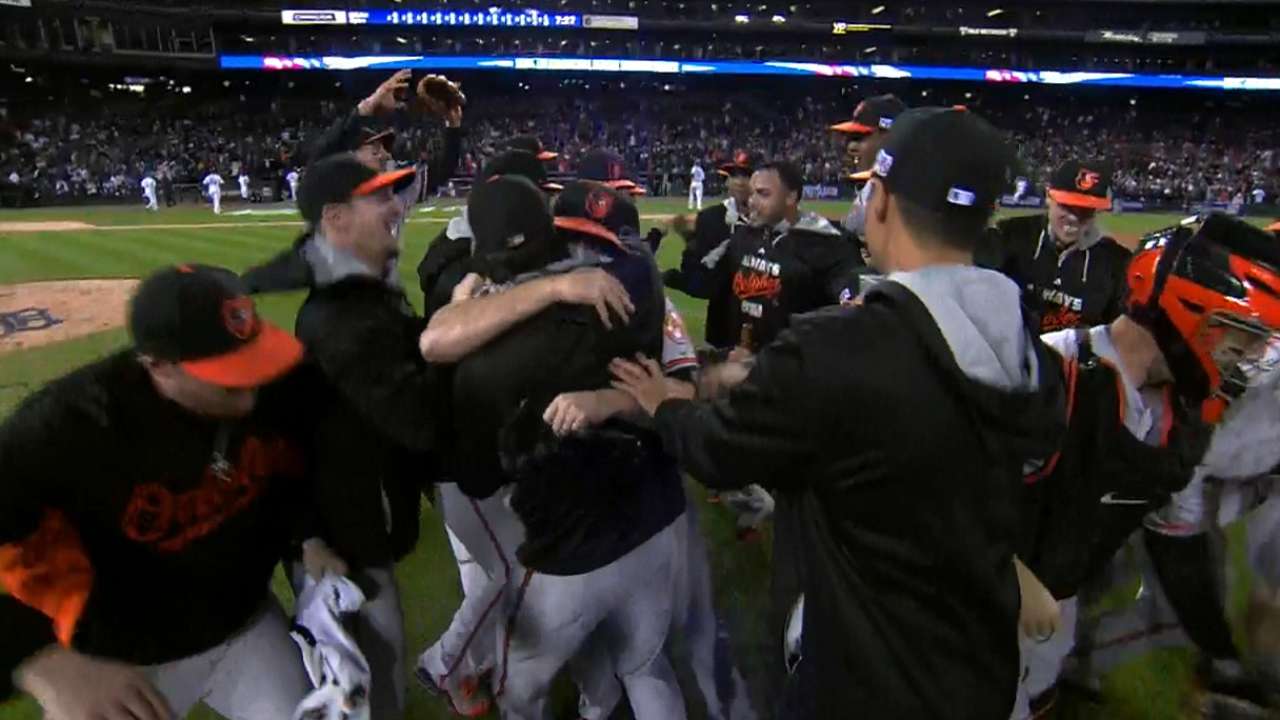 The Tigers' vaunted rotation featuring three former Cy Young Award winners has been defeated, as the Orioles completed a three-game sweep of Detroit on Sunday in the American League Division Series.
The thought following Detroit's non-waiver Trade Deadline acquisition of David Price was that he, Max Scherzer and Justin Verlander -- winners of the last three AL Cy Youngs -- would lead the Tigers deep into the playoffs.
Instead, Detroit lost each game Scherzer, Verlander and Price started. Scherzer and Price took the losses in Game 1 and 3, respectively, while Verlander didn't factor in Baltimore's 7-6 Game 2 win.
While the quick exit of the Tigers and their three aces is surprising, it isn't unprecedented.
This year's ALDS was the fourth time in baseball history a team bested three Cy Young Award winners en route to winning a postseason series.
The previous three occurrences all came against the historic Braves trio of Tom Glavine, Greg Maddux and John Smoltz.
That fabled Braves rotation carried Atlanta in the 1990s, but as their one World Series championship shows, they came up short multiple times.
The biggest was in the 1999 Fall Classic against the Yankees. Maddux lost Game 1, Glavine took a no-decision in a Yankees' Game 3 victory, and Smoltz lost in Game 4 as the Yankees completed the sweep.
In '98, the Braves were ousted by the Padres in the National League Championship Series, 4-2. Smoltz had a no-decision in a Game 1 Atlanta loss, Glavine was beaten in Game 2, and Maddux the next game. Glavine also took the loss in the deciding Game 6.
The previous year, the Braves were defeated by the eventual World Series-champion Marlins in the '97 NLCS. Maddux and Smoltz lost Games 1 and 3, respectively, while Glavine took the loss in Game 6, the series' final contest.
A similar result happened in the 1996 World Series against the Yankees, when Glavine lost Game 3 and Smoltz and Maddux dropped the final two games. Smoltz was not yet a Cy Young Award winner, however, earning the honor for that season following the postseason.
Cash Kruth is a reporter for MLB.com. Follow him on Twitter at @cashkruth. This story was not subject to the approval of Major League Baseball or its clubs.