Oct. 5 Brad Ausmus postgame interview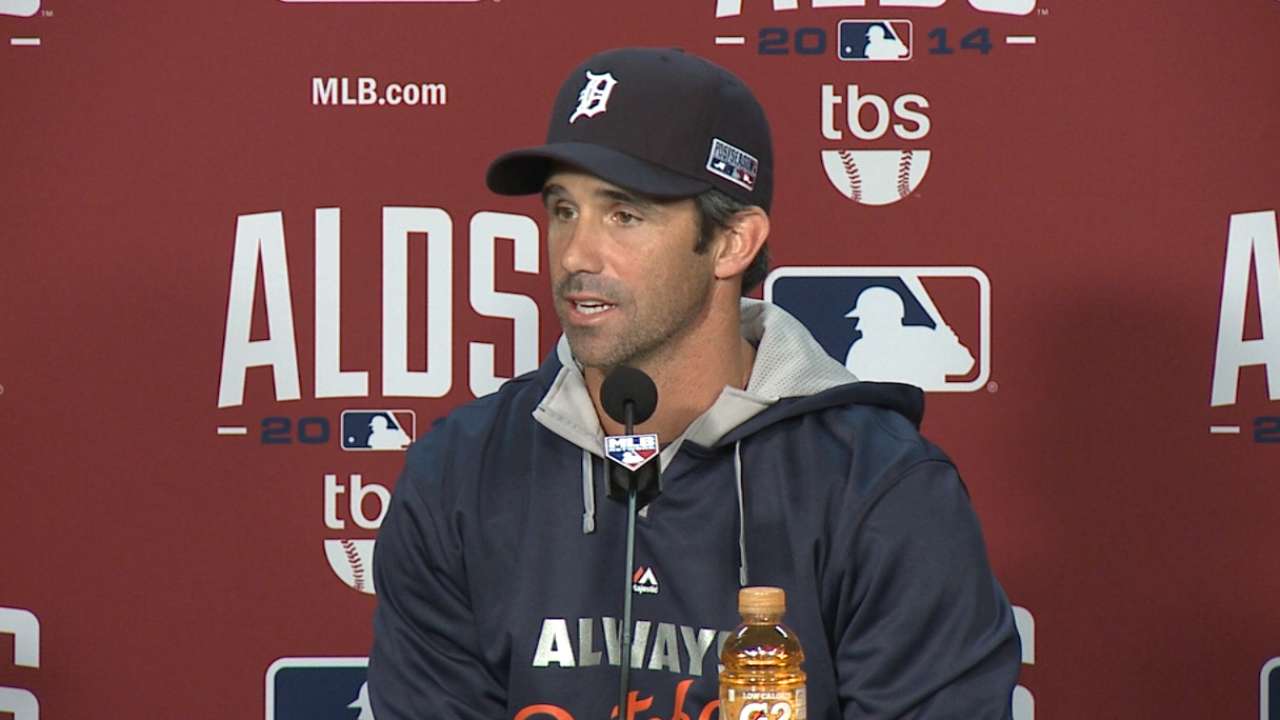 Q. How will this experience helped you to improve next year?
BRAD AUSMUS: I think every experience helps you improve, and certainly as a first‑year manager, there have been a number of things over the course of the season and certain things in the playoff that you learn from.
I can't put my finger on any one thing, but certainly I will reflect back and there will be some things I point to that certainly I've learned from.
Q. Brad, this series didn't go the way you wanted. It went horribly wrong in a certain way. What would you do differently if you could do it all over again?
BRAD AUSMUS: I don't know that there is a ton that we would do differently. Quite frankly, I think Game 2 was probably the game that hurt us the most, obviously, having a lead going into the eighth inning.
But, again, I would have to reflect upon it to tell you what I would do differently.
Q. For a team that spent so much time in first place from April right on through the playoff season, Brad, seemed like it was a very difficult year for a team and for a town. Can you speak to that, if you shared that thought at all?
BRAD AUSMUS: It was kind of an up and down. We started hot and got extremely cold. Seemed to be a bumpy road there after The All‑star break and really we weren't even in first place, I believe, going into the last month of the season or close there to.
But the truth is the resiliency was always there and ultimately we did win the division and that was the first goal. That was the first goal.
The second goal was to win the World Series and clearly we're not going to reach that one.
Q. You said several times what you see is what you get in relation to the starting lineup and the bench. How difficult, given the injury to Rajai and some other considerations, was it just to manage the bench late in the game for you?
BRAD AUSMUS: It wasn't difficult to manage the bench because general the lineup is the lineup. We have a pretty solid core of guys who are kind of everyday players, so there is not a lot of maneuvering that goes on.
When Alex comes out of the game that limits your maneuvering even more, because Brian is basically your last line of defense. So there is not a ton of maneuvering going on. Our lineup 1 through 5 is what it is, that's not going to change.
Q. Brad, a couple things. One, what kind of explanation did you get on the play at first with Andrew Romine and the play at second with Kelly?
BRAD AUSMUS: The play at first was pretty straightforward. We challenged and the umpire or umpires in New York said that the play stood. I don't know that even I agree with that even now having seen the replay.
The play at second, it's not really a challengeable play anyway. There is some question as to whether or not Schoop fell on top of Kelly and blocked him, but it was probably more incidentally than anything else going after the ball. I don't know that anything could be done in that situation.
Q. And how did Perez become the guy that you go to late in games over Suarez?
BRAD AUSMUS: I think the nature of their swings. I think Perez is probably more prepared to hit a guy going 95, 96, 97 miles an hour. Suarez would have hit for Carrera had we gotten to that point, the next batter.
Q. Just official confirmation on Alex Avila, concussion symptoms?
BRAD AUSMUS: I haven't been in the training room yet, but that's the reason we took him out, yes.
Q. Brad, just given the hopes and the expectations you had from this team, how much of a disappointment is it for the season to end this way, not just in the Division Series, but with a sweep?
BRAD AUSMUS: It's disappointing. You feel like you let the fans down and you feel like you let the organization down. You feel like you let the Illiches down. So it's disappointing, no question. But there is nothing we can do about it now.
Q. Did it cross your mind that Buck might call for the intentional walk there? Did it surprise you?
BRAD AUSMUS: No, it didn't surprise me. Buck has been doing this a long time. I don't think he would do anything that would shock me. He would rather face the hitters coming up behind Nick Castellanos as opposed to Nick Castellanos.
Q. Down 0‑2, you needed everything to go right today. As the game progressed, did you feel like nothing was going right, including Nelson Cruz's home run that looks like it's fading and finds a front row?
BRAD AUSMUS: No, it was a close enough game that you always hold out hope. It was a well‑placed home run, but Nelson Cruz is a pretty darn good hitter with the ability to hit the home run anywhere in the ballpark. So that happens.
Really the story today was a pitchers' dual between David Price and Bud Norris and the home run by Cruz. That's what it boils down to.
Norris pitched outstanding. I don't know if our right‑handers got a hit off him. To me, that was it.
Q. Brad, proved to be a big out when Donnie got caught between second and third and got tagged out at second. You couldn't challenge that play, but did it look like obstruction to you?
BRAD AUSMUS: No, because I thought the throw brought the fielder into Donnie. I don't think he was intentionally trying to block him. I think that's just where he was. And the throw came off his glove and he tried to reach for it.
Again, I've seen the replay, I don't know if anything could have been done differently. I don't know if the umpires could have seen it any differently.