How sweep it is: Cruz, Norris punch O's ticket to ALCS
Slugger belts two-run homer; right-hander tosses 6 1/3 scoreless frames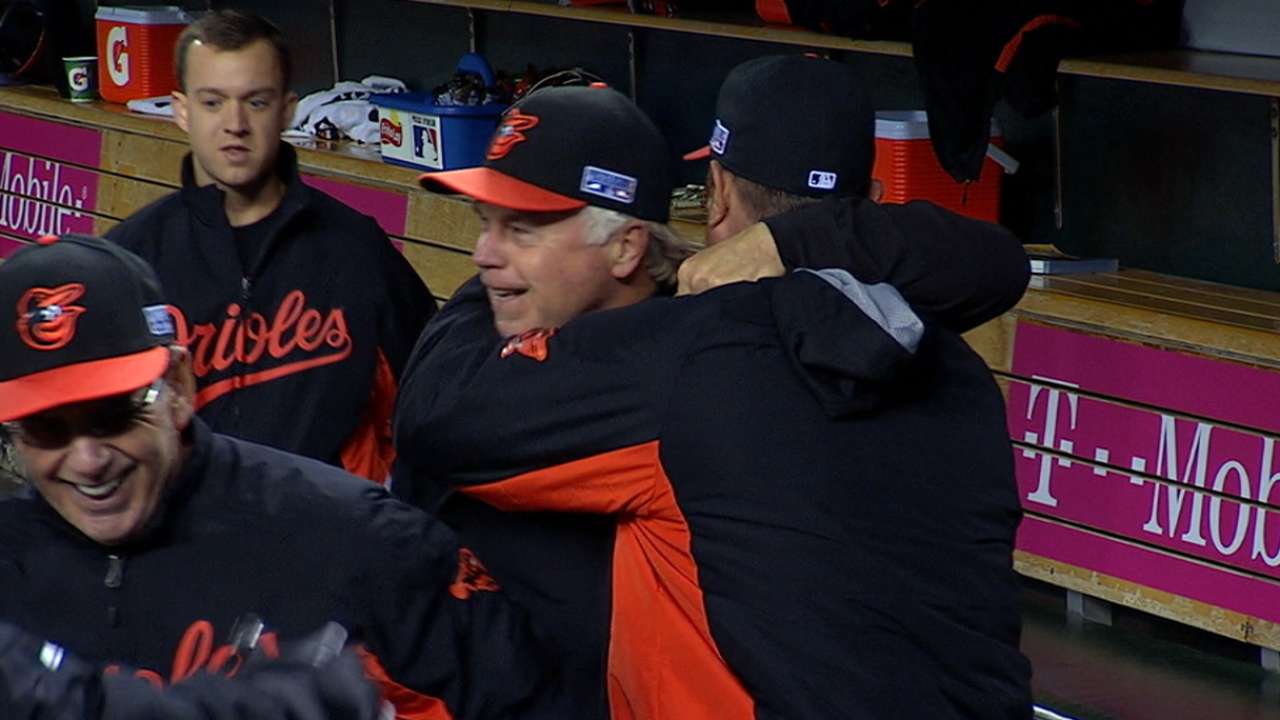 DETROIT -- Amid the champagne spraying and screams of joy on reaching the American League Championship Series, there was a small picture taped along the plastic covering the Orioles' lockers. The photo needed no words: it was of the jerseys of the last three AL Cy Young Award winners. Tigers jerseys, each crossed off.
What better way to tell the story of how Baltimore magnificently steamrolled Detroit and its vaunted starting rotation over three games in a best-of-five American League Division Series? The simple X said it all. The Orioles, counted out all season and playing without All-Stars Matt Wieters, Manny Machado and Chris Davis, owned every inch of this ALDS: outpitching, outhitting and out-performing Detroit on baseball's big stage. Sunday's 2-1 series sweep, which marked the organization's first since 1971, gave manager Buck Showalter his first career postseason series 'W' and highlighted the skipper's often-unorthodox style.
The ALCS begins Friday, and the Orioles will host Games 1, 2, 6 and 7 against the Royals.
"It means we won an opportunity," said Showalter, who intentionally walked the go-ahead run in the ninth inning, setting up closer Zach Britton's game-ending double play. "Some of the guys were talking in there afterwards, you know, I kind of respected that they weren't over the top. They got a lot to be proud of. It's a step.
"There are different steps during the season that you have to take, and this is one of 'em. And so hard against a team like Detroit with such a great pedigree and experience, you know, at this. It's a challenge, and it will continue to be."
Using the superhuman offense of postseason veteran Nelson Cruz, who hit a decisive two-run sixth-inning homer off David Price, and a fantastic playoff debut from starter Bud Norris, the Orioles held off a late Tigers rally, securing their first ALCS berth since 1997. The O's, who held the Tigers to four hits Sunday, allowed two runs over the final 13 innings of the ALDS and outscored the Tigers, 21-9, in the sweep.
But how did the O's pull it off?
"It's hard to say," said Tigers ace Max Scherzer, who started Game 1. "They just outplayed us in every facet, really. They've got great pitching. Their offense did big things. We couldn't contain Cruz. That's really what it came down to."
The Orioles, who lost in the ALDS to the Yankees in 2012, are looking forward to playing in the ALCS.
"I feel like we have a little bit more experience than we did in 2012," shortstop J.J. Hardy said of Baltimore's ability to bear down and outdistance Detroit. "That could have paid off a lot. I felt like we were relaxed. We had to be. We went out there and played well, and I think it helped being the underdogs."
After all, these O's have proved doubters wrong all season. Some suggested they couldn't win after Wieters' season-ending injury and it was impossible after Machado went down. Davis' suspension? Surely it spelled the end of the journey for the O's, who were viewed by many as the underdog in the ALDS despite being the higher seed.
"It just shows you what kind of ballclub we have here and the guys we have in this clubhouse," said right fielder Nick Markakis. "It's easy to throw 25 guys on the team, but to get 25 guys on the same page, to play well together and become family is different. They've done that here, and it's been awesome."
"I think we thought of it as a challenge, three Cy Young Award winners throwing against us," Britton said of an Orioles team that also faced Scherzer and Justin Verlander. "Price was outstanding. We pitched a little bit better, and that's what it kind of comes down to. No one gave us that much of a shot, but to come in three games and handle their lineup the way we did is impressive."
Equally impressive was Cruz, who again showed why he's perhaps baseball's shrewdest free-agent signing. Inked to a one-year deal late in Spring Training, Cruz gave Baltimore the decisive blow off Price, sending a 1-1 changeup into the right-field seats to also score Jones.
"I think God blessed with me the opportunity to be a part of this organization," said Cruz, who has fit in seamlessly with his new teammates. "We don't care what outsiders or somebody said. What we care about is that we believe in each other and we trust what we have here."
In nine postseason games against the Tigers split between the Rangers and Orioles, Cruz has 18 RBIs and 16 homers, which ties him with Carlos Beltran for ninth on baseball's all-time postseason list. Cruz's blast was all the Orioles would get off Price over eight innings, and all the O's standout pitching staff needed.
Norris set the tone early, silencing the sold-out crowd of 43,013 at Comerica Park with 6 1/3 scoreless innings. The fantastic 100-pitch outing, which featured six strikeouts and two walks, saw Detroit not record a hit off Norris after Don Kelly's third-inning single.
"Again, of course, Bud was the difference," Showalter said. "Runs were going to be at such a premium. Really happy for Bud, because he's a guy that just because someone hasn't had the opportunity to do something before, doesn't mean they can't do it."
Norris was replaced after a one-out walk to Nick Castellanos, with lefty Andrew Miller recording the next five outs before Britton took over.
The sinkerballer allowed a leadoff double from Victor Martinez that left fielder David Lough dove and missed, allowing the ball to scoot by him for an easy two-base hit. J.D. Martinez doubled him in to close the lead to one. After striking out Bryan Holaday, Showalter called for Britton to intentionally walk Castellanos, putting the go-ahead run on base. The move worked out, with Hernan Perez grounding into a double play to seal the win.
"When you put on the winning run with a free pass, that takes a lot of guts to do that," said executive vice president of baseball operations Dan Duquette. "It showed that Buck was playing to win the game."
Brittany Ghiroli is a reporter for MLB.com. Read her blog, Britt's Bird Watch, and follow her on Facebook and Twitter @britt_ghiroli. This story was not subject to the approval of Major League Baseball or its clubs.