Tigers' rally falls short, season ends with ALDS sweep
J.D. Martinez has RBI in ninth; Price allows two runs over eight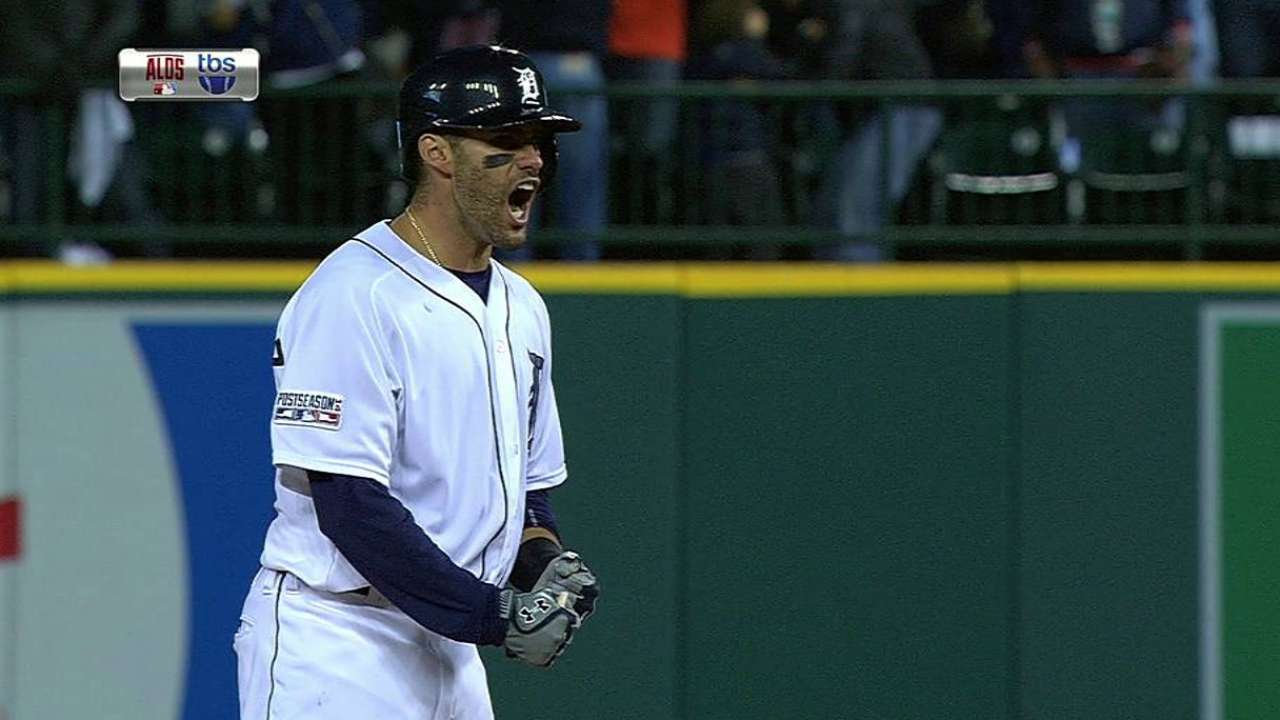 DETROIT -- Somewhere amid the celebration in the visiting clubhouse at Comerica Park sat a Tigers scoreboard with a picture of three jerseys on the front, marking the Tigers' three Cy Young award winners. All three had been crossed out.
Essentially, that's what the Orioles did in the American League Division Series. They didn't beat up the trio of Max Scherzer, Justin Verlander and David Price, but they won three straight games started by them, capped by Sunday's 2-1 Tigers season-ending loss in Game 3.
While Nelson Cruz got the Tigers again with a two-run homer to slug his way into history, Detroit's inability to slug Bud Norris put a historical mark on them, too. For the first time in club history, the Tigers' postseason run ended at the American League Division Series.
"It's disappointing," Tigers manager Brad Ausmus said. "You feel like you let the fans down and you feel like you let the organization down. You feel like you let [ownership] down. So it's disappointing, no question. But there is nothing we can do about it now."
While the Orioles swept a postseason series for the first time since 1971, the Tigers lost an opening-round series for the first time since the 1987 AL Championship Series, prior to the Division Series format. They had won all four of their Division Series since 2006.
"We got beat. No other way to say it," Scherzer said. "We got outplayed in this series in every facet. It's frustrating. I know how talented this group is. I'm not trying to take anything away from what they did. They outplayed us. They're a great ballclub."
It was not only an early exit, but until the ninth inning, a quiet one. After back-to-back games in which the difference in bullpens bit the Tigers, their struggles against Norris left Baltimore's relievers with just eight outs to cover.
Alex Avila's second-inning double and Don Kelly's third-inning single were Detroit's lone hits off Norris, who was moved up from an expected Game 4 start after the Orioles won the first two games. Two walks and a strikeout-wild pitch comprised the other baserunners, and the only runner beside Avila in scoring position was erased when Kelly went on contact on a Torii Hunter grounder to short.
"Norris pitched outstanding," Ausmus said. "I don't know if our right-handers got a hit off him. To me, that was it."
On a night when Price gave the Tigers just about exactly what they needed on the pitching side, covering eight innings, it was a letdown on the offensive side. Once Cruz stepped to the plate in the sixth, it was also a setup for another crushing home run.
Actually, Cruz's drive wasn't hit that well, but the loft down the right-field line stayed inside the foul pole to score Adam Jones. It was Cruz's 16th career postseason home run, pushing him past Babe Ruth and into a tie with Carlos Beltran for ninth on the all-time list. Half of those home runs have come against the Tigers.
"I still don't understand how he hit that ball out," said Hunter, who watched the ball sail down the line.
Said Ausmus: "It was a well-placed home run, but Nelson Cruz is a pretty darn good hitter with the ability to hit the home run anywhere in the ballpark. So that happens."
The Tigers mounted one final push in the ninth off Zach Britton with back-to-back doubles from Victor Martinez and J.D. Martinez. Once Bryan Holaday, who replaced an injured Avila earlier, struck out, Orioles manager Buck Showalter opted to intentionally walk Nick Castellanos and put the potential go-ahead run on base.
With the Tigers' limited bench down to Hernan Perez and Eugenio Suarez, it was a challenge to Detroit's offense. Once Perez hit into a game-ending double play, the Tigers' season -- a season with World Series expectations -- was over.
"It doesn't matter what point you lose," Scherzer said. "When you get bounced out of the playoffs, you always have aspirations on moving on to the next round and finding ways to win series. We didn't find a way to win this series. They did."
Jason Beck is a reporter for MLB.com. Read Beck's Blog and follow him on Twitter @beckjason. This story was not subject to the approval of Major League Baseball or its clubs.