Giants' postseason streak a credit to consistent core
How does SF's NL-record 10 straight wins compare to history's best?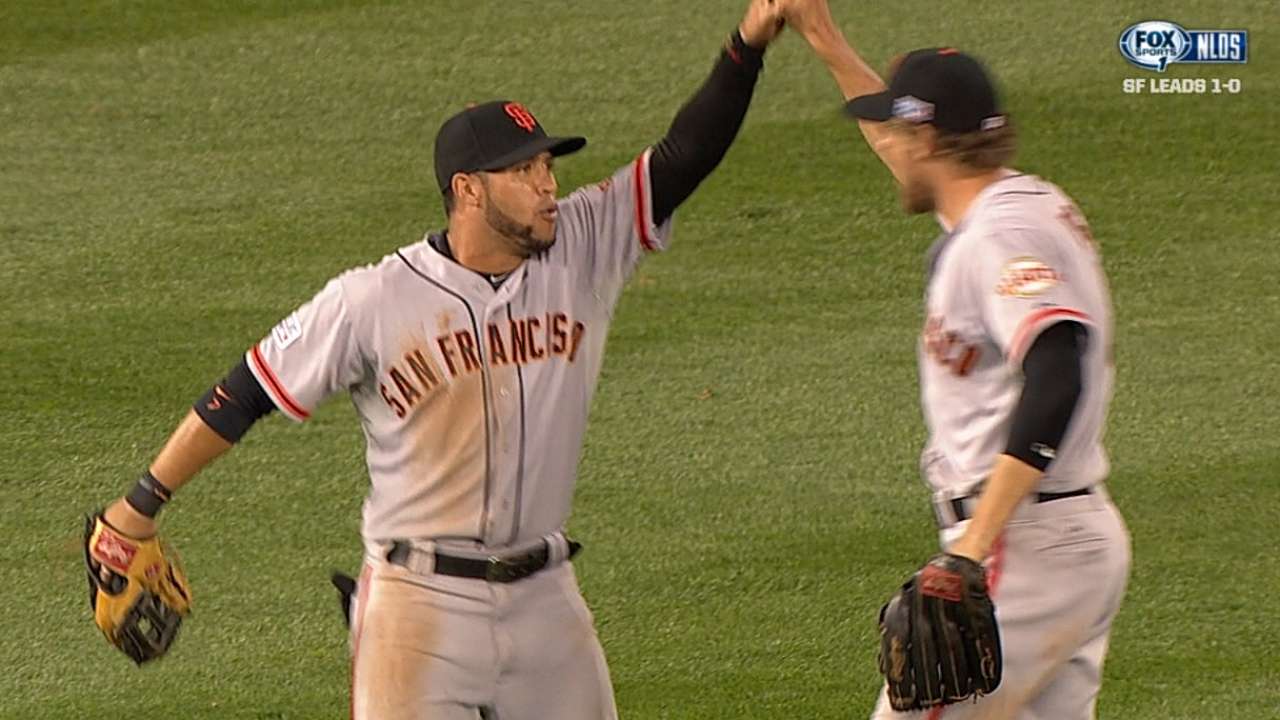 SAN FRANCISCO -- All things being relative, it was not so long ago that the Giants began their National League-record 10-game postseason winning streak. Trailing the Cardinals, 3-1, in the 2012 NL Championship Series, the Giants reeled off three straight victories with a cast of characters including Buster Posey, Hunter Pence, Pablo Sandoval and Madison Bumgarner. Then they went on to sweep the World Series, miss the playoffs the following season and arrive here at their current destination in 2014.
Their streak has reached double digits while their core has not changed, with Bumgarner starting a potential NLDS Game 3 clincher Monday at AT&T Park (2 p.m. PT on MLB Network). The Giants, simply put, have found way after way to win close postseason games, and their lack of roster turnover may be the primary reason why.
"That's really what it feels like and that's really what you have to do to be successful," Bumgarner said. "We've got a really good group of guys, and we always have since I've been here. It's been special."
When Bochy found out earlier this week that his club had passed Cincinnati's 1975-76 "Big Red Machine" clubs for the NL record streak, he called it "humbling." Cincinnati featured Hall of Famers Joe Morgan, Johnny Bench and Tony Perez, as well as a supporting cast of All-Stars. Like the Giants, their core barely changed throughout their years of dominance. Like the Giants, they rarely faded on the grandest stages.
"I don't think there is ever that comfort zone in playoff games," said Giants first baseman Brandon Belt, who has appeared in all 10 games of the streak. "That must be what makes us play so well, is we don't get complacent. We may be confident in ourselves, but not complacent. We don't get comfortable in those situations."
Entering Game 3, the non-complacent Giants now stand two wins shy of MLB's all-time record 12-game postseason winning streak, which the Yankees accomplished twice in their history, seven decades apart.
"There is a familiarity about playing in these games, and playing with these guys, that kind of sets everybody else at ease," Belt said. "We enjoy it. I mean, it is just a lot of fun. I think we figured out how to play these games and we do a pretty good job at it."
The four other teams boasting double-digit playoff winning streaks also did a fine job of that. Their stories:
1989-90 Athletics: 10 consecutive postseason wins
History remembers the A's of this era for their "Bash Brothers" reputation, and Mark McGwire and Jose Canseco indeed played big roles. But the '89 A's finished tied for third in the American League in adjusted OPS, while leading all of baseball in adjusted ERA by a significant margin. The moral: These A's were about pitching as much as hitting, which served them well in the playoffs. In 1989, the A's won one-run contests in Games 4 and 5 of the ALCS to advance to the World Series, where they outscored the Giants 32-14 in a four-game sweep.
A year later, the A's swept the ALCS, allowing one run in each game. But their streak ended there, as the Reds returned the favor with a four-game World Series sweep.
1937-41 Yankees: 10 consecutive postseason wins
Babe Ruth's career was over by 1937. Lou Gehrig's was almost done. But that summer was just the second in the big leagues for Joe DiMaggio, who would go on to become as well-known as either of them.
The first of DiMaggio's eight career World Series homers came in 1937 Game 5, a clincher for the Yankees. The next year, they swept the Cubs. The year after that, they swept the Reds. It was not until 1941 that the Yankees finally lost in the Fall Classic, dropping Game 2 to the Dodgers for their only loss of the series. All told, the 1927-41 Yankees went 32-4 in World Series play.
Perhaps most remarkable, the 1927-32 (see below) and 1937-41 Yankees played long before the advent of LCS, Division Series and Wild Card Games, making them the only teams in history to win at least 10 consecutive World Series contests. The Reds do have an active nine-game World Series winning streak dating back to 1975.
1998-99 Yankees: 12 consecutive postseason wins
Derek Jeter was only just entering his prime when the Yankees returned to postseason play in '98, fresh off an AL record-setting 114 regular-season wins. They swept their first-round series before actually falling behind the Indians, two games to one, in a best-of-seven ALCS. But Orlando Hernandez fired seven shutout innings in Game 4, and the dynasty was back in motion.
The Yankees won that night, and the next, reeling off three straight victories to close out the Indians. Then they manhandled the Padres in four games, outscoring them 26-13 to win their 24th title.
A year later, featuring an almost identical cast of characters, the Yankees again swept their ALDS against the Rangers and shot out to a 2-0 ALCS lead against the Red Sox, tying their own franchise record for consecutive postseason wins. Pedro Martinez finally ended things, striking out 12 Yankees over seven innings of a 13-1 Game 3 bludgeoning. (The Yankees, to their credit, proceeded to reel off another six consecutive playoff wins before losing again in the 2000 ALDS opener.)
1927-32 Yankees: 12 consecutive postseason wins
There is a reason why the 1927 Yankees remain baseball's standard-bearer for all things dynastic. In addition to rewriting record books (here's looking at you, Babe Ruth), and winning the American League pennant by 19 (!) games, the Yankees swept the Pirates in the Series on four straight days. It wasn't particularly close, with the "Murderer's Row" Yankees outscoring Pittsburgh 23-10.
A year later, a similar cast of players outslugged the Cardinals, 27-10, in a four-game sweep. The Yankees missed the postseason from 1929-31 before returning to the Series and sweeping the Cubs in '32.
Four years after that, the Yankees finally dropped World Series Game 1 to the Giants. They went on to win the title in six games anyway.
Anthony DiComo is a reporter for MLB.com. Follow him on Twitter @AnthonyDicomo. This story was not subject to the approval of Major League Baseball or its clubs.