Oct. 5 Madison Bumgarner workout day interview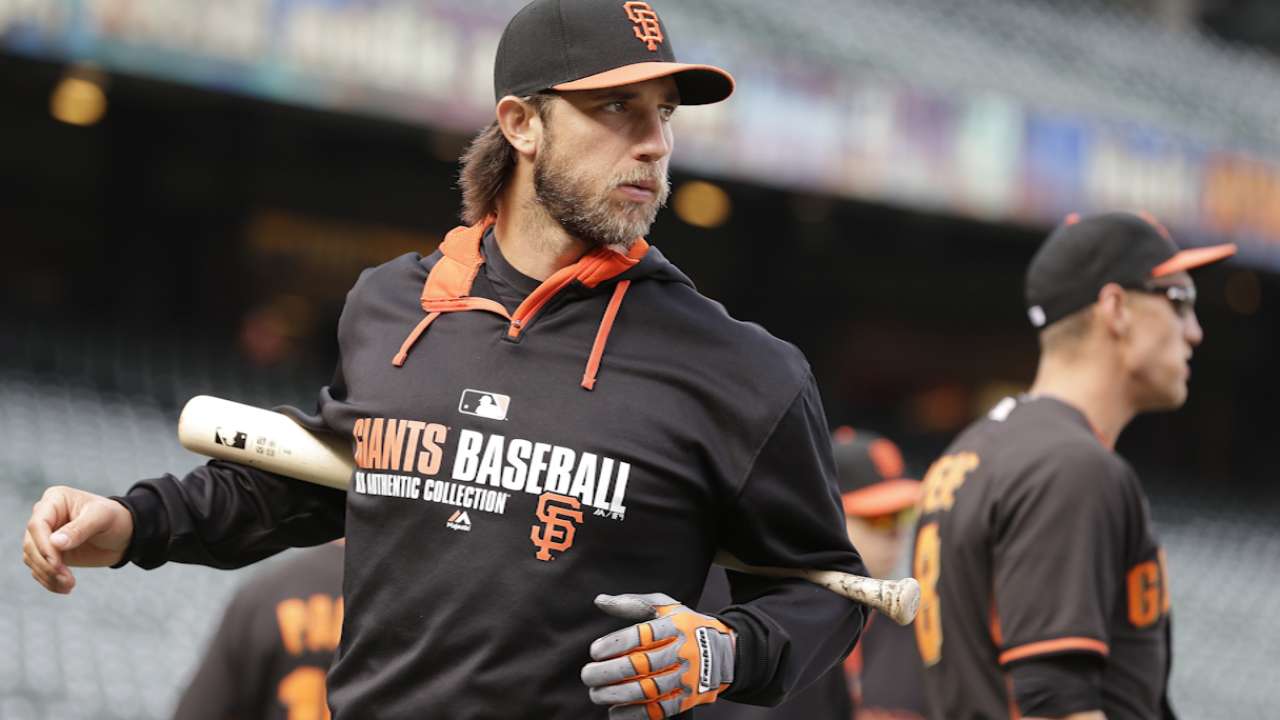 Q. You guys two years ago were the team that left your home ballpark down 0‑2 in this round. Clearly you know what is possible in this series. Am I right? What's your take on that?
MADISON BUMGARNER: Absolutely. You know, that's why we got to ‑‑ you know, it's very important for us to come in tomorrow and don't miss a beat, get right back after it, and keep playing good baseball and stay focused, don't relax any, because that team over there is not going to. They are not going to give in. They are going to keep battling the whole way through. So we've got to keep doing what we're doing.
Q. After watching the first two games of the series, what are your impressions of the Nationals?
MADISON BUMGARNER: I mean, the first two games, there's been a lot of really good pitching on both sides, and the ball has happened to bounce our way, you know, more times than it has theirs so far. We've been fortunate on that. There's a reason they have the best record in the National League.
So, you know, like I said, we all know once you get to the post‑season, anything can happen. But we've got to come in and we can't afford to lose any focus because we've been in their spot, and we've come through the other side. So we have to maintain what we're doing and just stay hungry.
Q. You obviously pitched a lot of big games already in your career. What do you expect it to be like out there? For you guys, kind of a rare thing, a game at home with a chance to clinch the series.
MADISON BUMGARNER: Yeah, really, as boring as it sounds, you've got to treat it like any other game.
For me, it's fun, and it's exciting to go out there and get amped up and pumped up for the game. But for me, myself, and I think a lot of people when you do that, you start ‑‑ you kind of ‑‑ you don't play as good of baseball as you should. So it's important just to kind of, you know, push all the nerves and anxiety and excitement aside and just play good, fundamentally sound baseball.
Q. They talk a lot about the first inning; that if they can get to you in the first inning, maybe they can get to you for the whole game. Are you aware of that kind of talk? And what is it about the first inning that sometimes it's not, you know ‑‑
MADISON BUMGARNER: It's not what?
Q. Well, sometimes it doesn't seem like ‑‑ they talk about, that's when you get to Madison Bumgarner.
MADISON BUMGARNER: I mean, I don't know the numbers. I don't feel like that I'm terrible in the first inning. But I would say it's that way with anybody. The faster you can get to them, you know, get on the board first, you're obviously in good shape.
I mean, it's not any one specific person. I think that's the object of the game.
Q. And then you're up against Fister again, and you've done that during the regular season. Is it going to be something different this time around, because it's a special game, you're going to approach it differently?
MADISON BUMGARNER: No.
Q. You did oppose Fister in Game 2 in 2012. That's the game he took the liner off the head, stayed in, pitched real well. What do you remember of the job he did? What were your impressions of what he was able to do after a scary thing like that?
MADISON BUMGARNER: Yeah, I was kind of shocked that he stayed in. I'm sure the training staff, you know, watched carefully and all that.
But that's a scary thing. You never know what can happen after something like that. I'm glad to see that he was okay after it and all that. But, you know, I'd say there's not a whole lot of guys that would want to stay in after that, so that speaks about his character and about his competitiveness.
So, you know, that's the reason he's one of the best. You're not going to be one of the best and not have that type of competitive edge.
Q. You've been here now through ‑‑ this is your third post‑season run with these guys. A lot of the faces have changed in that clubhouse but you guys always seem to play well this time of year. Have you found anything that's consistent with that group, the way you approach October?
MADISON BUMGARNER: You know what, we did have a lot of different guys, but we've got a lot of the same guys, too.
Whatever it is, if they are different guys here, it's kind of the same mentality whoever it is. I don't know if it's kind of what the organization pushes. Maybe. Maybe that has a lot to do with it. You know, coaching staff, just the camaraderie. Whatever it is, I really like ‑‑ I really like our chances and the way we play baseball in October. It's been really special.
Q. You had a really long stretch this year where you were pitching a lot better on the road than you were at home, but down the stretch, you had some really good games at home, almost a no‑hitter. Anything change for you during that period, or was that just a coincidence?
MADISON BUMGARNER: I think it was more coincidence than anything. You know, some of those games, obviously I wasn't making very good pitches. I think that's all it comes down to is it just happened to work out that way, which is odd.
But if you're making good pitches, more often than not, you're going to be successful. If you're not, you're going to have a hard time.
Q. I know that there's a lot of new faces and different people here, but during this streak that you guys have had, it seems like no matter what the situation, circumstance ‑‑ home, road; ahead or behind ‑‑ there's just a calmness about this team, and I'm wondering if there's almost like an expectation that we're going to figure out a way to win this game tonight no matter what's going on.
MADISON BUMGARNER: I really think that's what it feels like and I think that's what you have to have to be successful. We've got a really good group of guys, and we always have, ever since I've been here.
It's been special and it's been a lot of fun to play for, and you know, hopefully, like I said, we're in a good spot now, but we've got to stay pressing forward and we can't lose any focus. Hopefully we can keep it going.
Q. The Pirates seem to think that your outing in the wild card was different than what they game planned for. Did that surprise you? Do you think you're versatile enough that you can show something different from outing to outing?
MADISON BUMGARNER: The only thing I did different, as opposed to when I faced them earlier in the pitches, was just making good pitches, like I said earlier, not getting in a lot of hitters' counts and not leaving the over ball over the middle of the plate. That was the biggest difference for me and not giving in.
Q. We heard Tim Hudson say how much fun you two have together and feeding off each other. What has his presence meant to you, and also maybe what did watching him last night show you?
MADISON BUMGARNER: Yeah, that was ‑‑ you know, he pitched an unbelievable game last night at Washington. That was huge for us.
We have a lot of fun. He's a veteran, been around a long time, seen a lot of stuff. He brings a lot to the table, and he's still, you know, I feel like he's still as good as he's ever been.
Q. One thing that's obviously distinctive about you, the way you pitch, is that everybody talks about the crossfire delivery, across your body. Did anybody ever try to change that, have you always had that, and how does it help you?
MADISON BUMGARNER: That's the way I've always thrown. I didn't even realize it until probably pro ball when you see it on video for the first time.
You know, I don't know, I guess it's a different angle for the hitters. They don't see it all that often I guess. I don't know, like I said earlier, at the same time, it don't matter how you throw or how different it is, if you're leaving the ball over the middle of the plate and not making good pitches, doesn't matter what you're doing, you're going to get hit around.
Q. I know you've only played for one manager during your career. What in your estimation makes Bruce Bochy special? What sets him apart, and why is he so good at making all the right moves?
MADISON BUMGARNER: You know, that's hard for me to say because he is the only manager I've played for. But, you know, we just ‑‑ we all have a good relationship with him. He seems to always make the right move, whatever it is, it seems to always work out, whether he takes a gamble and does something or he kind of plays it safe. It seems like whatever it is, it always works out.
It's hard to imagine someone taking their job more serious than he does. He works at it and wants to be as good as he can for us and himself and the organization.