MLB.com Columnist
Bill Ladson
Nats confident headed into must-win Game 3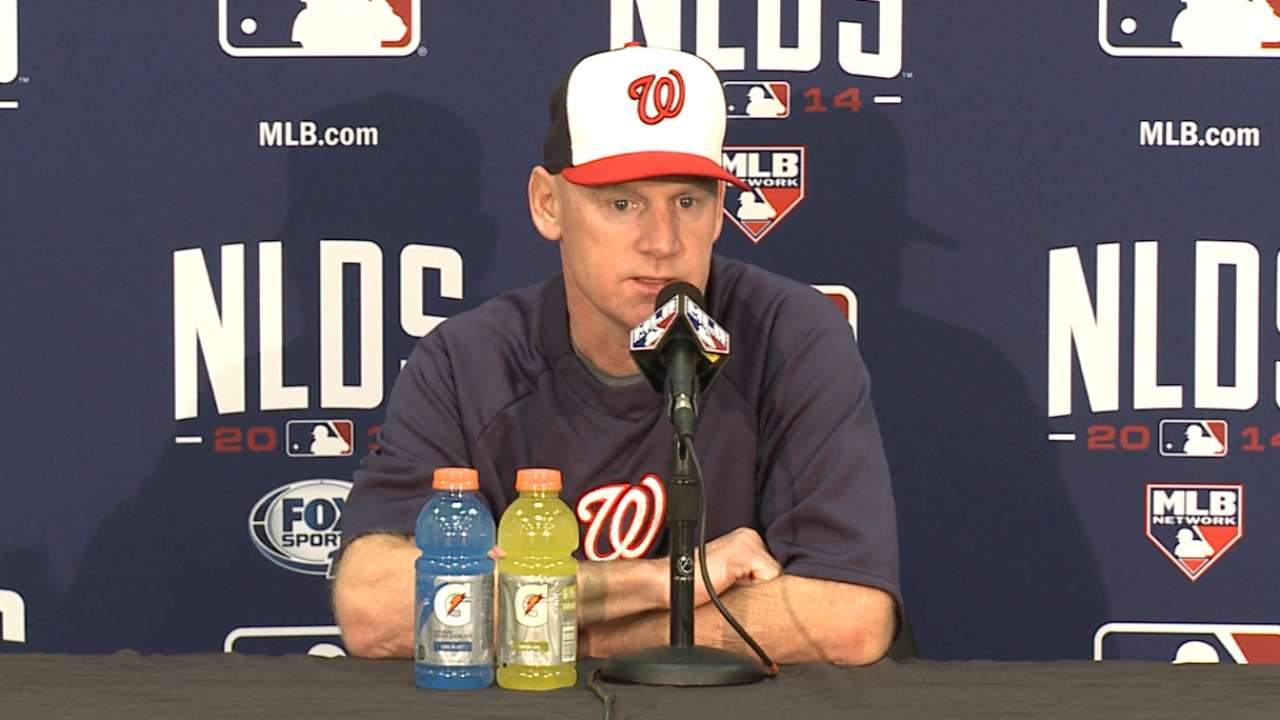 SAN FRANCISCO -- Dating back to 1981, six Major League teams have been down, 0-2, in the Division Series and rallied to advance to the League Championship Series. The Nationals are trying to be the seventh team to make such a comeback.
Down to the Giants in the National League DS, with Game 3 on Monday at AT&T Park (5 p.m. ET, MLB Network), Nationals manager Matt Williams knows that a comeback can be done.
"So we have to start with that game tomorrow," Williams said. "We have to be ready for that and make sure that we're doing things out there on the field that would give us a chance to win. That's where you start, and once that one's over, if you're fortunate enough to win it, then you move on to the next."
The Nationals will face Madison Bumgarner in Game 3. It will mark the second time the Nationals will face the left-hander this season. On June 10, the Nats beat Bumgarner and the Giants , 2-1, at AT&T Park.
Bumgarner didn't pitch badly, going seven innings and allowing two runs on eight hits. Washington scored both runs in the fifth inning. Ian Desmond scored the first run of the game on a sacrifice fly by Denard Span. Jayson Werth followed with a single to left field, scoring Danny Espinosa.
"Crossfire fastballs to the right-handers, he pitches in effectively," Williams said about Bumgarner. "He's a big guy. He throws the ball, you know, low-to-mid-90s, but it's even better than that, because the ball jumps on you. And he rakes. Those are challenges."
The Nationals are not showing any signs of being down on themselves. The 45-minute bus ride from Nationals Park to Dulles Airport on Sunday night was quiet. But by the time they were on their way to San Francoico, the spirits were high, according to Werth.
"It was not as bad as you would think," said Werth. "The spirits were high. ... This is the same old ballclub. We are still us and nothing has changed in that regard. We have a close-knit group. We have been doing this all year. We have good chemistry, a good clubhouse and a good group of guys.
Said infelder Kevin Frandsen: "We don't dwell on a lot of things. We had guys who continued to grind last night. How many times have we grinded and lost this year and come back that next day and hit well? Whether it's the season on the line or whatever, I like that fact that, as a team, we are never too high, never too low. We stay hungry for the opportunity. Now is that opportunity."
Williams had an optional workout for Sunday afternoon, and almost everyone on the team showed up.
"The buses are full and they are itching to get back out there and work today," Williams said.
If the Nationals are to get back to normal on the field, they have to start hitting. They have a .160 batting average in the first two games of the NLDS, which began following four days off for the Nats once the regular season concluded.
"I hate to blame it on the four days off, but sometimes, it's tough to get in your groove after the layoff," Werth said after Sunday's workout . "But if you are going to win, you have to overcome those things. It's bound to happen sooner or later."
It hasn't helped that leadoff hitter Span is hitless in 11 at-bats in the series.
"It's just trying too hard," Span said. "I think we all want to do well, especially this time of year. We have to find a way to slow it down. Let the game come to me, instead of trying to chase it. I just have to trust myself and do what I've done all year."
On Sunday, Span said he felt much better. He credits his family for encouraging him and vows he will be ready to go.
"We'll be ready to go. I'll be ready to go," Span said.
Bill Ladson is a reporter for MLB.com and writes an MLBlog, All Nats All the Time. He also can be found on Twitter @WashingNats. This story was not subject to the approval of Major League Baseball or its clubs.