MLB.com Columnist
Mike Bauman
Now is time for NL-best Nats to reveal themselves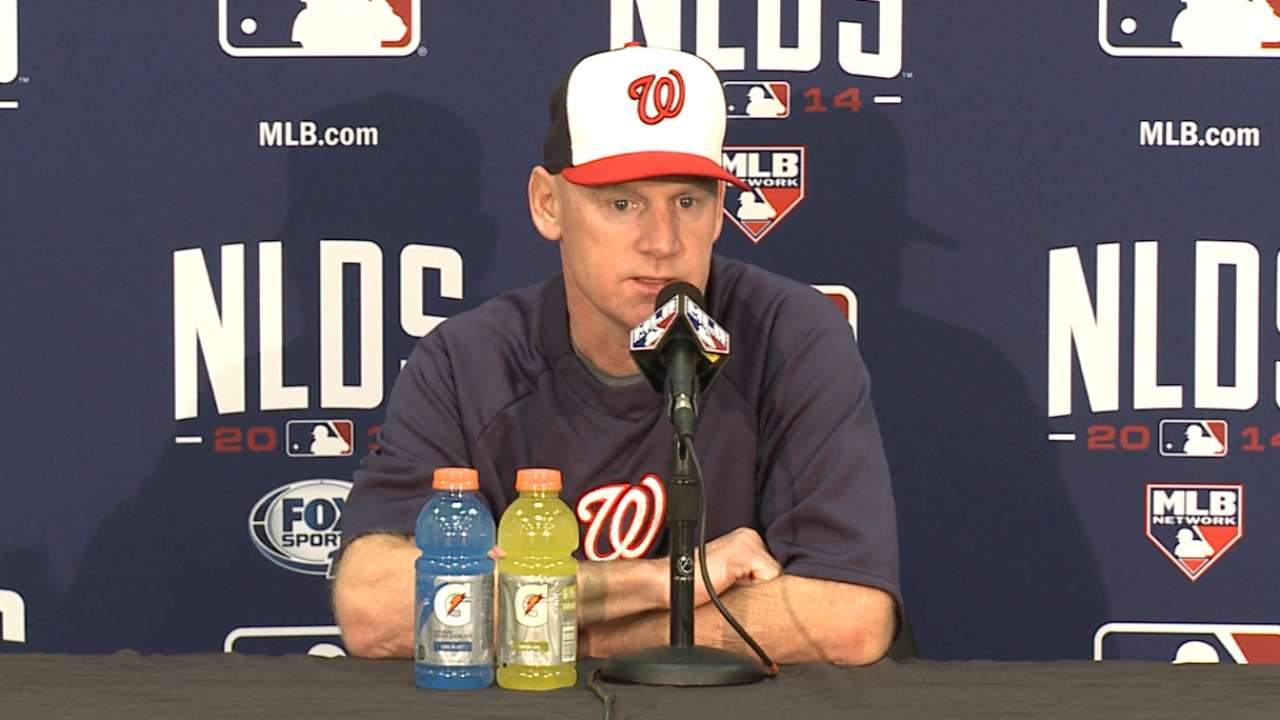 SAN FRANCISCO -- It is time for the Washington Nationals to display their better selves, to demonstrate why they were the National League's best team over 162 regular-season games.
"We don't have a choice," Nats manager Matt Williams said Sunday when asked about his club's plans to bounce back from a 2-0 NL Division Series deficit against the San Francisco Giants.
That's it. It will be win-or-go-home time for the baseball team representing our nation's capital when it plays Game 3 on Monday at AT&T Park (5 p.m. ET, MLB Network).
When you examine what has happened in the two NLDS games the Nats lost at Nationals Park, there has been no layer of mystery surrounding the proceedings. Some people want to read these events as indications of a lack of character. It seems to be much more plainly a lack of hitting.
The Nationals received a quality start from Stephen Strasburg in Game 1 and a brilliant start from Jordan Zimmermann in Game 2. That kind of starting pitching, the typical ticket to postseason success, was not enough. It was not enough because the Nats scored three runs in 27 innings.
That six-hour, 23-minute marathon Saturday night was like a prolonged drought. The Washington club was in the offensive equivalent of the Gobi Desert, and no one ever found a water hole.
It's a small sample size, but it's an extreme sample. If you take third baseman Anthony Rendon's 5-for-11 out of the mix, the remaining Nationals hit .120 in the first two games of the series.
This, Williams says, can be fixed. Unfortunately, in Game 3 it will have to be fixed against the ace of the Giants' staff, Madison Bumgarner. On the plus side, the Nats are going with Doug Fister, a proven veteran coming off a big season. But runs will have to be scored against Bumgarner for the Nats to remain in this postseason.
Williams' analysis of his club's hitting shortcomings had to do with the nature of the work of the first two San Francisco starters, Jake Peavy and Tim Hudson. Both of them, Williams said, "live down in the strike zone and below the strike zone." And that was the problem.
"I think that we have swung at some pitches that have been down and out of the strike zone , which has resulted in some early outs and not being able to string things together," Williams said. "It doesn't get any easier [Monday], for sure, so we have to get back to what we do and relax and go about our business. … We have got to do a better job, certainly, of getting good pitches to hit and being a little more patient."
This is a view that is shared in the Nationals' clubhouse. But it also points out the difficulty that the Giants' pitchers would pose for any opponent right now.
"Sometimes, you've got to give credit to the other guys," Nats shortstop Ian Desmond said Sunday. "Yes, we've been chasing, but in a sense, that's a credit to them, because they haven't been making mistakes over the plate, either."
Part of this may be as simple as a more patient approach at the plate, but it will also answer a question as to the resiliency of this club. Again, you don't put up the best record in the NL two out of three years by rolling over at the first sign of adversity. But the spotlight gets bigger this month, and the glare becomes brighter.
The Nationals believe that they have this aspect of their situation covered.
"We've been backed into a corner before," Fister said. "We've been through a lot of ups and downs, and I think that's something that's definitely going to help us here, where we're down, 0-2."
Williams said that there was nothing wrong with the mood or the spirit of his club.
"They are fine," the manager said. "We have an optional workout today, but the buses are full and they are itching to get back out there and work."
If you want to deal with adversity, here is a full dose: The Nats are on the brink of postseason elimination, on the road, facing the home team's best starting pitcher, having scored three runs in the last 27 innings. Looked at in this light, this is a gold mine of adversity.
If the Nationals could overcome it, this would be one of the greatest comebacks in the history of postseason baseball. But it has to start in Game 3, against one of the best pitchers in the game.
Mike Bauman is a columnist for MLB.com. This story was not subject to the approval of Major League Baseball or its clubs.