For Nats, bats breaking out is key to survival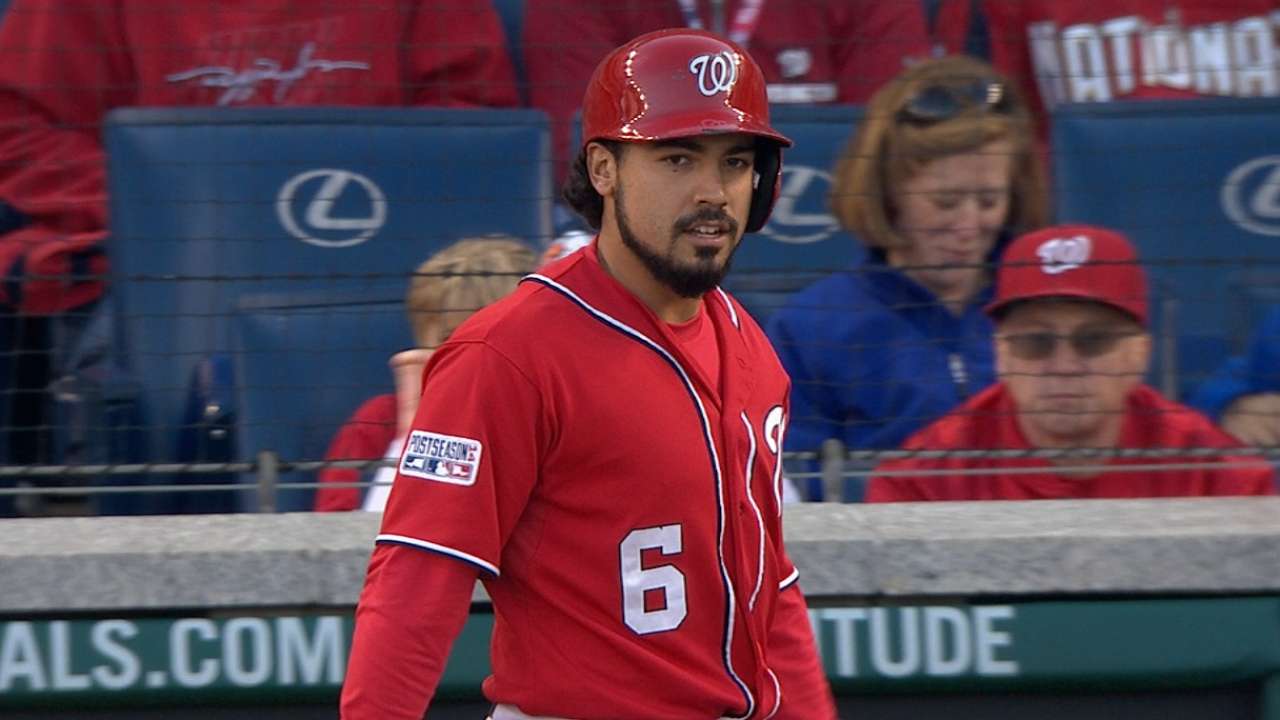 SAN FRANCISCO -- As much as the Nationals can sincerely tip those caps with the curly W on them to some fine pitching by the Giants thus far in their National League Division Series, Nats manager Matt Williams knows his team's batters had better find a groove, and soon.
Down, 2-0, in the best-of-five series, the Nationals arrived in Northern California on Sunday, hoping they packed a lot more hits and runs in their luggage as they prepare for Game 3 of the NLDS (5 p.m. ET, MLB Network) at AT&T Park -- and another tough matchup with lefty ace Madison Bumgarner taking the ball for the Giants.
"It's a question of us doing what we do best," Williams said prior to an optional workout with perfect attendance for the Nationals on Sunday. "And if you look at our team, what we have done best this year is grind at-bats. We have got guys that get on base."
So far, they have not done that enough, however. A team that ranked fourth in the NL with a .321 on-base percentage during the regular season has gone 15-for-94 (.160) with eight walks, 26 strikeouts and an on-base mark of .225 in the small sample size that is the postseason. The team ranked third in the league in runs scored this season, but they've managed just three trips across the plate in the first two games.
To Williams, it's not some deep mystery why the Nationals haven't quite been themselves at the plate so far this series, and the solution isn't that elusive.
"Both guys that have pitched against us live down in the strike zone and below the strike zone, so the key is to be patient," Williams said, referring to Giants starters Jake Peavy and Tim Hudson. "And I think that we have swung at some pitches that have been down and out of the strike zone, which has resulted in some early outs and not being able to string things together.
"So [it] doesn't get any easier [Monday], for sure, so we have to get back to what we do and relax and go about our business."
Added hitting coach Rick Schu: "That's why we won the 96 games, just do what we've done all year, just battle and have our big boys coming through and our tablesetters getting on, finding ways to win."
To say it all starts at the top might be unfair to Denard Span, but it's a compliment to the center fielder and leadoff man's stellar regular-season performance. Span is 0-for-11 for the series, a rough start for the guy who shared the NL lead in hits with 184 and led the league outright in multi-hit games with 58.
Span is the first to admit he was among those not himself at the plate the first two games, saying he was as frustrated as he'd ever been in a game while going 0-for-7 in the 18-inning marathon loss in Game 2.
"I think I've just been geeked up, trying too hard," Span said. "I think we all want to do good, especially this time of year. I've just got to find a way to slow it down, let the game come to me, instead of trying to chase it. I've just got to trust myself and do what I've done all year."
Williams said he's looking at some possible lineup changes, and that includes the option of finding a place in the order for franchise stalwart Ryan Zimmerman, who has been limited to a pair of pinch-hit appearances in the first two games.
And the Nationals should have some sense of confidence despite the daunting challenge on facing them on the mound. They won their one meeting with Bumgarner this season, scoring two runs off him in supporting their Game 3 starter Doug Fister in a 2-1 win at AT&T Park in June.
Thus far in this series, the Nationals' biggest run producers have struggled, with three of their four RBI men -- Adam LaRoche (1-for-10), Ian Desmond (1-for-10) and Jayson Werth (1-for-10) -- struggling equally. Among those top run producers, only Anthony Rendon has been on point, going 5-for-11.
To get past Bumgarner and the Giants, the Nationals know they have to get back to being the Nationals, cashing in on opportunities and stringing rallies together.
"We've put ourselves in position to score runs, and that's all you can ask for," Desmond said. "This is a good pitching staff we've come across. They're stingy on runs, it's as simple as that. So we're just going to have to keep on being persistent, and hopefully that'll help us score some runs."
John Schlegel is a national reporter for MLB.com. You can follow him on Twitter at . This story was not subject to the approval of Major League Baseball or its clubs.