Cruz's dominance of Tigers helps lift Orioles into ALCS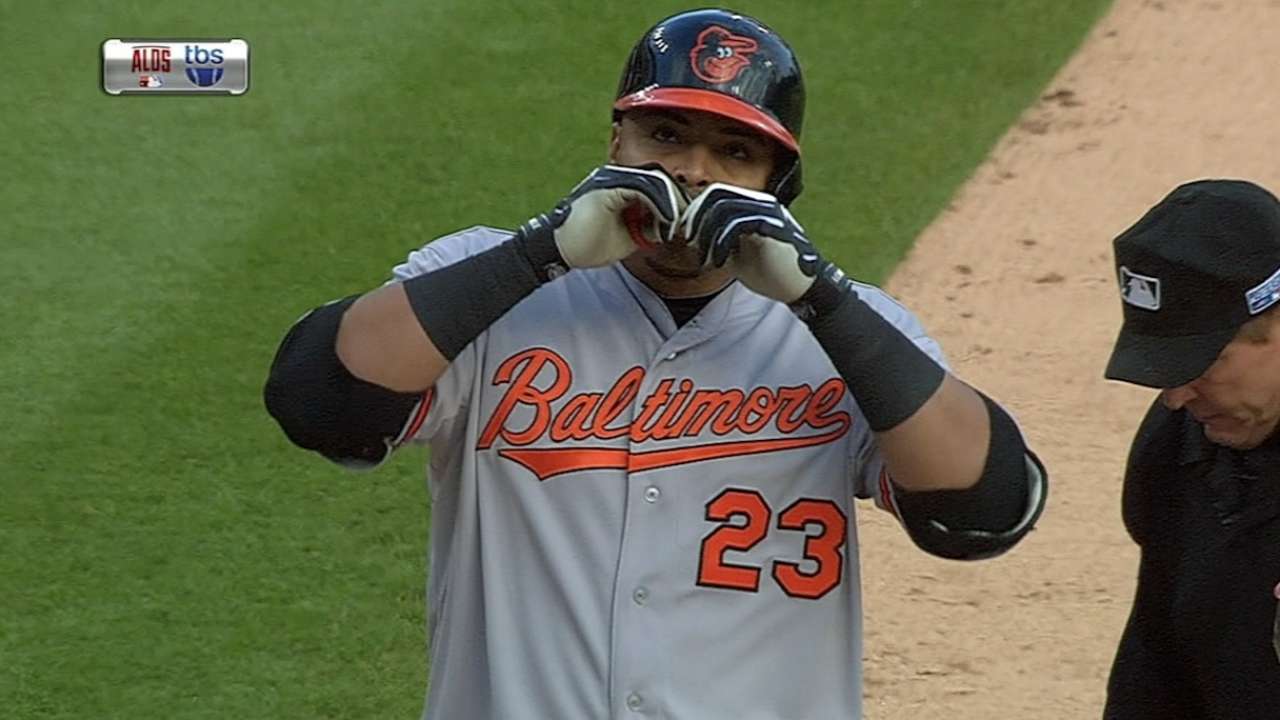 DETROIT -- Nelson Cruz almost single-handedly eliminated the Tigers during the 2011 postseason, and he can take credit for basically doing the same thing again this year.
Baltimore's veteran slugger has shown a flare for the dramatic throughout his career, and he was up to his old tricks on Sunday night. The postseason resume that was already long, looks even more impressive now.
Cruz homered for the second time in three games and his two-run shot in Game 3 ended up being the difference. The two runs were all Baltimore would need to hang on for a three-game sweep over Detroit in the American League Division Series.
"Nothing against Detroit, it's just, basically it was crazy, and I guess I get hits at the right time," Cruz said following the Orioles' 2-1 victory that allowed them to advance to the ALCS.
The two-run shot in the sixth inning was the 16th home run of Cruz's postseason career. That moved him into a tie with Carlos Beltran for ninth place on the all-time list. The only active players with more are Albert Pujols, David Ortiz and the recently retired Derek Jeter.
When Cruz was in Texas and faced the Orioles during the ALCS, he picked up the MVP honor after hitting six home runs with 13 RBIs in six games. There wasn't as much time to do that type of damage in this series, but he still finished with two homers and five RBIs in three games.
Overall, Cruz has hit .412 with eight homers and 18 RBIs against Detroit during the postseason. That's a big reason why his slugging percentage in the playoffs sits at .715, which ranks third on the all-time list. He sits just behind Yankees legend -- and Baltimore native -- Babe Ruth (.744) and Lou Gehrig (.731) for players with a minimum of 100 postseason plate appearances.
"I've played a lot of games against him, and he's done a lot of damage against us," Orioles outfielder Nick Markakis said. "I'm just glad he's on our team now doing the damage. It's awesome."
The timing of Cruz's latest shot couldn't have been better for the Orioles. Baltimore and Detroit were locked into a scoreless game with David Price cruising on the mound. Adam Jones sparked a one-out rally with a single up the middle and then Cruz took it the rest of the way.
Price threw a changeup off the plate, but Cruz was able to lift it towards the right-field corner. The towering fly ball initially looked relatively harmless, but it kept carrying and landed just above the wall and inside the foul pole at the 330-foot marker at Comerica Park.
Cruz is no stranger to big moments against Price, either. In the regular season, Cruz entered the game with a .357 average and 1.114 OPS vs. the former Cy Young Award winner. He had three homers and five RBIs in 28 at-bats against Price, and his OPS was the fourth highest of his career against any pitcher with at least 25 plate appearances.
"He's a strong guy," Price said. "He led the Majors in home runs this year. It wasn't a very good pitch. Anything elevated to him is not a good idea. I think the wind kept that ball fair, and that was kind of unfortunate. But when you hit the ball 335, 340 feet, it's got a chance to go out."
Gregor Chisholm is a reporter for MLB.com. Read his blog, North of the Border, and follow him on Twitter @gregorMLB. This story was not subject to the approval of Major League Baseball or its clubs.