Williams leaves no doubt that Storen is Nats' closer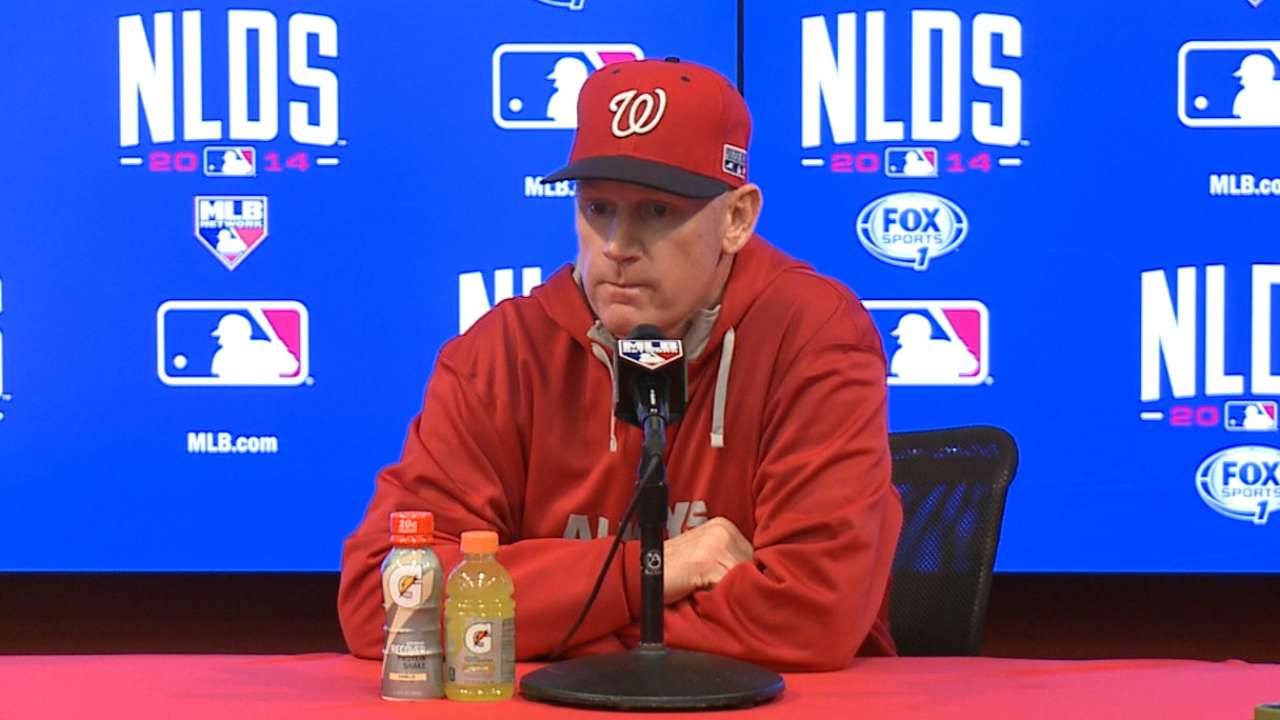 SAN FRANCISCO -- Speaking at AT&T Park on Sunday afternoon on the heels of an 18-inning loss and a cross-country flight from D.C., Nationals manager Matt Williams made it crystal clear that Drew Storen -- despite blowing a save with two outs in the ninth in Game 2 of the National League Division Series on Saturday -- is his closer.
Storen has been handling the closer's duties since early September, taking Rafael Soriano's spot, but until now, Williams has been reluctant to explicitly define Storen's role.
The first-year manager left no doubt about it on Sunday, even after the Giants tied Game 2 of the NLDS off Storen and won it in the 18th to put the Nats' season on the ropes.
"He's our closer," Williams said. "He's been perfect in every situation we put him in since he's been in that role, with the exception of the last game he pitched. So we get in the situation [in Game 3 Monday, 5 p.m. ET, MLB Network] where we have an opportunity for him, we want him to get back out there and do what he does."
Williams admitted he "kicked himself," in hindsight, for pulling starter Jordan Zimmermann and bringing in Storen with two outs and a runner on first -- not so much for the decision itself, but because of the outcome. Buster Posey singled and Pablo Sandoval doubled home a run to send the game into to extras. But the Nats' skipper defended his decision, and his 27-year-old right-hander.
Asked if he considered using a left-hander to force Sandoval to bat from his weaker right side, Williams reiterated that Storen was the obvious choice.
"If we were in a different situation in a different inning, maybe [we play the matchup]. We did it later in the game," he said. "But no, our closer is our closer, and that's no different than any other club. That's why they are in that role, because they are able to shut down righties, lefties, it doesn't matter.
"Drew is our guy. He's been our closer, and he's been perfect up until last night, and in the time he's been there since the second half started, essentially."
Storen converted 10 straight save chances to finish the regular season, and he entered the postseason riding a streak of 20 innings without allowing an earned run. His 1.12 ERA ranked second in the Majors among relievers with at least 40 innings of work.
But Storen's last two playoff appearances have been disastrous. Prior to Saturday's blown save, he allowed four ninth-inning runs in Washington's 9-7 loss to the Cardinals in the deciding Game 5 of the 2012 NLDS.
Storen hopes to reverse his postseason fortunes -- and the Nats' -- on Monday, knowing that one win can change the entire complexion of the series.
"That's the thing -- it just takes one inning, it takes one little thing," Storen said. "That's the fun thing about playoff baseball. There's just one little swing of momentum, and it's about building off that. It starts tomorrow."
Aaron Leibowitz is an associate reporter for MLB.com. This story was not subject to the approval of Major League Baseball or its clubs.