On foul tip off mask, Avila suffers another concussion
Tigers catcher undergoes testing, will meet with team doctor, neurologist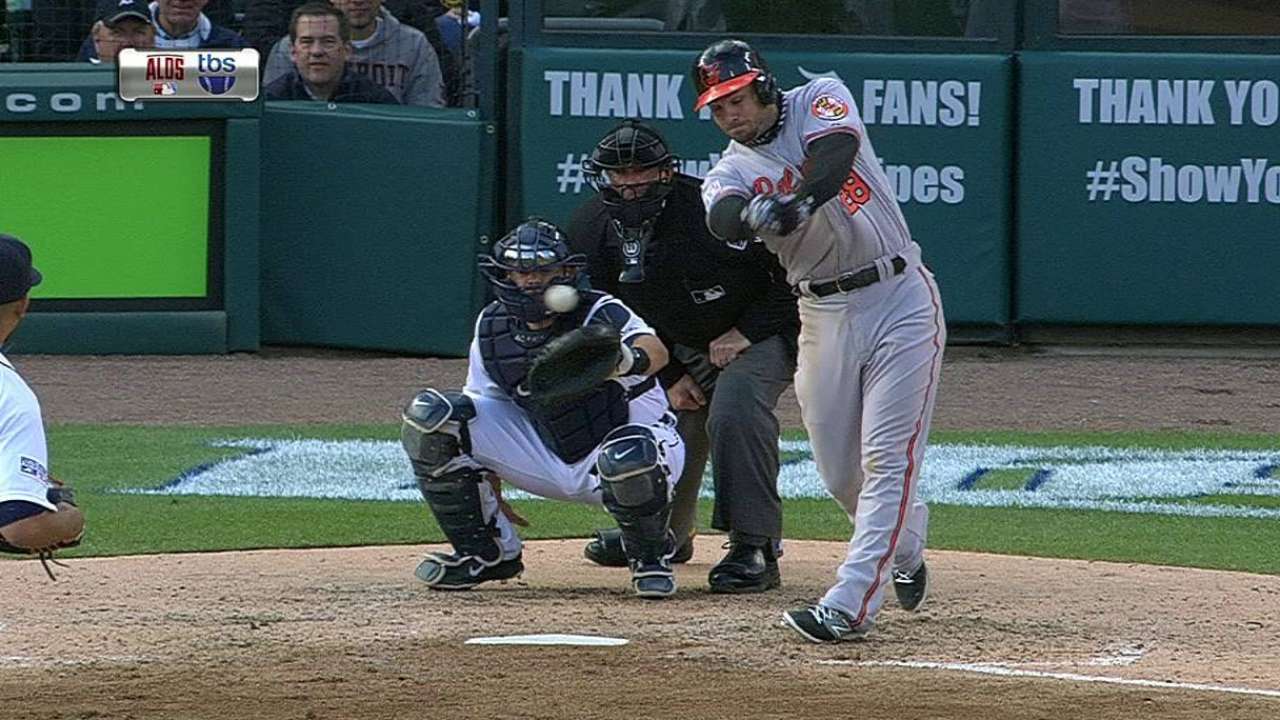 DETROIT -- For the fourth time this season, Tigers catcher Alex Avila left a game with concussion symptoms. This time, it happened on the postseason stage, thanks to a Steve Pearce foul tip in the sixth inning of Game 3 of the American League Division Series against the Orioles on Sunday at Comerica Park.
After Detroit's season ended with a 2-1 loss, Avila confirmed he suffered a concussion on the play. He'll have an offseason to recover now that the Tigers have been eliminated, but the long-term concerns will linger.
"It's something that I've thought about because of the information we have now about concussions," Avila said. "At the same time, I've always felt that I've been well looked after between our trainers and our doctors. Anytime I've come back from it, I've always felt extremely comfortable that I was 100 percent ready to go. Where the danger lies is if I went back there and I continued to take blows when I wasn't ready.
"I fully expect to recover as quickly as possible from this and get back to training in the offseason and get ready for next Spring Training."
Avila took David Price's first-pitch fastball, tipped off Pearce's bat, squarely off his mask. He went to the ground and stayed there as head athletic trainer Kevin Rand rushed out of the dugout.
Avila got back up on his feet and tried to stay in the game, but after previous concussions this season -- including missing a week less than a month ago with concussion symptoms -- neither Rand nor manager Brad Ausmus wasn't going to hear his plea. Bryan Holaday entered to replace him behind the plate.
"I didn't feel fine," Avila said, "but I didn't want to come out of the game. But Kevin has a job to do. That's his job and he did what he's supposed to do, and the right thing to do."
Avila said he underwent a battery of tests, including a CT scan, MRI exam and X-rays on his neck. He'll get the results Monday and talk with team physician Dr. Michael Workings as well as a neurologist.
"I've got a little headache and some dizziness here and there, a little soreness in my jaw, stuff like that," Avila said.
Avila missed a game with concussion symptoms in June when David Ortiz's backswing hit him in the head. He took a foul tip to the mask Sept. 2 and missed four games, then missed a week in mid-September with suffering lightheadedness after taking a forearm off his head on a pickoff tag. That absence was of particular concern because of how long it lingered.
Avila has dealt with concussions in each of the last three seasons, putting long-term concerns on a career that has seen the former All-Star become a keystone behind the plate in Detroit.
"To be honest with you, sometimes when you just take a shot, it really doesn't matter what you're wearing, it's going to happen," Avila said. "Unfortunately, I've had a few concussions over the last few years. It's something that I've got to monitor and be aware of, nothing to take lightly, and something I've obviously thought about.
"It's always in the back of my mind, but I love to play this game, and I'm going to keep playing as long as I can, as long as there's no risk to my health. That's why we have the doctors. Kevin and our guys do a great job, not only keeping me on the field, but making sure that I'm not going back out there continuing to play when I shouldn't be. As long as I'm not put in harm's way when I'm vulnerable in that situation, then I should be OK."
Jason Beck is a reporter for MLB.com. Read Beck's Blog and follow him on Twitter @beckjason. This story was not subject to the approval of Major League Baseball or its clubs.