Oct. 5 Weaver pregame interview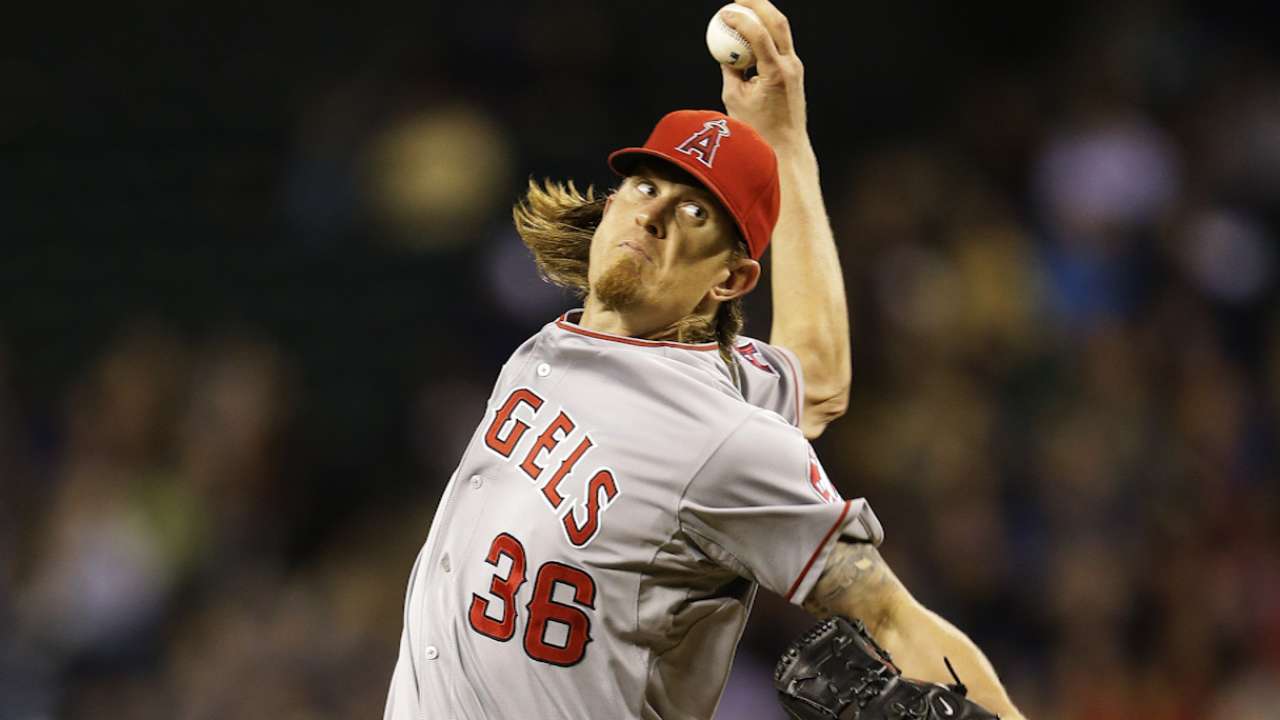 Q. Jered, you haven't pitched on three days' rest in a long time. What do you remember about those games back in 2011, and what do you think will be different?
JERED WEAVER: You know, it's not an easy thing to do. Obviously you're kind of stuck on a routine on five days, but at the same time, like you said, I've had some opportunities to do it. I think I kind of didn't do so good in the first one, kind of threw well in the second one. It's definitely an adjustment, but I'm feeling pretty good towards the end of the season here and felt good playing catch yesterday, and going to get off the mound a little bit, just a little flat ground stuff off the mound today. I'm ready to take the ball whenever they want to give it to me. I think the adrenaline will take over the rest part of it. I think I'll be all right.
Q. How anxious of a time is it for you given that obviously you want to get the ball whenever you can, but not knowing if you'll be able to pitch tomorrow?
JERED WEAVER: Yeah, obviously we're not in a spot that we want to be in, but I think there's teams that have come back and done some special things. I'm thinking that we've got the guys in that clubhouse to be able to do something like that. We're not hanging our heads. We know what's ahead of us, and we've got ‑‑ like Sciosch was saying, we've got to win three in a row, go on a three‑game winning streak and do whatever we can to get this back to Anaheim. Obviously they've got a tough guy on their side on the mound. Hopefully his changeup is hanging today so we can do some damage, but we've got a good guy on our side, too. Obviously he's had some postseason experience before, and we're looking forward to getting out there and taking this one from him and hopefully get to that next game.
Q. Do you take any kind of a different mindset into an elimination game versus otherwise?
JERED WEAVER: I'm going to cheer just as hard on the bench today as I would if we were up 2‑0. I don't really have too much of an effect on the game today, but I'm going to root the guys on and try to keep these guys motivated. I think that the clubhouse is positive, as much as it could be negative right now. Everybody kept their heads up, and like I said, we've got a good group of guys in that clubhouse, and we're going to battle until the end, as long as we have a chance. We're going to take this game one step at a time and try to keep bouncing back and try to push on and push through this.
Q. You've talked about how much you feel stronger now than you had last year and earlier this year. When do you feel that? Is it while you're pitching or between starts, or when do you really notice that difference?
JERED WEAVER: Yeah, that's a tough question. I just think the fatigue factor isn't as much of an issue just because I have gotten some strength back. I've been trying to, like I've told you guys, working hard to get back to where I know I can be, and we've seen some signs of it here towards the end of the season. It was a process trying to figure this thing out. I wasn't having too much fun going up there throwing 83‑mile‑an‑hour fastballs. I wanted to do whatever I could, training-wise and training‑room-wise, to get back to where I know I can be, and I feel like I've been making a lot of strides here towards the end of the season.
Just during the games, the fatigue factor doesn't quite set in as early as it did early on in the season. I feel like I get stronger towards the end of the games and just feel stronger going into starts. Before it was a little bit frustrating not feeling ‑‑ even playing catch, stuff wasn't feeling right. You know, it's, like I said, a long process, and I feel a lot better here towards the end of the season.
Q. You mentioned the clubhouse was positive. How would you characterize this series so far? Do you feel like it's missed opportunities for you guys or running into a team with a lot of belief right now because of how they got to the ALDS?
JERED WEAVER: Yeah, obviously two extra‑inning games, there was some opportunities on both sides. Those guys capitalized when they needed to. We realized that we missed out on some stuff. I think in that first game, we hit some balls hard, and those guys made some pretty good catches in the outfield. You know, that could have really easily gone the other way, but you've got to tip your caps to those guys on the other side. They're playing real well. They've got a lot of momentum and a good group of young guys that aren't going to give up, either.
Like you said, missed opportunities on both sides. They've just come through with that big hit when they needed to.
Q. You had one or two extra days of rest each of your last three starts. Do you think that can help you pitch on three‑days' rest tomorrow?
JERED WEAVER: Yeah, you know, I think, like you guys said, the start before, you asked if I thought having extra days was a good thing or a bad thing. I think obviously it's a good thing to get some guys healed up, but momentum‑wise it's kind of tough to turn it back on. I think that, yeah, it did help a little bit to kind of take a little bit of stress off and get some extra days' rest. But regardless, like I said, pitching on three‑days' rest is very obtainable with the factor of how much adrenaline you're going to have going into the game.
I think that the adrenaline will take over the rest part of it.
Q. Did you get a chance to do anything on your birthday?
JERED WEAVER: Yeah, I was on a flight. It was awesome. It was great. Blew out some candles on the plane. I had a nice dinner with my wife and mom and dad and Jason and Shelly Vargas came along with, too. It was nice to be able to catch up with them and have a nice dinner. It was a good birthday.
Q. The Royals haven't been real consistent offensively, but what are some of the threats they pose, especially with the baserunning?
JERED WEAVER: Yeah, I mean, our game plan is to try to keep those guys off the bases. We saw what they can do in that Wild Card Game. I think that we've paid pretty close attention to pick‑offs and trying to pitch out and things of that nature, but a couple guys on their bench, even though you try to slow it down, it doesn't really matter, because you saw that steal against Huston Street there with one of their guys, and speed kills sometimes, you know. There's certain things you can't really do to slow that down, but just try to keep them off the bases, and like I said, before, Sciosch is pretty good at picking up when people are going to steal and things of that nature. He was obviously a catcher in his day, and the running game was a big part of our game when I first came up.
We're going to rely on him a lot, too, and I think we've slowed it down to a certain extent. We haven't seen seven stolen bases in a game, so that's good. You know, just try to keep them off the bases as much as possible, and when they do, just try to slow the running game down as best we can.