Tigers run into out on bases; Schoop blocks second
Kelly prevented from reaching base after ball eludes infielder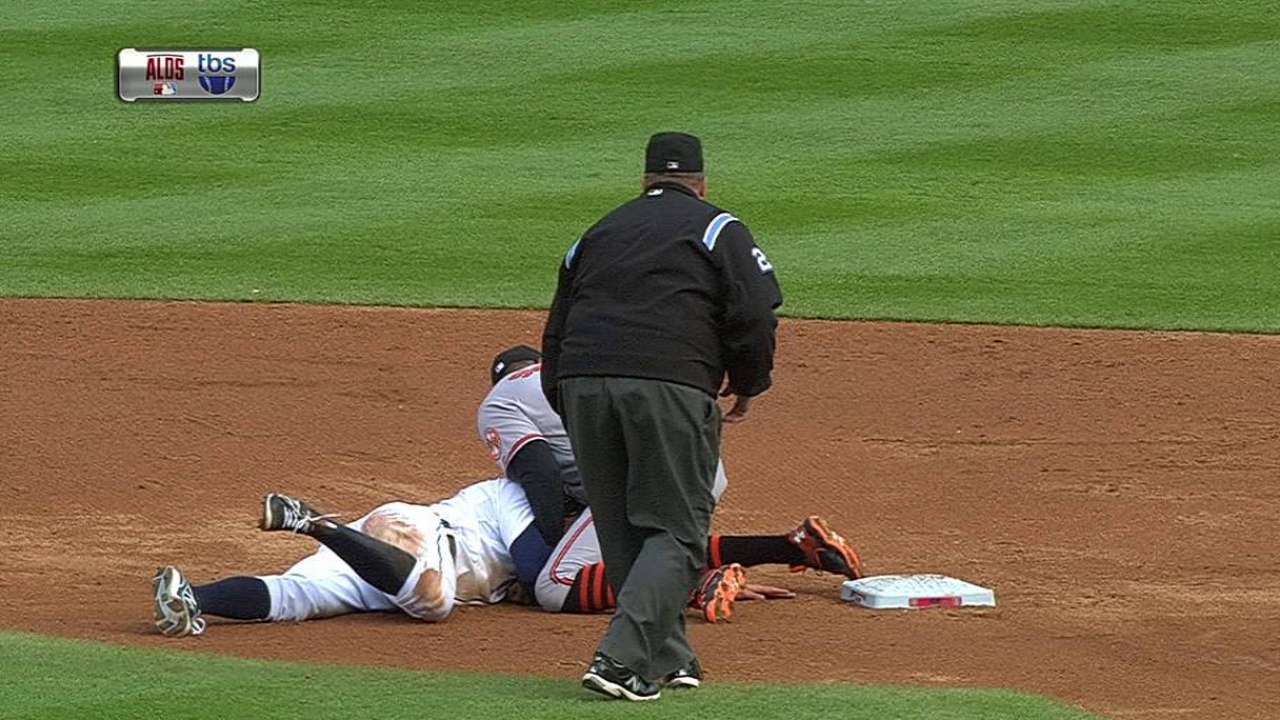 DETROIT -- Orioles shortstop J.J. Hardy and second baseman Jonathan Schoop made Tigers center fielder Don Kelly pay for a baserunning mistake during the third inning of Sunday's American League Division Series Game 3 at Comerica Park.
Kelly led off the inning with a bloop single to left field and stole second base. Torii Hunter then knocked a grounder to Hardy, who caught Kelly too far off second on the play. Kelly scrambled back toward the bag as Hardy made the throw to Schoop, who tagged Kelly as he put himself between the runner and second base.
Television reviews made it clear that Schoop dropped the ball on the play, so there was a split-second where Schoop was obstructing Kelly on the basepaths without having the ball in his possession. Obstruction is defined in Major League Baseball's official rules as "the act of a fielder who, while not in possession of the ball and not in the act of fielding the ball, impedes the progress of any runner."
Rule 2.00 (Obstruction) Comment reads: "It is entirely up to the judgment of the umpire as to whether a fielder is in the act of fielding a ball. After a fielder has made an attempt to field a ball and missed, he can no longer be in the 'act of fielding' the ball. For example: an infielder dives at a ground ball and the ball passes him and he continues to lie on the ground and delays the progress of the runner, he very likely has obstructed the runner."
Tigers manager Brad Ausmus came out to discuss the play with the umpires, but nothing came of the conversation. Ausmus said after the game that the play was not reviewable.
Hardy's throwing error on Miguel Cabrera's ensuing ground ball put runners on second and third with two outs, but Victor Martinez flied out to center to end the inning and keep the game scoreless.
Adam Berry is a reporter for MLB.com. Follow him on Twitter at @adamdberry. This story was not subject to the approval of Major League Baseball or its clubs.